At Piece by Piece Farm, Kelly Battershell and Laura Mosher grow so much more than high-quality produce. They also grow a sense of community.
My family is lucky to be part of their Community Supported Agriculture program, otherwise known as a CSA or farm share. As CSA members, we pay in advance for a season's worth of their fruits and vegetables. Our money stays local, helping to purchase seeds and other needed supplies. In return, we're guaranteed fabulous food. And though we've only signed up for a small share this year, it's enough produce to keep our summer diet both varied and plant-based. "We focus on freshness and high quality," says Battershell, and that commitment comes across in every crisp carrot and luscious lettuce leaf.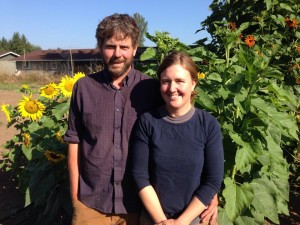 CSA pick-up happens at the farm stand on Mondays: a truly excellent way to start the work week. Over my morning cup of coffee, I can peruse Mosher's latest CSA blog post. Without fail, she updates us on what we can expect in our produce boxes that afternoon. Kathleen Thomas, another farm share member, elaborates: "She doesn't just leave it at that. She also writes a lovely story about how the farming went or some little anecdote of something that happened that week. They also provide recipes so if I'm stuck trying to figure out what to do with my produce that week, I can use their help. It's not just some faceless corporation producing our food but Laura and Kelly. You can tell they love what they do!"
That personal quality is highly evident at the farm stand, an integral part of the South Bay community. Mosher and Battershell commit to the families they feed; they know our names, they greet our children, and they let us enjoy their well-mannered and welcoming dog, Tucker.
They also find ways to cater to our varied palettes. "If there is a veggie in your CSA you do not like they have a trade table to find an alternative," explains customer Melissa Hanna. "I've taken advantage of the trade table and appreciate that I don't have to leave with something that will go to waste."
Another lovely feature of this neighborhood farm: I run into someone I know whenever I swing by. Renewing acquaintances gives me a lovely small-town feeling, just as chatting with Mosher and Battershell gives me increased confidence in the kitchen. As customer Sara Hanna notes, "Kelly and Laura are incredibly knowledgeable and willing to share as much information as you need about how they grow their vegetables and fruit, why certain vegetables grow better next to each other, and even how they like to cook."
Sara adds, "I remember when Kelly was just getting started with the farm. My husband asked him what his dreams were as far as how big he wanted the farm to get and he said, 'I just want to feed families. I want to feed your family, and I want them to have good food.'"
In the beginning, the farm was less than an acre and the stand consisted of a box of broccoli. "Kelly just opened the gate and put a sign out," Mosher recalls. Fast-forward seven seasons and the operation has grown to encompass five acres spread out over three pieces of non-contiguous land. Yet the farmers remain true to Battershell's original vision. They follow organic practices, they focus on high quality, and their freshness can't be beat. When my produce is harvested mere hours before I pick it up, it's no wonder that the fruits and vegetables taste so good and last so well.
As for feeding families, farm share member Francesca Murdock puts it best: "The variety and high quality of produce each week has helped our children become more adventurous and has made the phrase 'try something new' an exciting and positive notion." Her two children (ages five and seven) approach vegetables appreciatively, with the assumption that "it's good because it's from Laura and Kelly's farm."
The quality of their produce is no accident. In addition to being passionate, these farmers are well-trained. Battershell completed the sustainable agriculture program at Evergreen State College and then apprenticed for two seasons at Peacemeal Farm in Maine. He met Mosher at a local farmer's market. She was also in Maine for an apprenticeship—making cheese on a small farm.
Call it coincidence or kismet, that chance meeting several years ago has yielded excellent results for our community. I count myself lucky to be getting my food from such thoughtful, talented farmers.
Treat yourself to some high quality produce. Stop by the Piece by Piece farm stand, located at 4141 Shincke Road. At the height of the season, they are open on Wednesdays (from 3:00 to 7:00pm) and Saturdays (from 9:00am to 5:00pm).