By Mary Ellen Psaltis
Congratulations! The alluring vegetables at the Farmers Market called your name, and you've arrived at home with two bags full of exceptionally fresh produce. Or, like me, you picked up your CSA (Community Supported Agriculture) bag or box plus a few extra goodies. In any event, the kitchen counter is now overflowing with nutrient rich food that is ready for consumption. Don't fall prey to one of our country's greatest food waste traps – not using food you have purchased.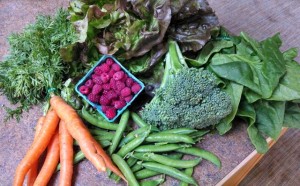 Here are a few tips:
First, unpack everything and admire it all. Take a moment to say, "Thank you," to all the people who worked to get the food this far.  It was planted, weeded, watered, tended, picked, plucked and gathered. Your assignment is to fully enjoy it.
Now it's time to triage. What needs to be eaten immediately? That's easy – berries. What could last a couple of days? Kohlrabi and carrots. Lettuce is better sooner than later. It's good to meal plan right away. You will know what you already have and what else you might need from the grocery store.
Wash and spin your lettuce and other greens. Put the clean lettuce in a bag. You are way more likely to use it if it's ready. You can add a few leaves to your sandwich or take a handful out to rough-cut for a speedy salad.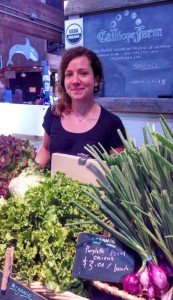 I clip my beet greens, rinse and cut off the lower part of the stems. They go right into my blender for tomorrow's smoothie. Beet greens are sweetly tender and perfect for my morning beverage. I used to give them to my worms – but no more.
Some farm shares come with information included in your weekly allowance, and many have a website featuring recipes, suggestions and explanations of the produce. You don't necessarily have to be a member to look over their thoughtful ideas.
For an experience most lovely but hunger-inducing, go to Wobbly Cart's webpage and read their suggestions and recipes. You'll be ready to cook and eat. Right away.
Addison Bowe, Market Manager for Wobbly Cart Farming Collective, is eager to explain what vegetables are for sale and how you might use them. If you have questions, she advises, "Email us." She also recommended simply looking online for recipes.
Jacob Wilson, who owns Calliope Farm with Megan Marini, echoed that suggestion. You can subscribe to their newsletter for more tips and information.
Helsing Junction Farm's website lets you search their data base for recipes where you can either type in an ingredient or name. There were 32 results for broccoli. Decision time.
With the warmer summer temperatures, my choice is to make most of my weekly produce into a giant salad. Fruit adds sweetness and raw vegetables are crunchy. The addition of nuts, tofu, grilled meats or cheese creates a full meal. The taste of your salads will change as various vegetables change through the season, but you can also be involved in the mix-up. Turn your basil into pesto. Make pesto with carrot tops. I usually add nuts and fruit just before serving so they don't get too mushy.
Often I will have on hand a 'basic' salad mix, which is lettuce with a few chopped vegetables. Then I make another salad to put on top. Lately my favorite uses raw broccoli. Though I'm not so good a precise measures, I will give you my  'recipe.' My goal is to lightly coat the ingredients with dressing but not drown them.
In a medium sized bowl, spoon a blob of mayonnaise and an equal blob of plain yogurt. Add a splash of rice wine vinegar and a teaspoon of finely ground sugar or a squirt of honey. Mix. Chop your broccoli or broccolini into small pieces. Use the stem, too. If the outer skin is too tough, peel it before cutting. Drop into dressing.
Peel your kohlrabi and chop finely. Add a handful of raw sunflower seeds and a few raisins or craisins. Chopped red onion, too. Mix well. Add a little salt. You can add shredded carrots or cabbage. Before serving, top with chopped almonds. Since shelling peas have been in my most recent bags, I remove the green gems from their pods and don't even bother to cook them. Perfect for the tip-top of my salad or rolled onto my vegetable medley casserole after it's cooked. Enjoy every bite.
Eat Well – Be Well