Thurston County has a long history when it comes to food and farming. The first peoples of the Squaxin, Nisqually and Chehalis tribes have been gathering and growing food on this land for centuries. There are now well over forty farms growing food throughout the county and dozens more producers and restaurants making an effort to use locally grown food. Our community is ripe for increased conversations around local food justice and our food economy.
These conversations have been happening behind the scenes for many years. Community garden and victory garden efforts to increase food access have ebbed and flowed in our backyard since at least the 1970's. In 2007, local non-profits GRuB, the Thurston County Food Bank, Sustainable South Sound, Left Foot Organics, and The Gleaners Coalition partnered with the Evergreen State College and local farmers to launch the Hunger Free Thurston County Coalition and Food Bank Growers Network, in order to connect low-income families to locally grown food. And in 2011, these same groups and others hosted a two-day Community Food Summit to bring together stakeholders for a community conversation.
Out of that conversation came several work groups – the Thurston Thrives Food Action Team, the Thurston Asset Building Coalition's Food Hub and Sustainable Thurston's Food System Council. These teams held various ongoing conversations and planning sessions, with overlapping membership in each, before determining that they would be most effective if they combined their efforts into one core group.
That decision led to the formation of the South Sound Food System Network (SSFSN), which launched in January 2016. Representatives from GRuB, Thurston Economic Development Council, Washington State Department of Health and Senior Services for South Sound make up the leadership team and thirty other food related organizations currently holding seats at the table.
Katie Rains, SSFSN co-chair and GRuB Executive Director grew up in the agricultural community of Yakima and has been involved in food system work in Seattle and Olympia for over a decade. Katie spearheaded the movement to merge our county's various food workgroups into one coalition. She says, "Because of the merger of these different groups, which included health, policy and hunger relief, we've been able to bring together so many different sectors of the food system. We have found a natural synergy that we didn't have before and that creates resiliency."
Aslan Meade, the Thurston Economic Development Council's new Business and Investor Relations Manager is SSFSN's other co-chair. As a Thurston Conservation District Board member and a member of the Thurston County Agritourism Committee, which is responsible for the Bountiful Byway, he's particularly interested in moving conversations forward around our local food economy. Aslan shares, "Since the 2011 Food Summit, there's been a more concerted effort to really unite folks together. There are more stakeholders paying attention than ever have before. With the merging of the various food groups, communication has never been so tight – all of the different agencies are playing well together and learning who we all are."
According to Katie, more people are beginning to understand the impact that food has on both personal health and the environment. Sustainably grown food can both reduce an individual's risk of heart disease and make a positive inroads against climate change. Though many of us are making the connection between these social and environmental problems, Katie says, "Our work with this larger coalition is to figure out how to connect with folks who don't yet value local food when it's just boiled down to a short term cost difference. We need to ask ourselves, what do we need to know that will help change that value proposition?"
Something the SSFSN intends to prioritize through their work is the promotion of living wage jobs for food system workers in our region. Aslan says, "We'd really love to be able to see the farmers who are dedicated to this movement be able to make a living. One farmer in our network works 14 hour days and yet can't afford to put their kids through college. We need to make it a viable economic endeavor. Our Farmers Markets and [new business collectives like] 222 Market are thriving, and yet many of the people involved need second jobs. We have to ask ourselves, what can we do to increase local production, local markets, create new value added products and support the infrastructure of processing, storage, transportation and co-packing?"
With all of this in mind, SSFSN is launching the "Sound Food: Local Food Culture Campaign," the goal of which Aslan says is to "Educate the populace around the importance of food – getting even more people engaged in the movement and feeling like they're creating change." Katie adds, "We hope we'll change the conversation about how local food is relevant to all our lives. We want to inspire more hope."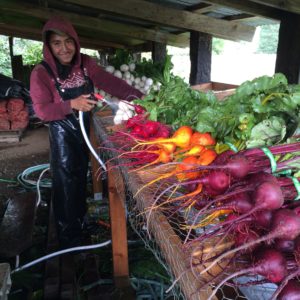 Over the course of the next six months, the Network will be sharing their core messaging through a series of calls to action to the community. They will be focused around the economic, social and environmental impacts of our local food system and will share things like tips to connect with and support local farmers and food producers, ways to reduce food waste and how to access healthy food on a limited budget. They hope the broader community will see this as an invitation to "read, discuss, attend, share and sponsor this work."
Katie and Aslan say the best way to stay up to date with the work SSFSN is doing and to learn about the calls to action is to follow their Facebook page and website. In addition to the campaign messages, they will also be sharing details about the "Celebration of Sound Food Summit" which will take place October 20-21, 2017 at South Puget Sound Community College. Registration for the Summit will begin in August.
The South Sound Food System Network meets once a month at the Thurston Regional Planning Council office at 2424 Heritage Ct SW, Suite A, Olympia, WA 98502 and all meetings are open to the public.