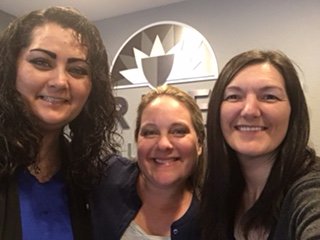 When the Nisqually Earthquake happened in 2001, Farmers Insurance largest claim in the state was a client of Johnson Insurance Agency, which was then owned by Tish Carr's mother, Lora Johnson. An entire home on Johnson Point had shaken to the ground while the owners were vacationing on Kauai. "I'd asked for contact information for their neighbors in case something happened while they were out of town," says Carr, who was managing the agency at the time. "The neighbors contacted me and when I went out there and looked through the window, I could see that the whole house had collapsed."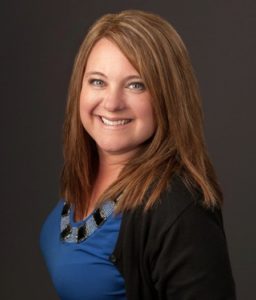 Carr was able to begin the claims process while the couple was still in Hawaii. "They actually extended their stay courtesy of us," she says. "By the time they got home they had a big check waiting for them. We were able to start the ball rolling without them seeing the worst of the damage."
Such care of clients is typical of Carr, who has deep roots within the community and has known many of her clients for decades. She wants them to know that she appreciates their business. "Insurance can feel like going to the dentist," she says. "It's not something that people necessarily want to pay for. If you choose to hire me, when you walk through the door I want you to feel like there's a red carpet rolled out for you."
It's a lesson she learned from her mother, who was the first female Farmers insurance agent in Thurston County and quickly rose to become the top agent in the entire state. "She was a single parent with two daughters and she had a really strong work ethic and drive," says Carr. "A lot of people told her she wasn't going to make it. The only person who told her, 'Do it,' was my grandfather. He also had an agency in Yakima."
Sincere customer service is part of her mother's legacy, says Carr. "I had twenty years of watching her treat her clients like they were absolute gold. If you care about people, they value your business." She joined the business in 1991 and spent ten years holding every position in the office, from telemarketing to claims specialist. On February 1, 2012 she purchased the agency from her mother.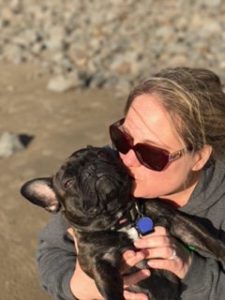 Carr, whose name will be changing to Fierro when she gets married in August, specializes in home, life, auto, and commercial insurance as well as financial services and is a Certified Risk Manager (CRM) and Certified Insurance Counselor (CIC). "I can help any business that needs liability insurance or special bonding," she says. "Sometimes there are licenses or state agencies involved. I work with each business to make sure they have the coverage they need."
Every two years she invites clients to come in and review their policies. Many are surprised by the result. "They'll say, 'I don't know why I took so long to do this,'" she says. "'I thought you were going to try to sell me insurance but instead you saved me money.' I have no interest in gouging my clients."
During those visits guests are greeted by fresh coffee, cookies, and Carr's French bulldog Fonzie, the unofficial office mascot. "He's here every day," she laughs. "We say he's the manager of our PR department." Fonzie has been known to receive gifts from loyal clients and one even brought him a bunch of toys. "He's kind of a famous guy," says Carr.
Animals are one of Carr's passions; she's the president of Concern for Animals, a non-profit organization that provides assistance for low income people to be able to take care of their pets. "Our motto is 'Helping Those Who Cannot Help Themselves,'" she says. "That's where I spend all of my free time."
Another cause she feels strongly about is veterans. Carr's fiance and her daughter are both serving, and her agency is strongly committed to its military partners. "We serve military families and we are a military family ourselves," she says. "I think part of what sets us apart are our ties to the community. My daughter has worked here, my step-daughter has worked here. We're really a family business.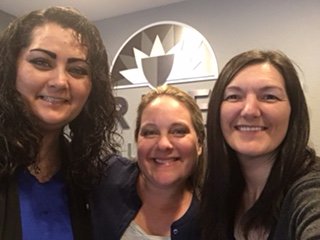 Sometimes the bonds she forges can be bittersweet. "This agency has helped our clients through life's tragedies and life's joys for thirty years," she says. "I feel very connected to people that I've helped recover from a serious accident, or from an accident that they caused. They become family."
In one memorable case, a young client wanted life insurance but his girlfriend was adamantly opposed to the idea. Eventually the couple got married and had children. One Saturday after buying his first motorcycle he came into Carr's office alone. "He snuck in here and said, 'I want to buy a policy on myself,'" she says. "He bought enough to make sure that if anything happened to him, his wife would have enough to pay off their house." Less than two years later, a pallet of steel fell on him at work, killing him instantly. In the midst of the tragedy, Carr was able to hand his wife a check that would allow her to take care of the family.
"We never want anything to happen, but what inspires me is to know that I have protected my clients from devastation," she says. "If the worst does happen, I'm so glad I took care of you."
To learn more about Johnson Insurance Agency, visit www.agents.farmers.com/wa/lacey/teresa-carr or call 360-491-5625.
Sponsored