Taylor Vroman and his partners Adam Adrian, Jeff Randich and Terry Wilson saw a need in Olympia's food scene and filled it – a neighborhood pub/café. Since opening in mid-June, State and Central (conveniently located at the corner of its namesake streets) has decidedly found its niche, doing gangbuster business with many happy customers coming back again and again for simple, well-prepared food, changing choices of ales and signature cocktails.

Taylor, who designed the menu and manages the day-to-day operations of the restaurant, is still reeling a bit from the runaway popularity.
"The success is awesome," he says. "It's way more than I anticipated. I did anticipate that it would be very busy from the get go. I didn't think it was possible to get that many people into those 42 seats in a day. We had a day when we served 290 people in 42 seats. That's a lot of turnover. It's great for us. It's just – I was shocked that you could serve that many people through that kind of business."
But he and his staff are learning quickly, managing the onslaught like the pros they are, delivering satisfying fare, great customer service and experiences to the many people who are discovering this new food destination in the South Sound.
Taylor is no slouch when it comes to restaurants. He trained at Portland's famed Western Culinary Institute, cut his teeth at New York's legendary Chantrelle and made his own mark in Olympia as co-owner and head chef at Mercato Ristorante. He's brought all this experience to bear on State and Central.
"So, actually I've been working a couple concepts for a long time," he explains. "One concept is what we built, which is sort of this low-key restaurant, simple American food… bring your family, go there with your friends late at night if you want, a place where anybody can go and feel comfortable."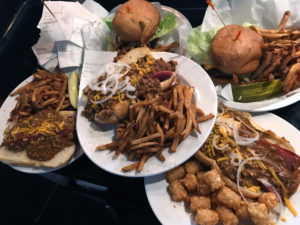 What's bringing in all the people? It could be the food. Taylor's put together a classic menu of American-style pub fare – with a few surprise guest stars. He's designed some of the best burgers in town, including the signature Juicy Lucy, featuring a hamburger patty stuffed with cheese.  Hot dogs, bratwurst sandwiches and chili dogs are exemplary for those who like their meats on the stuffed side. There are also nearly perfect salmon sandwiches and, for those who like it simple, grilled cheese sandwiches. They all come with hand-cut fries, which are already becoming the stuff of local legend, if you're to believe the nearly unanimously positive Yelp reviews.
For those wishing to eat a little lighter, there's a selection of salads, including an awesome, if woefully neglected, classic – the wedge salad. State and Central's version is a textbook example of the perfect meeting of bacon, bleu cheese and buttermilk dressing on a big chunk of iceberg lettuce.
Fried pickles, cheese curds, fries, onion rings, chicken wings and tater tots liven up the snacks and starter courses. But there are also some very special pork and shrimp buns. Inspired by David Chang's popular interpretation of the pan-Asian classic, Taylor has crafted one version with bay shrimp and another with seared pork, both with Asian spices and sprigs of spritely cilantro, couched in airy, steamed pillows of dough.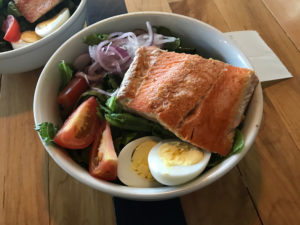 The well-curated selection of local ales also could be one of the draws. A selection of some time-honored cocktails – think Moscow Mules and Negronis – in addition to some cocktails only found at State and Central round out the imbibing options. But there's also Mexican Coke and a mess of soft drinks that will keep teetotalers and kids happy.
All of this great fare, though, is just one piece that works into the larger concept and the genuine appeal of this neighborhood pub. It's not just ambience, which State and Central has in spades. It's something a bit harder to define, but just as important.
It's the idea of the neighborhood.
Taylor explains: "We were looking for a place that was between 1,200 and 1,500 square feet to build sort of a simple burger-style neighborhood restaurant. And we wanted it to be an older building, something that would fit more into the neighborhood. We didn't want to build a new building. And in Olympia there are not a lot of those spaces available. This is sort of the first one that came up that sort of fit the criteria, was in a good location, and the city was happy to let us do it."
"We could probably be open later," he continues, "but we don't need to be, especially being in the neighborhood. I think it's nice that it shuts down at a reasonable hour so there aren't more people letting out on the street at one in the morning to keep people awake. Also, that building is unbelievably soundproof. I think that's pretty neat."
As Taylor reflects on the new venture, he's clear about their motivation and inspiration. "It was not a dream concept, but 'what do the people want?' for a concept. Really trying to figure out, 'Where do people want to go? Why do they want to go there?"
It seems that State and Central has, indeed, figured it out.
State and Central
1415 State Ave NE, Olympia
Monday – Friday: 11:00 a.m. – 10:00 p.m.
Saturday-Sunday: 11:00 a.m. – 11:00 p.m.