At the heart of farmers markets in Thurston County are seasonal, fresh, healthy, locally grown fruits and vegetables. The markets are never boring as their offerings evolve over the growing season.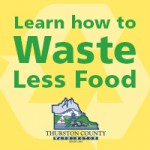 Each farmers market is passionate about educating all ages on the merits of buying fresh, local food. And quite frankly, their passion for their mission is infectious, for the benefits of shopping farmers markets are many fold. These markets support farmers and artisans by giving them a local marketplace, which boosts the local economy by keeping consumer dollars in the community. Farmers markets foster nutritious food access for everyone and fight hunger through participation in state and federal low-income food programs. But beyond all that, farmers markets are a great place to come together with your neighbors to eat, chat and listen to music.
Tumwater Town Center Farmers Market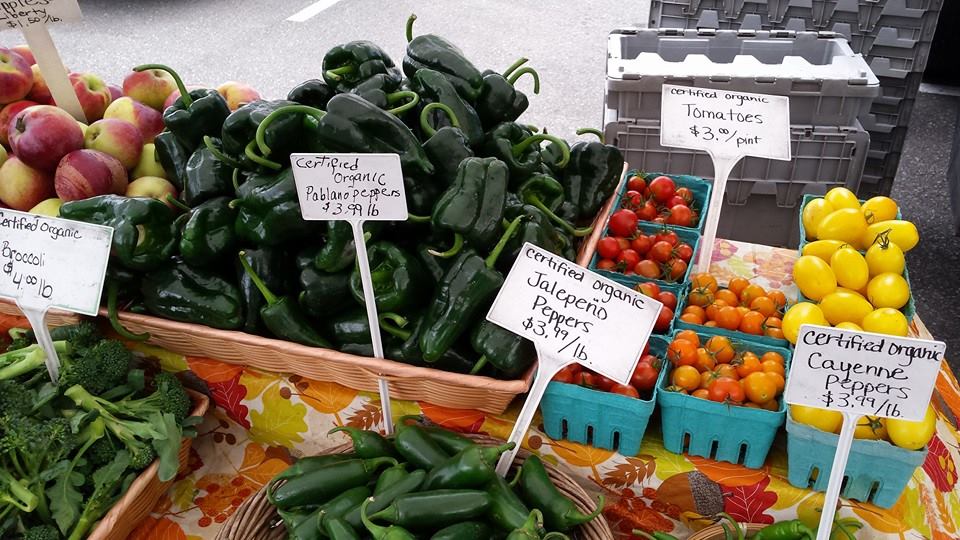 The Tumwater Town Center Farmers Market is open every Wednesday from 10:00 a.m. to 2:00 p.m. and runs weekly until September 26. It is located on the corner of Israel and Capitol Way. One unique service at this farmers market is what they call Market Match. They match EBT amounts up to $10 every Wednesday. The Tumwater Farmers Market farmers are Stoney Plains Organic Farm, R/P Guerrero Farm, Johnson Berry Farm and an exclusive new farm, Wishing Willow. The market also carries honey, tea, soaps as well as skincare and woodworking products and more. For the foodies shop for goat cheese, quail eggs, chicken eggs, and there might even be duck eggs soon. You can also find a wonderful baker, BBQ, vegan and other food vendors. Because of its prime location the Tumwater Farmers Market serves many state workers for lunch, and they also make purchases for dinner. EBT/SNAP are accepted and some vendors participate in WIC and the Senior Nutrition Program.  To learn the latest on what is happening at the market in Tumwater, visit the Tumwater Town Center Farmers Market on Facebook.
Tenino Farmers Market
Since 2005 the Tenino Farmers' Market has been serving the community on Saturdays from 10:00 a.m. to 2:00 p.m. This year it runs until September 30. Located on Olympia Street in downtown, the market provides a dynamic local gathering place. Currently up to 30 vendors offer fresh local produce and plants, baked goods, floral arrangements, kettle corn and small farm meats. Plus, hand-crafted items such as wood products, goat milk soaps, candles, body products, homemade laundry soap, jewelry, crocheted accessories, repurposed items, home-spun wool, garden art and quilted items are sold as well. New this year, Tenino High School students have a booth to sell the creations produced in their CTE courses (welding, woodshop, art, floral). Proceeds will go back to the programs. The Tenino Farmers Market also has Helping Harvest Vouchers – $4 to low-income, seniors, individuals and families to reinforce the message that eating more fruits and vegetables can improve health, and Healthy Eating Kids – $2 for children to promote healthy food choices.  These Full Circle Harvest Food Program tokens are distributed at the market. The market will also honor SNAP/EBT and WIC.
Some special days at the Tenino Market are June 1 – Farmers' Market Senior Nutrition Program (applications available at the market), June 10 – Kids' Day at the Market, July 22 – Blue Ribbon Pie Contest during Oregon Trail Days Market, September 30 – Closing Day is Vendor Appreciation Market and the Great Pumpkin Contest. You can follow the Tenino Farmers Market on Facebook.
Olympia Farmers Market
The Olympia Farmers Market is a large, permanent, year-round market located at the north end of Capital Way and is the starting point of the Thurston Bountiful Byway. Home to farmers and artisans from a four county area including Thurston, Lewis, Mason and Grays Harbor, the market always runs from 10:00 a.m. – 3:00 p.m. and is open April to October on Thursdays through Sundays. (Operating hours during fall and winter can be found here.)
With 100 vendors, 55 of whom are farm-based and seven food trucks, the market is a fun place to shop, eat and listen to live music. You can pick up all sorts of hand-crafted items like pottery, jewelry, art, spa items, textiles and wood products, or you can purchase all your groceries including fruits and vegetables, milk and cheeses, meats and fish, eggs and a variety of baked goods. Plus you will find all your plants, vegetable starts and seeds at the Olympia Farmers Market. With 20 new vendors just this year, there is always something new to see at the Olympia Farmers Market. The market accepts EBT/SNAP and WIC. To keep up on the latest, follow the Olympia Farmers Market on Facebook, Instragram or Twitter. You can also sign up for their newsletter.
West Olympia Farmers' Market
The West Olympia Farmers' Market is an evening market on Tuesdays from 4:00 p.m. to 7:00 p.m. and runs through mid-October. It is located at West Central Park on the corner of Harrison and Division Streets. This market's aim is to sell only locally-produced goods and to give a marketplace to small farms or those just starting out. Some of their vendors sell exclusively at the West Olympia Farmers Market. They offer starts, produce and veggies, seafood, baked goods, flowers, craft items and more. Plus listen to live music every week. To keep up to date on what is happening at the market sign up for the West Olympia Farmers' Market newsletter or follow the West Olympia Farmers' Market on Facebook.
Yelm Farmers Market
The Yelm Farmers Market is open Sundays from 10:00 a.m. to 3:00 p.m. through October 29 and is located at Nisqually Springs Organic Farm (next to Stewart's Meat Market). The market carries fresh flowers, homemade wood products, ready-to-eat food, jewelry, lots of fruits and veggies, plant starts, art and more. Plus, you can experience live music, kids' activities and events. Yelm Farmers Market takes EBT/SNAP and WIC, and they have a kids' Power or Produce (PoP) club that allows kids a free bag and $2 in weekly produce or a veggie start. To stay up-to-date on events announced throughout the season, follow the Yelm Farmers Market on Facebook.
Thrifty Thurston highlights inexpensive family fun in Thurston County. The weekly series focuses on family-friendly activities throughout our community. If you have a suggestion for a post, send us a note at submit@thurstontalk.com. For more events and to learn what's happening in Olympia, Lacey, Tumwater and the surrounding area, visit our complete event calendar.