The first time Reiko Callner met Anna Schlecht, they were on opposites sides of a courtroom. Schlecht was the only activist charged out of hundreds who had participated in a demonstration against the Iraq war, and Callner was the prosecuting attorney for the City of Olympia.

"The case got tossed to me, and I looked at it and thought, 'Why are we doing this?'" says Callner. "When she was on the stand, I didn't feel like her lawyer was doing a good job of bringing out what the demonstration was about. I talked to her about Walden and the notion of civil disobedience. Ultimately the judge hearing the case acquitted her."
The next time the two met, the reason was tragic. A local Eurasian youth, Bob Buchanan, had been murdered by neo-Nazis, a hate crime that brought people together to seek solutions and prevent further violence. It also inspired Schlecht to found Unity in the Community, a coalition that offers hate crime victim advocacy, diversity training, and strategic planning and acts as a liaison with law enforcement. As Callner walked into the first meeting, she encountered Schlecht. "I told her, 'About that prosecution, nothing personal,'" she says. "Anna said, 'We're cool. You did a better job than my lawyer in stating my position.'" That was in 1992.
Before then, and in the ensuing 25 years, Schlecht has been a tireless advocate, community organizer, activist and fundraiser on behalf of LGBTQ rights, civil rights, the homeless, and seniors; she has also founded multiple organizations and played key roles in creating community events like Capital City Pride. Her lobbying and legislative efforts have had a substantial impact statewide, and through it all she has brought together diverse groups around common causes and provided a listening ear even to those whose views are diametrically opposed to her own.
Now Schlecht is stepping down from one of those roles; after 26 years she will no longer act as chair of Capital City Pride, an event that indelibly bears her stamp. Friends and supporters marked the occasion in early April with a private celebration.  "We had speakers and entertainers and toasts because Anna loves pulling off toasts at events," says Alec Clayton, a local author and fellow activist. "It was also a fundraiser for Pride because that's what she would do."
The event recognized Schlecht's powerful effect on the community. "She's always been the one that pulled everything together," says Clayton. "She's had a huge impact. For the longest time she insisted on making Pride family-friendly. With speakers she didn't want any potty mouths and didn't want to focus on anger."
Clayton and his wife Gabi also met Schlecht under heart-breaking circumstances. In 1995 their 17-year-old son Bill was attacked in a hate crime after he came out as bisexual. "Anna heard about it, and she called us and said she wanted to organize an anti-hate rally in Sylvester Park," says Clayton. "We said 'Yes, by all means,' and so did our son." Hundreds of people showed up for the rally, and the Claytons were inspired by the out-pouring of goodwill. But just a few months later, Bill committed suicide.
In the aftermath Schlecht and the Claytons became close. "She has a huge heart and so much passion and energy and compassion," says Gabi Clayton. "Her love and support after the hate crime and Bill's suicide really helped us and buoyed us through the initial shock. We are angry, but there's a way to use the energy from anger for something positive rather than letting it destroy you, too. That's something I've seen her do over and over again – figure out a way to use that energy."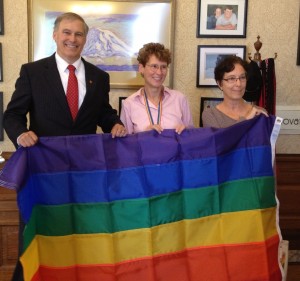 Callner remembers several instances of Schlecht defusing potentially explosive situations. In 2005 a neo-Nazi crashed a UITC meeting. "They had been posting really hateful stuff around that time," she says. "They were violent and it was scary, but Anna and Regan Unsoeld went out to actually talk to the guy."
On a separate occasion Schlecht organized a panel on marriage equality before it became law. "It was intended to be a panel for supporters, but word got out that it was a public meeting and we got mobbed by a bunch of right-wing, conservative Christians," says Callner. "On the spot Anna reached out to the leader in that group and said, 'Okay, this isn't going to be what we thought it was, but we want to keep it civil.' It worked out to be a really good event."
"Schlecht's courage has made her a target at times," says Kathy Baros Freidt, the former executive director of the Washington State Human Rights Commission, who has worked with her on numerous campaigns. "Her tenure, informally tracking hate crime groups and activities for years, means these groups know who she is. With her antennae up she anticipates potential community conflicts, and these situations frequently put Anna at risk herself. She's cut from the same cloth as early suffragettes and civil rights leaders."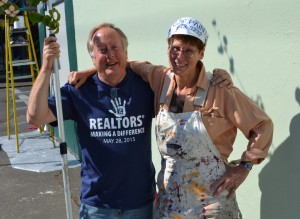 One of Schlecht's key accomplishments was to play a major role in the defeat of proposed state ballot initiatives 608 and 610 through the efforts of Hands Off Washington. The Oregon Citizens Alliance, led by conservative Christian Lon Mabon, attempted to replicate their campaign to restrict the civil rights of state and local public employees, based on actual or perceived sexual orientation in Washington State. Hands Off Washington effectively repelled repeated attempts to get discriminatory laws on the ballot, and Schlecht played a central role.
"It was statewide," says Alec Clayton. "They went to all of the little communities in eastern Washington that were not gay-friendly and succeeded in defeating that. Anna was one of the main leaders in Thurston County."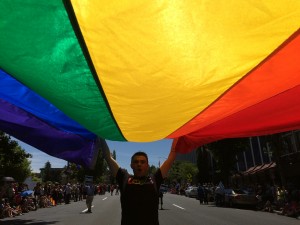 "Activists were highly effective in Seattle," says Callner, "but almost equally so in Thurston. It wasn't 100% because of Anna but she had a lot to do with it. She really stepped up, brought in trainers and activists and built an effective network and coalition."
"Schlecht's absence will definitely leave a hole," says Baros Friedt, "but will also allow for change. It's like turning over the soil in an old field, and it's consistent for how Anna would step back in order to make space for other voices at the table. I don't know specifically what areas she'll be moving into, but I suspect she is hard-wired to continue taking on the entrenched problems of the community."
Celebrate Capital City Pride with the community on June 17, 2017 in downtown Olympia.