By Mary Ellen Psaltis

We had a blast on our first go-round as we toured Thurston County's newly designated Bountiful Byway. It's a two-lane trip around the edges of the county with far more potential stops than a single day allows – more than enough for multiple fun field trips with children, grandparents or visitors from Cincinnati. There's plenty to see and do regardless of the season, weather or day of the week.
Here's a taste of our trip:
First I downloaded the map, which is helpful as a grand overview but limited on the actual street names. For example, as your travel west past Rochester towards the Lucky Eagle Casino, you need to turn right on Moon Road, which is before you reach the casino. If you overshoot Moon and arrive at the casino, it's a good place to gas up for the rest of your trip.
Our sunny morning began at the Nisqually National Wildlife Refuge. Leave your dogs and bikes at home, but bring everyone else. The paths are wide and even and meander over waterways, home to birds, muskrats and miscellaneous wildlife. Bring your binoculars and $3.00 to park your car. Plan ahead and get your Discover Pass – your ticket to Washington's great outdoors. At $30 plus a processing fee – it's a bargain that's good for two vehicles (not at the same time) for 12 months. Bird lovers might spend the better part of a day here – you can stay as long as you like.
After our short walk, we headed south on 510 towards Yelm. On Saturdays and Sundays, stop at Medicine Creek Winery to sample their boutique wine.  The tasting room is open Saturday and Sunday from 12:00 p.m. -5:00 p..m.
Instead, we cruised past the Red Wind Casino and drove through what used to be the only stop light in Yelm and headed into the center of Yelm's 'downtown.' The Stomping Grounds Espresso beckoned. We were greeted with the friendly smiles of manager, Crystal Norris and her coworker, Breanna Piatz. They offer creative drink choices not found at a chain establishment. Soon, a steamy coconut mocha was passed into our car and off we went.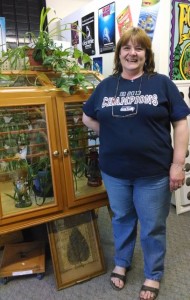 We retraced our steps through the commercial area of town to head west towards Rainier. You'll see Gordon's Garden Center, part of the Yelm community for 47 years, where there are plenty of plants to identify.
As we turned onto Highway 507, on the right side of the road I noticed Organic Friendly Farms. Curious, we went inside. Owner Peggy Sills is readily available to assist you with finding garden products that are "organic friendly as possible," spanning from herbicides to soil, lights and heirloom seeds.  The most exciting aspect was the ability to get supplies for aquaponics and hydroponics. This type of farming involves lots of water to grow food. It's sustainable, healthful and, I believe, part of our unfolding future. For more store information you can also visit Organic Friendly Farm's Facebook page.
We might have stopped in Rainier for a warm cookie from the Main Street Cookie Company, but we opted to eat lunch first. And, we were still sipping the sweetened coffee.
The Bountiful Byway takes you through the heart of Tenino, where we found a free parking space almost in front of The Iron Works, my favorite place for sourcing unique pieces – perhaps clothing, jewelry, home décor, or even something else. As owner Joyce Worrell says, the store is "2,000 square feet of shopping bliss." My feathered friends and I are the happy owners of two birdbaths. My other purchase was an airy scarf in a magnificent swirl of colors. Worrell shares her space with Tuto' Cose Feminina, Norean Warren is the resident fashionista, procuring "wonderful, gently used clothing" There are new clothes, too.
The Iron Works, located in the Wolf Building, registered with the National Register of Historic Places, is open Wednesday – Sunday from 11:00 a.m. – 5:00 p.m. and late on Thursday until 7:00 p.m. when glasses of wine accompany your shopping after 5:00 p.m.
We passed through Rochester and began to head north along the Capitol State Forest. If you are seeking outdoor plants, pull into Lael's Moon Garden Nursery. They are also on Facebook.
For more leg stretching, consider a walk through the Mima Mounds Natural Area Preserve. It's another family friendly stop. There are other hiking trails and campgrounds (one is Margaret McKenny) along Capitol Forest.
I also noticed at least two signs for fresh eggs. Yum.
The Bountiful Byway is a source for food, snacks, leg stretching, treats, and adventures. Additionally, the scenery along the Capitol Forest is stunningly lovely.
I loved my mini-vacation. No suitcases, no airports, and no hotels. I woke up in my own bed then headed out to enjoy the sunshine. I was reminded about the loveliness of Thurston County. We met new people, became inspired about hydroponics, and filled our bellies. An added benefit – we were home well before dark. Perfect. Sometimes the biggest adventures are in our own backyards!
To learn more about the Thurston County Bountiful Byway, click here.