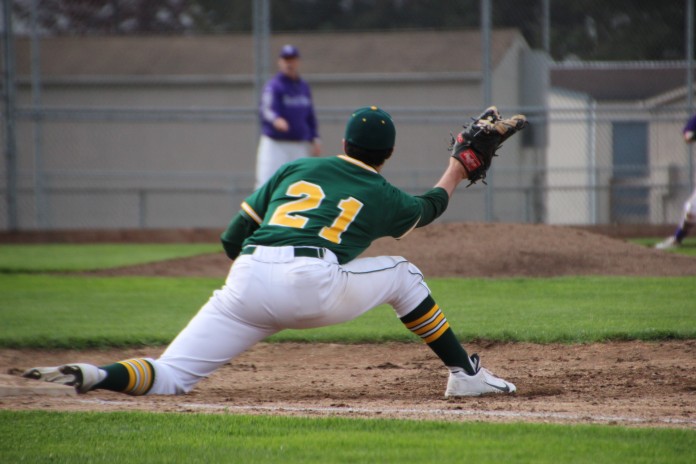 By Tom Rohrer
Timberline High School baseball coach, Matt Acker, sent his team off in the proper way, following an indoor practice away from a typical Thurston County spring rain shower.
All 55 members of the Blazers program, from beginning freshman players through seasoned varsity athletes, shook hands with the second-year head coach, where they each received a series of similar good-byes.
"Have a good weekend," Acker repeated.  "Enjoy Easter with the family."
Such minor intricacies and post-practice traditions have helped make up what has so far been a big season for the Blazers program.
After falling a game short of the 3A State playoff tournament a season ago, the Blazers now stand at 15 – 1.  The seasons only loss (2-1) was an extra inning defeat at the hands of cross town and Narrows League rival, North Thurston, on Monday, April 21.  According to various rankings, Timberline stands near the top of the list of state championship contenders among 3A and 4A teams.
Acker took over for his friend, Derek Weldon prior to last season.  He is in the midst of carrying out his program plan, formulated through his years of coaching experience both in Washington and across the country.   The daily handshake, though simple, represents the attitude Acker has worked on instilling in the program.  Traveling throughout the country while coaching during the summer, Acker witnessed players from all regions of the country perform the routine.
"It didn't dawn on me until I coached in Hawaii. In Hawaii, there are hugs, gifts and it's a more genuine 'thank you for your time' message. 'I had a great time today.  I saw learning from you.'  I just appreciated the heck out of that," said Acker. "I explained to our guys, that there's a sincere shake, and an insincere one. Once they got comfortable shaking hands and looking you in the eye, that carried over to other aspects of the game… It's a mutual appreciation and the impact is noticeable."
Also noticeable has been the response by the Blazers to the disappointing 4-3 loss to Bonney Lake in a state tournament play-in game last May to end their season.  A hard-working senior class has combined with a talented and deep junior conglomerate to provide on field instruction and guidance for the vast collection of underclassmen within the program.
"We have a great mix and that has started with the older guys," said junior outfielder and relief pitcher Taylor Adams. "They've set the example, and you can see how it's helped us all develop into better players."
Junior right handed pitcher Matt Mercer, a former Washington State University commit who has since opened up his recruitment, is at the top of the list of Blazer players in terms of collegiate and professional player potential.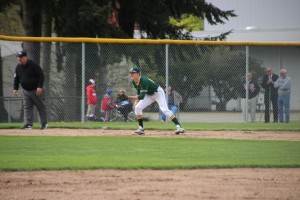 "He's got a great focus and just approaches the game like a veteran," said Acker of Mercer. "He brings it up a notch in the big moments and can really dial it in."
Leadership wise, senior captain Tyler Gartner and standout senior catcher Brennon Kaleiwahea both provide production and the right example for others to follow.
"Our seniors – they're huge for this team just because of the attitude they bring," said Mercer. "Not only that, but we know we can rely on every one of them in the field or at the plate. They just have this confidence and it spreads to everyone else."
Thanks to a simple and location oriented pitching approach, the Blazers have allowed only 16 runs throughout the entire season (upon publishing date.)  Mercer appears to be the staff "ace," but senior Brandon Olson (four wins) and junior Zach Owens (four wins) each have been extremely effective as well.  Pitching coach and Acker's assistant, Pete Peppley, has seen his stable of arms buy into the coaching staff's philosophy and put their instruction to use.
"We like to work the zone a lot more with fastball and locations. Kids typically think we need to throw three to five pitches. We focus on two maybe three," said Peppley, who coached Acker's son Cole in T-ball.  "We have a great defense and our pitchers know to trust that defense.  We want to get ground ball outs, and pound the zone and our guys are trusting that approach."
"We've all bought in to what Coach Peppley and Coach Acker want," said Mercer. "It's about getting innings and working on everything mechanically to get better."
Playing in a top heavy Narrows League, the Blazers have won five (3A Narrows) league games by ten or more runs and have posted four shutouts in league affairs.  While these may be considered "easy" wins for the Blazers, such contests provide an opportunity for Timberline to work on situations they may face in district and state playoffs.
"We use it as a chance to work situational approaches, like squeezes and bunting guys over to manufacture runs," said Kaleiwahea. "Every game is an opportunity to improve how we play, and we take advantage of that no matter who we're playing.  We're going to need to score runs in a (variety) of ways in the playoffs, so it's important we get work on that now."
The building blocks for this season's success was installed last year through the drills and routines featured in Acker's practices.  The former Green River Community College head coach and Saint Martin's University assistant has been pleased by his players' improvement in the routines and enjoys witnessing the instruction they provide each other.
While at Green River, Acker developed a 24 chapter plan that focused on player development over a two-year period.  The program remains in place at Timberline, and the Blazers are steadily advancing further into the book.
"These kids are so talented, that we still had a pretty good run last year even though we never got past chapter one.  Now some guys are at level six, but as a program we're at three, which is a big improvement and you can see that in their approach to the game," Acker said. "We instilled routines and the idea of efficiency last year. This year, the older guys help me teach routine and are refining routines of the young guys. By teaching, you learn a tremendous amount yourself."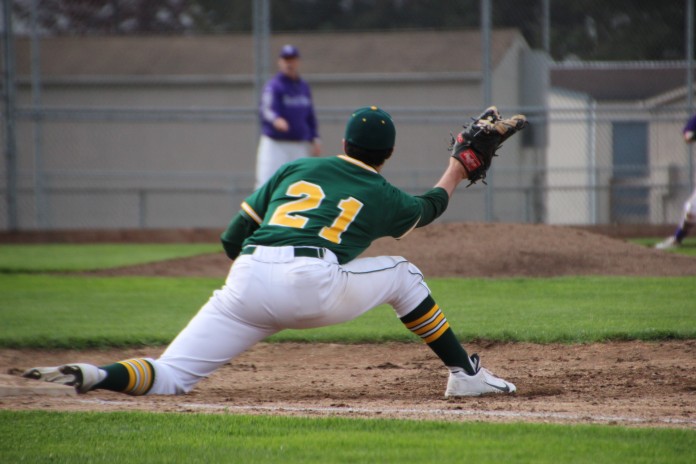 Taking on the process together has brought the team closer, which in turn leads to trust on the field and results on the scoreboard.
"I think just our flow together is a big key. Everyone's comfortable and confident," said Gartner, a starter for the Timberline basketball team the last two years. "The players, the coaches, we're making it fun.  Feeling comfortable and having fun out there is as important as anything."
With the playoffs nearing the horizon, the Blazers hope to be playing their best ball of the season in late April and early May.  Early on, Timberline defeated Mt. View (4-3) and West Seattle (5-1), the first and second place finishers respectively in the 3A State Tournament a year ago.   Armed with the confidence of beating talented teams, the Blazers believe they can carry their momentum all the way to the state championship.
"Our focus is one game at a time, and we think of it as we're 0-0 going into every game," Mercer said. "It's worked well for us, and we've been able to get on a roll.  Obviously we've got a bitter taste in our mouth from last year.  With our talent and experience, anything less than a state title is unacceptable."