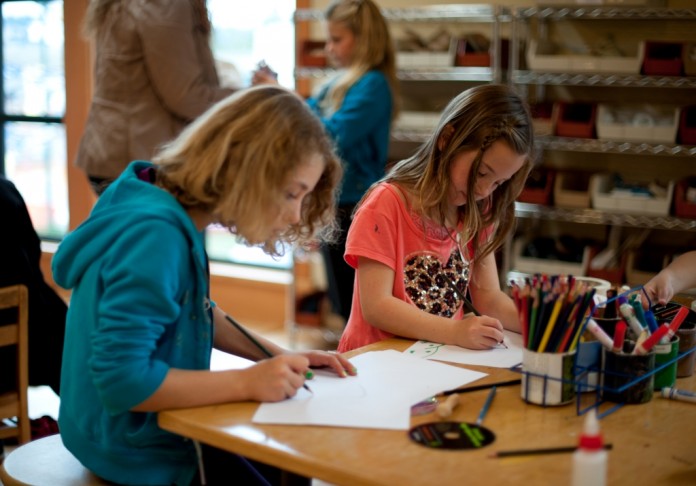 By Gale Hemmann

Music. Dance. Kids' art. Wild animal costumes. Whether you have a toddler, preschooler or elementary schooler (or a combination of the three), Olympia's Spring Arts Walk weekend holds even more in store to see and do than you ever imagined. This year's festivities will be held on Friday, April 25 and Saturday, April 26, 2014 throughout the streets of downtown Olympia. Arts Walk (Friday and Saturday) and Procession of the Species (Saturday) promise to be full of new and unique must-do's as well as Olympia classics for families to enjoy. Arts Walk weekend is free and open to everyone, and over 100 local businesses participate.
To help you make the most of your experience, this ThurstonTalk writer took a sneak peak at the upcoming Procession and Arts Walk happenings to find some gems for kids and parents. Here are some can't-miss events.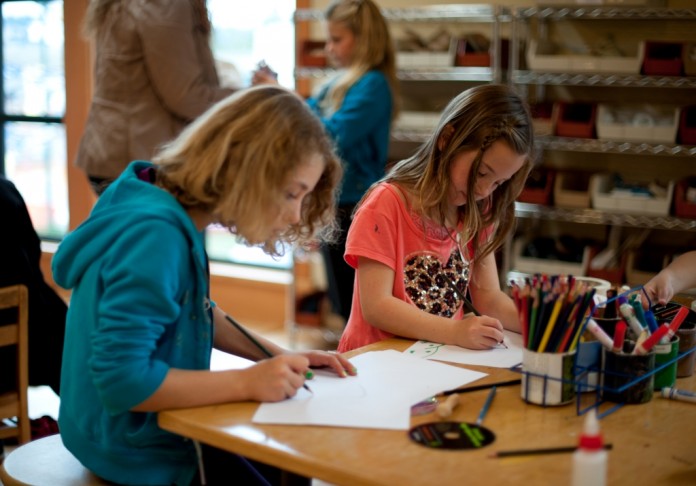 Friday:
Face Painting and Activities: You will definitely want to stop by the Hands On Children's Museum to enjoy an evening of free Friday admission, hands-on art activities, and face painting by the Capital Lakefair Royal Court. This event, sponsored by the Olympia Parks, Arts and Recreation Department, is an absolute must-do for families with children. Stop next door at the LOTT WET Science Center for educational art activities.
See Youth Art: A handful of locations downtown are dedicating Arts Walk to showing art made by local kids. Whether your child has art on display or you are looking for kid-friendly venues to check out, you will enjoy stopping by the Olympia Timberland Library (mixed media youth art), Propel Insurance (North Thurston Public Schools student art), Radiance Herbs and Massage (Lincoln Options Elementary School art), and Buck's Fifth Avenue (Olympic View Elementary School art), to name just a few spots.
Fun Animal Art: In addition to art made by kids, ArtsWalk offers a plethora of family-friendly art options that are sure to engage kids. Two great bets are "The Butterfly Effect" project at the Washington Center for the Performing Arts, and Colleen Cotey's large-scale wire animal sculptures at Childhood's End Gallery.
See Live Entertainment: Take the kids to catch free shows at the Johansen Olympia Dance Center, the Olympia Family Theater, and SambaLincolnWA (a band made up of students from Lincoln Options Elementary School) at the Olympia Timberland Library.

The Luminary Procession, held the evening before Procession of the Species, is a magical, illuminated event that families and older children will enjoy."
Photo credit: Olympia Rhythm and Dance.

Watch Films: See films made by local youth, also at the Olympia Timberland Library, at 6:30 p.m. (a good fit for older school-age kids).

Stop and Eat: Ready to re-fuel? You can grab a bite to eat while seeing the youth art on display at these budget- and kid-friendly eateries downtown. Get some pizza at Old School Pizzeria (featuring youth photography), grab a hot chocolate or Italian soda at Starbucks (Centralia High School student art), or find a sweet treat at Bonjour Cupcakes (youth wood art).  All will be open during Arts Walk hours.
Luminary Procession: For those with older kids and later bedtimes, the beautiful Luminary Procession (check out last year's ThurstonTalk article here) happens on Friday night at 9:30 p.m.
Saturday:
You can pick up an Arts Walk guide at locations around downtown, or download one online. You can also download the handy Arts Walk mobile app, which offers an easy, interactive way to plan your weekend (and tech-savvy kids can assist with planning). The maps are easy to navigate, and if you need help finding your way, you can stop by the information booth staffed by the Olympia Downtown Association.
A few tips to make your Arts Walk weekend great and maximize the fun? Check the weather for the day and dress accordingly – you might want to bring light jackets and umbrellas if spring showers are in the forecast. Also, you might want to come early to park, and consider parking a few blocks way and walking to the heart of the action (keep street closures and tow-away zones in mind). You can also make it a family adventure by walking, biking or riding the bus there (check the Intercity Transit website for route information).
Arts Walk is sponsored by the Olympia Parks, Arts and Recreation Department with generous support from local businesses.
Olympia Spring Arts Walk
Friday, April 25-Saturday, April 26, 2014
Throughout downtown Olympia
Maps and schedules are available here.