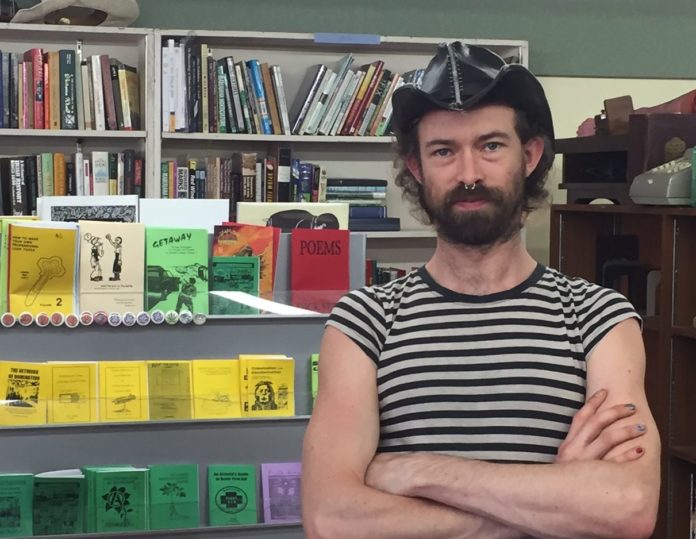 Last Word Books is a more than a bookstore. One look at the downtown Olympia store, housed in an eye-catching, mural-decorated building on Cherry Street between State and 4th Avenues, tells the public that this is no ordinary bookstore. Home to a collection of used and rare books for sale, the Olympia zine library and an independent publisher, the store has become a place for discovering alternate points of view, thought and dialogue, activism and for those who are looking for somewhere to belong.

Last Word Books was opened in 2002 by a group of sophomore students at The Evergreen State College. Sky Cosby and Robert Ross, current co-owners and operators of the bookstore, were two of those students. Cosby says they were motivated in part by a series of personal losses, which "got our community talking about why we were waiting around to do something profound with our lives, if we could all be dead the next day." Cosby, Ross and their friends began to look for buildings to rent in early 2002, and by the time school let out they had signed a lease. They then drove to Walla Walla, where Cosby's father owns a bookstore, and, according to Cosby, "packed a U-Haul full of books and drove back on no sleep and opened three days later."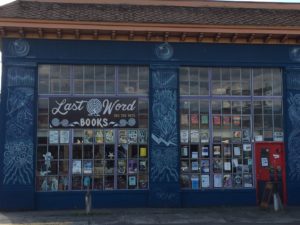 From that small but swift beginning has grown a bookstore with a large collection of used books and an even larger network to help people locate rare books. Cosby encourages people who are looking for something specific to come in and ask for it. "We've got a huge warehouse in the back that we can pull from," he says. Many books not on their retail floor may be found there and can be located through their online inventory. Plus, if a customer is looking for a book that is not in their inventory at all, "we'll give them a quote on acquiring it from another independent bookstore somewhere in the country and track down a copy of it for them." Cosby says this service, in addition to being helpful to collectors, is frequently used by students who are looking for the best prices on college textbooks. Anyone who is interested in getting help tracking down a rare book can fill out a form on the Last Word Books website, send an email, call 360-786-9673 or visit the store to make a request in person. "We're pretty good at our jobs; we can usually find cheaper copies than the average online shopper," says Cosby.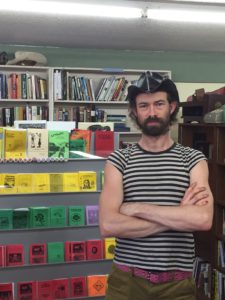 Used special orders are not the only aspect of Last Word Books that is unique; they also offer printing services through Last Word Press. This segment of the business has grown substantially since they bought their first piece of letterpress equipment in 2007, followed by offset presses a few years later. Now they have transitioned to using a color copier and perfect binding machine. "We're a full-service print shop and publishing house," says Cosby. Last Word Press has the capability to print menus for restaurants, flyers for events, zines, pamphlets and even books, complete with International Standard Book Numbers (ISBNs), which allows for books to be more easily tracked and marketed. Owning its own printing press enables Last Word Books to give a voice to those who have difficulties finding a foothold in traditional publishing. The bookstore and its employees strive to create an environment where people can take an unflinching look at what Cosby describes as "radical politics and extreme subject matters," and engage in thoughtful research into, and discussion of, contemporary and historical circumstances of injustice.
In addition to its variety of reading material, Last Word Books also offers itself as a venue for a variety of events, including book signings, poetry and nonfiction readings, lectures from traveling scholars and authors, political groups, comedy shows, musical performances and even a circus skill share once a month. "We're open to hosting pretty much any event that people bring our way," says Cosby. This is another part of what makes Last Word Books a gathering place for all people to feel seen, heard and welcomed.
These elements, in combination, have contributed to Last Work Books' reputation of being Olympia's underground bookstore, a description that Cosby accepts. However, the store's underground status does not stop it from being known far and wide, and Cosby has a story about the store's global renown. "A friend of mine met somebody in Paris and without even mentioning Olympia, [this person] said that Last Word Books was their favorite place that they'd been," he explains. This story speaks to the proficiency with which Last Word Books has created its atmosphere. The bookstore provokes a strong sense of community in its patrons; a feeling they are not likely to soon forget.
Last Word Books
111 Cherry Street NE
Olympia, WA 98501
360-786-9673
Follow Last Word Books on Facebook.