Are you hungry for a fresh peach or plum that will drip in your hand at first bite, a big basket of fresh picked berries for cobbler or some sweet Rainer cherries to nibble on the way home? A Thurston County farm stand is the place to go.
We are very fortunate in Thurston County to have many such venues that offer local produce and other local products to enhance our healthy lifestyles. Jay's Farmstand and Spud's Produce and More in Olympia are open seven days a week, and each offers an enjoyable and singular shopping experience.
Jay's Farmstand
I had to weave my way through shoppers in every aisle of Jay's recently to find the manager, Eric Foshaug, who is also the co-owner with Jay Fagerstedt. It was Jay who saw the property in West Olympia and envisioned opening a second stand after his success with the original Jay's in Aberdeen. Eric said, "I offered to help out for six months or so, and when Jay decided to open the Farm Stand in December of 2008 with a foot of snow on the ground, I wasn't really sure it would last too long." Nine years later the business is thriving.
Jay's has stayed true to its original intent to supply as much local produce at good prices as possible. Although the organic section is limited in some months, most commonly their produce is farm fresh. Ninety-five per cent of the apples sold here are from Washington, with organic Fujis their bestseller. They also sell over 200 pounds of bananas a day and up to 150 pounds of Roma tomatoes. In season all the soft fruits—pears, peaches, plums—are from local farmers. Kale and zucchini are from Shelton. Chapman Farms in the Satsop River Valley supplies corn, winter squash and pumpkins. Around the second week in July, fresh crops of local blueberries from Mossyrock arrive.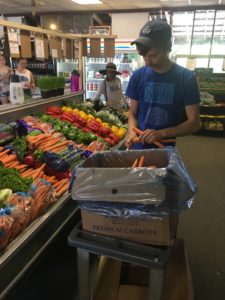 Eric's goal is to keep his prices very competitive. He said, "It is so gratifying to have customers come in and say they now can afford to shop for produce, and they have improved their health dramatically. Some have even gone off their various medications." Derrick, who has worked at Jay's for a couple of years, likes the family atmosphere better than the big box produce department where he once worked.
Homemade salsa, pico de gallo, and guacamole are big draws, as are other local vendors' products from Tri-City Meats, Johnson's Smokehouse, Smith Brothers, 8 Arms Bakery, Olympia Coffee, and the list goes on.
Customers from near and far were in Jay's the day I visited. A family of tourists who stopped for directions, loyal customers from Raymond who visit every time they are in town, and Kassie Ketchum who was shopping with her teenage daughter all left with bags of produce. "When the fresh fruit comes in, Jay's is an awesome place to shop," Kassie said.
Jay's Farmstand
4315 Harrison Avenue NW
Olympia WA 98502
Open 7 a.m.-7 p.m. Daily 
Spud's Produce Market and More 
Since their opening five years ago, Dave and Karissa Jekel have listened to their loyal customers, many from the neighborhoods around Wildwood Plaza, and continue to make Spud's a go-to spot for good, fresh produce, but Spud's has also added more local food products. The Jekels are happy they took a chance in August 2012 on the empty storefront vacated by the Tea Lady.
"Neighborhood children often come in with money from Mom and Dad to buy a piece of fruit since 'junk food' is at a minimum at Spud's," Dave said. On a recent morning, Beth Drake, who was on her daily run by Spud's, saw a young boy standing outside patiently waiting for the store to open at nine. Dave also saw him and ushered him in early. Beth said, "I enjoy shopping at Spud's. They always go that extra mile."
Local fresh produce is still the centerpiece of Spud's. Honey Crisp apples are such a big seller that Dave buys 700-pound bins of them, and he is happy a new crop will be coming in early September. Currently stone fruits from local farms as well as local berries are big sellers. His organic section is also popular, especially the large variety of greens.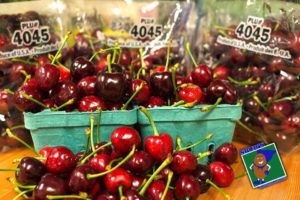 Over the years demand for other products has expanded. The day I talked to Dave, he was excited about the launch of Three Magnets Spudman IPA to join the other popular craft beers on Spud's shelves. Products from Honey Bear Farm, the Egg Lady, Smith Brothers Farm, Briney Sea Smoked Salmon and their own blend of Olympia Coffee, among many others, are also available.
Spud's Produce Market and More
2828 Capitol Blvd SE in Olympia
Open 9:00 a.m. – 7:00 p.m. Daily
George and Sons Fruit Stand in Lacey and Farm Fresh Market in Tumwater also each offer a unique shopping experience. Do not wait until New Year's Day, which Dave said is Spud's biggest day of the year, to resolve to get healthy with local fresh produce.