Rowing or riding? It was a difficult decision for Georgia Leib. She loved both activities, but her time was getting so stretched between the two that neither was getting the full commitment it deserved. One had to be eliminated.
Her mother introduced Georgia and her older sister to English riding at a young age.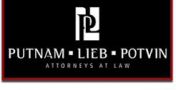 Leib definitely enjoyed this style, but it was not until Western riding came along that she discovered her true passion for the sport.
Gone was the traditional eight-pound tack, replaced by a 50-pound saddle and a little more dirt and grit.
"I actually felt a lot safer with Western riding," said the 17-year-old Leib, who will be a senior at Olympia High School in the fall. "I had fallen over a few times, and I wasn't very comfortable riding English. My horse wasn't either. So, I gave her a little break, and then we started trying Western."
It was the perfect style for both rider and mount as Leib claimed a state title through the American Trail Trial-Horsemen's Association in her first year of competition.
Soon after she took on an internship at Bolender Horse Park in Silver Creek under Mark Bolender, a three-time national champion and one of the foremost expects in the nation on Extreme Mountain Trail riding.
Bolender's direction paid off in a big way as Leib finished third nationally in Extreme Mountain Trail, an event which requires the rider to navigate through obstacles at a quick pace.
While the awards were starting to pile up, Leib was in the market for a new horse.
Cinch was a Grullo, a breed of horse recognized for its lighter body coat and unique markings, who had 100 acres all to himself in Pocatello, Idaho when Leib and her mother paid him a visit.
Spending much of his life alone, he was cautiously reluctant towards people.
"He's a one-person horse. Difficult to ride, but I click with him," Leib stated. "I [first] tried him out in a round pen that had two feet of snow on the ground, and I could canter him two strides. My mom says, 'Yup, that's the horse.' When I got on him I had the biggest grin on my face."
Around this same time Leib was becoming more involved with Olympia Area Rowing.
"I had not been able to dedicate time to either rowing or horses. Do I do less rowing and more horses? Or more horses and less rowing?" Leib asked.
She ultimately sided with more rowing, which meant after one year together, Leib was forced to sell Cinch.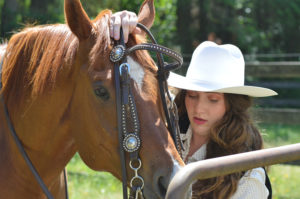 Leib participated in rowing for the next two years. However, injuries took her out of the water.
As luck would have it, Cinch was back up for sale at the same time.
"As soon as I decided to stop rowing, Cinch came back into my life," Leib said. "When that happened, my mom told me riding is what we needed to do."
Leib and Cinch, as well as her other horse, a Quarterhorse named Max, will have plenty of opportunities to ride this summer as Leib was named Thurston County Posse Rodeo Queen.
One of her first events as a member of the royalty court was riding in Tumwater's annual Fourth of July parade.
She will also participate in the Lakefair parade and at the Ellensburg Rodeo and Pendleton Round-Up in September.
Leib first heard about the Thurston County Posse Royalty Court last summer while cleaning stalls with Victoria Wischnesky, a princess on the 2016 court.
Judging was held in January and featured a riding portion, rodeo questions and written essays detailing why participants wanted to represent Thurston County and what horses meant to them. The latter proved to be the easiest of all for Leib.
"I just like being around them. I like hearing them breath. It's really relaxing. They're therapy dogs for me," Leib said. "Last year it was really cold. We had two lessons a day. I would take a blanket and a book and sit in my horses' stall and listen to them eat. It's my favorite sound."
In February Leib was notified she had been selected as queen.
"When I was trying out it was just me. Two other girls had to go back to school," Leib said. "So we didn't have a royalty court. It wouldn't be really fun if we didn't have a princess."
A call was placed to Leib's 23-year-old sister, Hannah, who is currently pursuing a Master's degree in speech-language pathology at Northern Arizona University, asking her if she would be willing to join her sister.
Hannah quickly agreed, setting up an all-Leib sister royalty court, marking the first time sisters will compete for state titles in the same year.
Georgia will compete for the Miss Teen Rodeo Washington title, while 23-year-old Hannah vies for the title of Miss Rodeo Washington.
"I'm really excited," Leib said. "It's always been my dream to be a rodeo queen and represent where I come from."