Remember playing outside all day – only coming in when it got dark or your mother yelled at you from the porch that dinner was ready? Studies by The Nature Conversancy and the University of Michigan Institute for Social Research show kids no longer do this. The average American child spends less than thirty minutes in unstructured play outside. Only 10 percent say they spend any time outside every day. Conversely, seven hours are spent in front of an electronic device. While outside time has declined in the past two decades, childhood obesity and diabetes have doubled with other health issues on the rise as well. This summer is the perfect time to immerse your 5 to 9-year-old in the great outdoors at Sequoia's Treehouse Childcare & Preschool Outdoor Adventures Summer Camp, where your child will get to grow, learn, and simply play outside.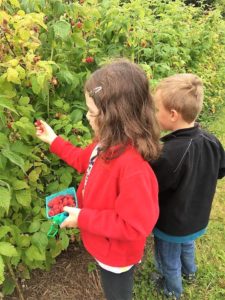 "I believe we have lost our connection to the outdoors with all the tech we have these days," explains Sequoia Hartman, owner of Sequoia's Treehouse. "Kids don't realize they can actually enjoy being outdoors in whatever kind of weather. It's really important for their growth and development."
Sequoia explains that her nature-centered programs teach kids things they could never learn indoors, including survival skills such as how to forage for food or build a fire and cook over it. There are so many reasons this is important. "It's teaching kids where their food and medicine comes from," she explains. "It helps them realize they can take care of themselves if they need to. And, it shows kids how connected we are to the planet and how integrated we are with it."
Being outside and interacting with nature also teaches kids self-esteem and self-confidence. "Learning how to fend for themselves should they ever need to gives a child a lot of confidence," Sequoia continues. "They will feel more secure in the world around them when they have knowledge of it and know how to survive in it."
What's more, instead of sitting around the house alone all day, children will be interacting and socializing with their peers as well as caring adults.
Local parents understand the importance of this connection to nature. "Parents want their kids outside, experiencing nature the way they did as a kid," Sequoia says. She added that this is evidenced by the demand for outdoor learning centers and experiences for children of all ages. Current guidelines for licensed schools allow for two-and-a-half hours outside a day. A preschool in Seattle with an outdoor classroom model recently lost their license as a result and has spearheaded legislation to extend outdoor time and allow nature-centered learning centers to being licensed. It's what many parents want and many children need.
10 Weeks of Outdoor Exploration, Fun & Learning
The Sequoia's Treehouse Summer Camps are held outside rain or shine. "We believe we shouldn't be teaching kids that even if it's raining or snowing, that they somehow can't go out there and play in the mud," she says. They do have a tent outside to help block the sun and to provide cover if the rain is really coming down. But you can be assured your child will get his or her fill of nature.
This year, there will be even more outings than last year. Children will get a chance to interact with animals, bugs and dirt, climb, forage, build things and use their creativity in endless ways. Some of the many field trips include farms, ferry trips to islands, the zoo, lakes, ocean and more, giving a taste of multiple ecosystems. Kids will use all kinds of skills including motor, math, verbal and communication skills while participating in activities. This year's camps will have more creative arts, including puppets and pottery taught by a professional potter. Children will even engage in community service during a beach clean-up.
Sequoia's Treehouse offers ten, week-long summer camps that run Monday through Friday from 8:00 a.m. to 4:00 p.m. at a cost of $190 per week. Extended care is from 4:00 p.m. to 6:00 p.m. is available each day for an additional $47.50 per week.
Each week has a different theme and children can go to one or all of them. This year's themes are as follows:
Island Explorer – June 26 – June 30
Express Yourself – July 3 – July 7 (closed July 4)
Forts & Fires – July 10 – July 14
Goin' Green – July 17 – July 21
Beach Combers – July 24 – July 28
Earth Trackers – July 31 – August 4
Connecting to Creatures – August 7 – August 11
Foraging & Camp Cooking – August 14 – August 18
Craft & Create – August 21 – August 25
Forest Adventures – August 28 – September 1
Each camp is limited to just fourteen students, so early sign-up is strongly encouraged as they do fill up. Each camp session is run by two counselors offering each child plenty of one-on-one time with an adult, as well as plenty of time interacting with their peers.
For more information and to enroll your child, visit the Sequoia's Treehouse Childcare & Preschool website or call 360-742-3651.
Sponsored