For the Out of the Fridge team of podcasters, community is something you build with the release of one episode at a time. They are a tight group of employees from Gabi's Olympic Cards and Comics, who three years ago decided to start a podcast about their favorite comics with a feminist focus. They did not know a lot in the beginning; their first shows were recorded in the back of the store. Today, however, they have their own studio, a Seattle A-list award for best podcast, invitations to do panels at comic book conventions, and a steadily growing group of regular weekly subscribers. While Out of the Fridge is adult-oriented, they now have a spin-off show for the whole family called Pages for All Ages. Just recently, the podcasters established their very own line of merchandise.
The podcasters are Allison Poppy, Kelly Marie Okler and Eric Manix. After starting out on their own, they met producer Andrew Chard, who continues to oversee the show while he is in Spokane acquiring a master's degree in sound design.
Out of the Fridge is a feminist-inspired podcast. The name comes from an incident in the Green Lantern in 1994 where the comic book's hero comes home to find his girlfriend killed and stuffed in the refrigerator. From that point on "fridging" became a term in comic books that refers to the practice of killing off female characters entirely to move a male character's story arc forward or for no particular reason at all.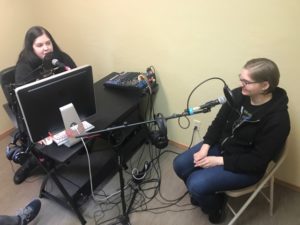 The show has grown steadily since they started. Spikes in listenership arrive after visiting events like Emerald City Comicon in Seattle, a four-day convention that draws many thousands of fans. The networking and promotional value of appearances are huge and have given the podcasters increased opportunities to build their fan base and network with other people with similar interests. While they like to joke that they used to pay Andrew in hulk figures, they now have a small, steady income that they use to invest in the show. They also now possess professional sound equipment, their own studio and their own show insurance. The podcasters have set up a Patreon page where fans can become members at different levels in exchange for gifts. The highest level allows you to be able to pick the book the show discusses.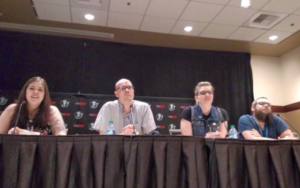 Manix explains that their fans are quiet folks generally, "but when it counts they really show up. When we are up for awards, they vote and share on social media, encouraging their friends to vote, and we end up winning over shows that are much more well known." Poppy says that because their style is very conversational, the show's fans feel like friends. She indicates her favorite fan compliment has been as follows, "It feels like we're in the room with you when we listen."
Poppy and Okler are members of an organization called the Valkyries, a group of women who are comic book store employees and librarians and others who work in comics. It serves as support and encouragement for women in an industry that has been largely dominated by men. While the podcast focuses on all sorts of topics related to comics, the feminist aspect is a really important one. Manix says that while they consider feminism pretty mainstream, he has looked into several podcast networks that hesitated about their focus on feminism. It surprised him. As the father of two young girls, Manix wants his daughters to grow up to be independent-minded women who know they have the same options men do. This feels incredibly normal to him; he does the podcast for himself but also for them.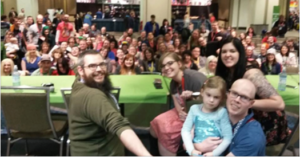 The podcasters started on Halloween, so October is a very important month for them. That began a series of themed months: October is horror month, in June they do pride-themed comics, and in February they focus on Black History Month. Their attempts to stay current often lead them to record shows that are more relevant than they had even guessed they would be. This February they recorded a show on March, the comic book by civil rights hero and congressman, John Lewis just as he was the focus of national news stories. Lewis had just won the National Book Award for March, one of the best-selling graphic novels of all time.
Graphic novels like March are the fastest selling books in all areas of literature right now, so the opportunities for the Out of the Fridge podcasters are ever increasing. Comic books and graphic novels, in general, are in a very good place, say the podcasters – they see that in their shows and every day in their store when new fans come in and discover something they did not know they could love.
Gabi's Olympic Cards and Comics is owned by Gabi Shephard Trautmann, a community builder in her own right and one of Out of the Fridge's biggest supporters. Gabi bought their first t-shirt, helped the podcasters complete their first tax return, and makes sure they can all be out of the store for big events like Emerald City Comicon. Gabi's husband also created marketing art for the show. In addition, the store is a place where they can see reader reactions to stories in real life, make connections and get new ideas – for the next episode.
To hear the Out of the Fridge podcast, click here or visit the podcasters in person at Gabi's Olympic Cards and Comics at 4230 Pacific Ave SE in Lacey.