Today more families than ever before live with dogs. It is no surprise that for many of us, the pets have free rein of the house. This can make keeping the house clean a challenge for many of us. Jennie McDonald, co-owner of Lifespan Construction, offers some ideas on how to make your home more dog friendly. One of the ways that dogs create the most mess in our wet Pacific Northwest environment is by bringing mud indoors. Fortunately there are some new flooring options that are beautiful and easy to clean.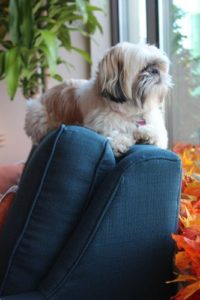 The newest of these options is luxury vinyl tile (LVT). Luxury vinyl tile comes in squares or long planks that are laid down individually. If one tile or plank is scratched or damaged, that single piece can be removed which is far less costly than replacing an entire room of carpet. Luxury vinyl tile is durable and comes in many styles. The tile can look like stone, wood, or even marble and with hundreds of patterns to choose from the choices are endless. Luxury vinyl tile hides dirt and is very easy to clean. The showroom floor at Lifespan Construction is LVT to handle the customer traffic and occasional canine visitor. As with most of the samples in the Lifespan showroom, they have large squares of tile so you can really see what it will look like on the floor of your own home.
Keeping the mud and pine needles outside before they reach the interior is another option to creating a dog friendly home. Lifespan Construction suggests creating a dog wash station. This can be as simple as installing a hot water source and sprayer outside to an actual tub made to accommodate giving your pooch a good doggy bath. For larger dogs a walk-in tub can make bathing easier on both the pet and pet owner's back.
Built in cabinetry for dogs is another new option trending on Pinterest. When remodeling the kitchen consider adding a place for dog bowls that keeps them up off the floor and hidden from view. Perhaps your dog would appreciate a cushion that is built right into the cabinetry. Give them a special spot to observe while keeping them out from underfoot. Little touches like spaces for dog toys, leashes and treats can be easily added to an existing kitchen or a remodel with your furry friend in mind.
Visit Lifespan Construction for more ideas on how to improve your lifestyle in your existing home.
Sponsored