For Debbie Laur, commanding officer of the Capitol Battalion, U.S. Naval Sea Cadets, few moments are prouder than those celebrating the promotion of a cadet.
Recently, a member of her unit achieved the highest rank available to youth – Chief Petty Officer. Even more impressive is that in June another member will be celebrating this same honor, and they are keeping it all in the family.
Twin brothers, Tommy and Michael Green, are, for the most part, ordinary teens. They attend Capital High School and live in Olympia with their mom. In their free time they squeeze in work-outs and hang with friends. Tommy is utilizing his high school's Running Start program to jump-start his college career and Michael is a member of Olympia Area Rowing. 
However, these are not the only things that define the Greens – they are also Sea Cadets.
The Sea Cadets' program is designed for youth, ages 10-17, who want to learn more about what it is like to be in sea-going services such as the Navy and Marine Corps. Whether your interests lie in STEM, aviation, SCUBA or the Navy SEALs, (just to name a few), the cadet program has training courses fitted to each of those interests.
Both brothers emphasized how the value of the trainings directly matches the effort each cadet puts in.
"Sea Cadets aim to develop your discipline, leadership skills, courage and so much more," Tommy explained. "Being a Sea Cadet brings with it a certain kind of weight," he added. "If I see someone in a Sea Cadet uniform, I already assume that they can work in a team effectively, follow instructions, challenge themselves and approach each situation they run into differently but always with an open mind."
"To be a Sea Cadet means you are willing to commit yourself to something bigger. The type of person that I typically see excel are those who are team-oriented and are able to motivate those around them to better themselves as well," said Michael.
"To achieve the rank of chief petty officer, our cadets had to undergo multiple written exams, attend summer and winter training events in leadership and obtain the highest confidence of the entire Sea Cadet chain of command from Washington State as well as that of the executive director in Arlington, Virginia," explained Commanding Officer Laur. "Most who enter the program hardly come close."
Recently promoted, Tommy and soon-to-be promoted Michael are going to be putting their training to the test in their new roles as chief petty officers. Tommy explained how his life has changed since the promotion: "Before this promotion, I was the leading petty officer for my unit and filled some of the roles that I, as chief, fill now. I interact directly with the cadets less and more often help organize events and work with the officers at the unit to help provide the best experience for the cadets."
For Michael, the increased responsibilities that come with the title only add to his enjoyment in the work. "It's a very rewarding feeling knowing that you affected someone positively. Seeing the cadets that I've trained grow and become more confident in themselves and their abilities is one of the best things I have ever experienced."
No achievement comes without struggle and the opportunity to persevere, however, and each cadet knows that very well.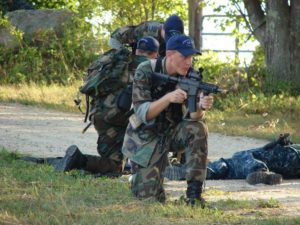 "One challenge that stands out for me was field operations in Iowa," Michael reflected. "The task I was given, tested me mentally and physically, but it was a moment that defined me because I was able to push myself in order to lead those around me." Due to such a level of excellence, in fact, he was selected as the event's honor graduate.
Tommy, on the other hand, remembers a field operation in New Hampshire, aimed at fine-tuning team effectiveness and communication.
"Everyone was tired from the week, but we knew we had to do well on the final test, a full-scale assault on a town including all training staff and cadets. We were breached and cleared the first building; our hearts were beating faster than ever before, and we were running on pure adrenaline. But we fell back on our training and were able to work as a team under some of the most stressful conditions I have ever experienced," Tommy recalled.
It is this idea of team and community that rings most in Tommy and Michael's recollections and favorite memories of their time in the Sea Cadet Program.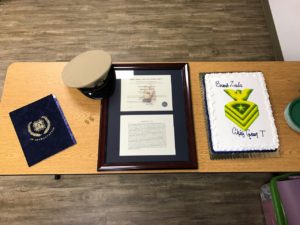 "I wouldn't be the same person I am today without the Sea Cadets. This program is truly life changing and really pushes you to challenge yourself and accomplish  things you never though you could ever do. Sea Cadets is so much more than just another youth program; it's an opportunity to really become someone who people want to work with and want to have around because you understand how to be a team player and challenge yourself every day," Tommy concluded.
Congratulations to Tommy and Michael, their family and Commanding Officer Laur.
Find more information about the Capitol Battalion of the U.S. Naval Sea Cadets Corps on their website. For information about the national program, please visit www.seacadets.org.