My birthday falls on or around Spring Arts Walk in Olympia each year, so I always make it a point to wander downtown in order to enjoy all of the amazing artists and performances as part of the celebration. This year, the annual festival falls on Friday, April 28 from 5 to 10 p.m. and Saturday, April 29 from noon to 8 p.m.

Arts Walk involves a collaboration between the City of Olympia Parks, Arts and Recreation department, over 100 local businesses and talented artists ranging from young students to seasoned professionals.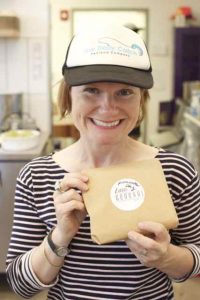 This year, local business owner Kim Murillo of Little General Food Shop is particularly excited because this will be their first Spring Arts Walk at their new, larger location on 5th and Capitol. She says, "This Arts Walk will be extra awesome because we have Carrie O'Neill showing her beautiful children's book illustrations." It will be a family affair for Murillo, whose daughter Ruby's Roosevelt Elementary School kindergarten class' Kandinsky-esque watercolors will also be on display.
Best of all, there will be more than art to sample down at Little General. Kim also shares, "We only do these very tasty hot dogs (foot-long frankfurters to be more exact) twice a year because we would be addicted to them otherwise. They are made by Olympia Provisions, which we stick in a brioche bun, then have all kinds of wild toppings to choose from like kimchi, wasabi mayo, curry ketchup, and OlyKraut sauerkraut."
Jimmy and Amber Ulvenes are longtime Olympians who see Arts Walk as a family affair. "Downtown is, and always has been, a very comfortable, desirable place for me and my family," Jimmy says. He appreciates that it creates the opportunity for folks who do not frequent downtown to realize all that it offers. "They're using and enjoying our downtown, patronizing the awesome independent businesses Olympia has. As an artist, I obviously love art, but people being downtown is my favorite part of Arts Walk," Jimmy continues.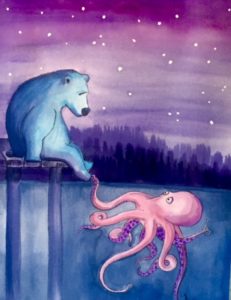 Amber adds, "My kids have always loved the 'kid zone' where the streets are closed for sidewalk chalk and street performers."
Local artist, Mandy Ceyhun, sees the event as a spring awakening for our community. "Arts Walk is one of my favorite things about Olympia, and Spring Arts Walk feels especially jubilant," she says. "After making art through the dark, soggy winter, I am pleased that the sun is coming back and we get to celebrate with art, food, music, dancers and a parade."
Mandy will be showing at Hot Toddy this year and I am particularly looking forward to checking out her new work. Her unique style and perspective always leave me curious about what inspires her. When I ask her what she will be showing this year, she shares, "In the past my paintings have mostly been about motherhood with a good amount of weirdness thrown in. But with big transitions happening in my life, some themes of endurance, perseverance and new beginnings have come up."
In addition to Mandy's work, here are a few other highlights I hope to check out this year:
Why not make Arts Walk part of your annual spring tradition? Even if it is not your birthday, there is plenty to celebrate. For more information on Arts Walk and all of the amazing artists that will be showing their work, keep an eye out for this year's collector map or download one here two weeks prior to Arts Walk.