Most people in Thurston County know the name Olympia High School.
Fewer, however, know the school's official name: William Winlock Miller High School.

And even fewer know anything about the man after whom it is named – whose history of influence in the early days of Olympia and Washington Territory has been largely lost in the mists of time.
"There are those who become influential by being leaders or elected officials," said Portland State University professor emeritus, William Lang, Ph.D., who authored Confederation of Ambition, a biography of Miller. "But behind those individuals are others who rise to positions of influence for other reasons and who are not as well known. Miller is one of those people."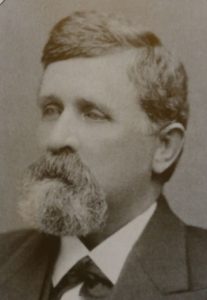 Miller held public office as a delegate to the territorial legislature and later as Olympia's first mayor. But largely, he supported others in their ambitions, playing his role in history mostly behind the scenes.
"He was a power broker," said Charlie Kirry, a graduate of Olympia High School, who is still deeply involved in high school alumni affairs and has done extensive research on Miller.
Miller's place in history is marked by a large, commanding obelisk on the sizeable plot where he is buried with his wife, Mary, and one of his sons, Pendleton, at Tumwater's Masonic Cemetery. Born in 1822 in Greenburg, KY, William Winlock Miller's father was "Billy Miller," a man who mostly ran hotels in frontier prairie towns. The hotels were gathering places for local politicians.
The foundation of Miller's life was laid by watching his father's business – the easy camaraderie of political discussions – and his own dabbling in trade and commerce as a young man. He briefly taught, but then engaged in some California dreaming, traveling across the country in 1849 in a wagon train.
Miller quickly returned from California, then headed west again the next year to live in the Willamette Valley where he grew dispirited of teaching. He eventually migrated to Olympia in 1851, seeking what Lang called "the main chance."
That started with his appointment as surveyor of collection at the port of Nisqually north of Olympia. He set the amount of value on goods to be taxed on cargo ships. Crew members also carried their own goods on ships.
"Miller either knew markets where those goods could be sold or understood how to create them," Lang said. Money from his salary and from selling the crew's goods and, possibly even some reimbursement from captains carrying the ship's cargo, enabled Miller to accumulate a great deal of cash in a cash-poor economy. Meanwhile, he developed close connections with important business and political leaders.
Miller loaned cash out at a goodly rate of interest with land frequently held as collateral. When people defaulted, the land became his. By the end of his life, Miller had vast holdings in Olympia, Washington Territory and in California, especially in San Francisco.
His political and business skills came in large part from his personality. He cultivated relationships with everyone he encountered. "Miller was a very social person," Lang said. "His greatest strength was his ability to secure friendships and develop loyalties that went both ways. And he knew how to read people." He was very conservative in his financial dealings but with a guiding principle that what was good for him benefitted others and the territory.
His personality enabled him to navigate the treacherous political waters of the turbulent 1850s, first by changing parties from Whig to Democrat and then by working with the new territorial governor, Isaac Stevens, ultimately becoming an integral part of the "Stevens Machine." Lang said he became Steven's "ex-officio chief of staff" in the battles with the Native American tribes that followed the signing of treaties in the mid-1850s. Stevens finally named him quartermaster general to supply those who fought the battles.
As the years passed, Miller became part of the indefinable glue that held the community together. He started the Pioneer and Democrat newspaper in Olympia, the first territorial paper delivered regularly. He planted seed corn for the state's Democrats, starting the first territorial democratic club in Olympia.
Miller eventually married Mary Margaret McFadden, daughter of the chief justice of the territorial Supreme Court, later helping her father become the territorial delegate to Congress.
Lang described him as a "town father," so established that he had become the wealthiest man in the territory.
One piece of Miller's land was located on what is now the state capitol campus, east of what is now known as the Sunken Gardens. After her husband's death, Mary held onto the land for a long time. Kirry says the land became "highly influential," as she donated it for a high school opened in 1907 on the condition it be named after her late husband.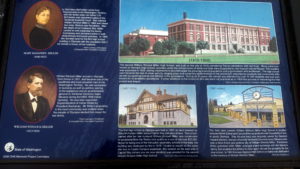 "Having a magnificent high school built on the same ground where the capitol was tentatively slated for construction helped persuade legislators to jump-start funding for the campus," Kirry said.
The school unfortunately burned in 1918 even as the second school was already being built across Capitol Way from what is now the Tivoli Fountain. The current high school, which opened in 1962, is located on land formerly owned by Isaac Stevens' son Hazard.
Miller also donated land to both Toledo and Winlock for schools. His son, Winlock William Miller, became the longest-serving regent at the University of Washington and the university's Miller Hall is named after him.
Lang is convinced Miller was preparing to move away from Olympia at the time of his death from an infection in 1876. His holdings in San Francisco had him California dreaming once again. After his death, Miller's widow Mary took over his businesses and ran them quite well until her death 1927.
The educational emphasis? "That was hers, not his," Lang said. To the end, he was still too busy with business to become a benefactor.
William Winlock Miller's legacy may have been his critical gift to help Olympia grow and encourage the territory to become stable.
However, "right up to the last breath of his life, he was still pursuing the 'main chance,'" Lang said.
**William Lang's book, Confederacy of Ambition can be purchased through Amazon and the University of Washington.
**Jim Kainber's book, Olympia High School, which contains extensive information of the high school and Miller, can be purchased through Amazon here.