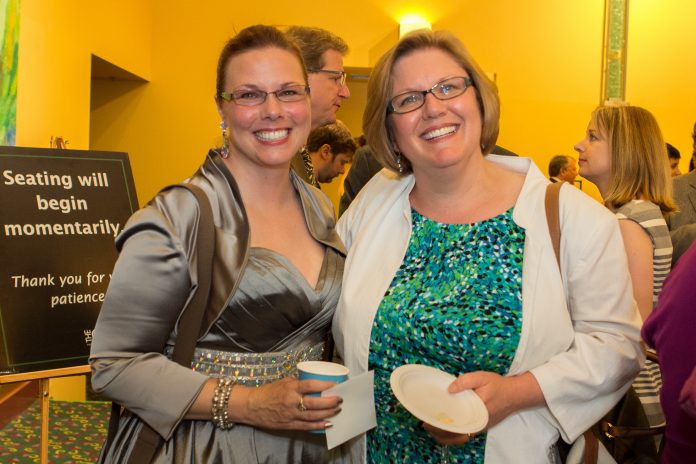 Everyone knows that certain situations call for certain forms of etiquette. You turn off your cell phone ringer in the movie theater, you don't wear all white to a wedding and you don't put your feet on the table in a restaurant (or anywhere, really). Just like in these scenarios, attending the theater calls for certain etiquette. But unlike these scenarios, not everyone understands what this etiquette is. This gap in understanding can make some feel uncomfortable in the theater or hesitant to attend at all. But theater etiquette isn't a mystery. In fact it's really quite simple.
Theater attendance is a multi-party experience. Theater etiquette is an agreed upon code of conduct which makes this experience enjoyable for all. "I sometimes like to think of it as an unwritten contract between the performer, an audience member and the rest of the audience," says Marketing Director of The Washington Center for the Performing Arts, Michael Cordier. "As an individual audience member, you want to enjoy and applaud the performer but at the same time not detract from your fellow audience member's enjoyment."
With this in mind, here are a few simple theater etiquette guidelines:
Attire
According to Cordier, there is no official dress code at The Washington Center, aside from the few programs where attire is specified as "black tie" or business casual. Still, it is always fun to dress up for the theater. You could go "all in" with a tux or gown, or look your best in a suit, skirt or business casual. Nice attire heightens the experience for everyone. After all, it's a special experience. Why not dress accordingly?
Quiet Please
Much like during a movie, at the theater, cell phones should be turned off or silenced. You shouldn't even browse on your device during a production, as the screen's light illuminates your face and serves as a distraction (and a disrespect) to the performers.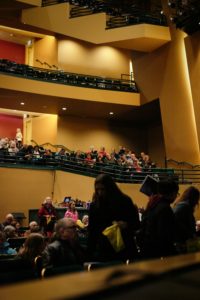 "If you do receive a call, we ask that you step outside the theater before answering it," Cordier shares. "If you have a babysitter at home or need some other emergency contact set up, we encourage you to leave our emergency Front of House number (360-402-8586) along with your seat information. This number can be called during performances and our staff will step in at an applause to retrieve you."
Silence should fall as soon as the overture begins. If you need a cough drop or other candy, make sure they are unwrapped beforehand. Wait for applause or intermission to riffle through your bag. While the show is in progress, resist the urge to sing along with, hum or otherwise accompany the score unless invited to do so. Clapping or calling out is always inappropriate except at specified times. Likewise, flash photography is always off limits unless otherwise indicated.
Be Considerate
Be sure to not block the view of the people behind you by wearing a tall hat, leaning forward or learning against your companion. While it is fun to get fancy for a night at the theater, take it easy on the cologne, aftershave and perfume. Many people are allergic to these scents, coupled with the close quarters of the theater, can be uncomfortable.
Arrive Early
It may be acceptable to arrive fashionably late to a party or other social gathering, but a theater production is different. "Our theater lobby typically opens about one hour before a performance and we recommend patrons arrive anywhere from half-an-hour to 45 minutes before the event begins," Cordier explains. And if you are late, "For the most part, people are allowed to go to their seats during an applause or break in the music," Cordier says, while cautioning that this can vary depending on the performer. "We recommend leaving yourself plenty of time to find parking or even come downtown early for dinner and then walk over to The Center," he adds. Just as it is discourteous to arrive late, it is also impolite to leave early. Besides, you might miss something fabulous.
Teach Children Etiquette, Too
Theater attendance can be magical, especially for younger audience members. Some are hesitant to bring children to the theater for fear of disruptions but there are a few things that can help ease that fear. "Most of our productions are available to people of all ages (with the occasional '18 or 21 plus only' show) but we typically encourage parents or guardians to look-up the show and make sure it's appropriate for their children," Cordier says.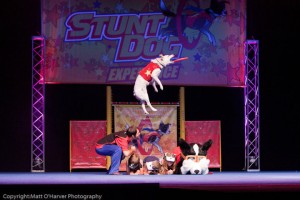 "For example, a three or four year old is welcome to attend 'An Evening with Garrison Keillor' but, as the show is not specifically targeted to that age range, they might get bored and fidgety. If you do bring a young child to a production and they need to wiggle or start crying, we recommend taking them out into our lobby. We have T.V. screens on our Orchestra (1st floor) and Mezzanine (3rd floor) so you can still enjoy the production while stepping out with your little ones. Additionally, it is our policy that all children under the age of 12 be accompanied by an adult chaperone at all times."
Be Kind
Perhaps the most important etiquette of all is kindness. Cordier recalls an experience from three years ago. "A woman came to one of our events with a light-up flashing hat that irritated quite a few other patrons. She sat down on our main floor and the patrons up above began to shout and jeer. After a quick conversation with one of our house managers she turned off the flashing lights and the audience in the upper levels applauded. She really only wanted to show how excited she was about the performance and was quite put off by how aggressive the other patrons were. Even though flashing lights on a hat seems rude, it's always important to approach these situations with kindness and respect or ask one of our volunteers or staff members for help."
For a chance to practice your theater etiquette, visit the Washington Center for the Performing Arts upcoming production of "Lauren Fox: The Songs of Joni Mitchell and Leonard Cohen" on May 5. "I had the opportunity to see Ms. Fox perform last year at an annual arts conference and her voice was absolutely enthralling," Cordier said. "She sings songs in character as both Joni Mitchell and Leonard Cohen, swapping between the two gracefully and believably."
While you're there, take some time to peruse the Washington Center's impressive collection of breathtaking art. "Our gallery coordinator, Brittania Kerschner, works hard to curate and coordinate the gallery exhibits here at The Center and is hard at work planning next year's lineup," Cordier said. "The Artist's Gallery Exhibition opened the last week of March and will be in our space until May 15. Our last exhibit of the season, 'Jeff Pasek: Unlands,' will open on May 19. Next season's exhibits will be announced mid-June when we announce our 2017-18 season."
Whichever production you choose, remember to have fun. Theater attendance is about art, culture and delightful entertainment. What could be better than that?
Sponsored