Tumwater High School freshman, Wyatt Gile, has his eyes set on China.
In five short months, Wyatt and the other members of the USA Junior World Rink Hockey Team will be representing our nation in the first ever World Roller Games, in Nanjing China. In addition to rink hockey, athletes from around the world will be coming together on one stage to compete in a variety of roller sport disciplines including: downhill, freestyle, alpine, figure, speed and inline hockey.

"I still get really excited thinking about the phone call. There were many older, experienced players who tried out. Right after training camp, I had been very confident, because I knew I had tried my hardest. It was a relief to get the news, like a weight lifted off my shoulders."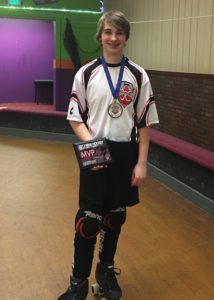 Wyatt trains with the Washington Warriors, Olympia's hometown hockey club out of Skateland. Countless Team USA athletes have been born from their program, including coach Shane Enlow. Joining Wyatt in China is teammate Brian Krauszowski, a freshman at River Ridge High School and a goalie for the Washington Warriors.
Other local Team USA members also heading to China are: Dylan Sordahl, Bill Mihay and Austin Morhous representing the men's team and Kaylee Logan representing the women's team.
Preparing for the first ever world roller games is a commitment beyond weekly practices. Just last November, Wyatt flew to Boyertown, Pennsylvania for training camp with his new teammates and will be required to attend another camp in June.
"I am working on many skills for China. The biggest one being speed. I want to be as fast as possible so I can keep up with all of the older kids who I will be playing against. I don't do much other than skating. I am at the rink at least five days a week either skating session, practicing, or working."
"Playing with Team USA is different than playing with my local club, though alike in so many more. The biggest difference is age. In my local club, I play with both the younger kids and the adults all who bring different skills and levels of interest. The only way to really describe what it is like playing with the junior world team, and other kids who share the same love and passion for the sport as I do is 'unreal'."
Though hard to imagine, Wyatt didn't always have a love for the game.
"I started playing hockey back in 2012. Honestly, I never wanted to play in the first place. My mom was playing roller derby at the time and saw the hockey team practicing and she wanted me to give it a try. I actually hated my first practice and never wanted to go back. I only went back because she made me. I have loved hockey ever since."
Although Wyatt can usually be seen playing forward, he enjoys being a defender most because of the satisfying feeling that comes with stopping a counter attack from the other team. While most kids his age would rather score a goal, Wyatt likes to keep his head up, constantly surveying his surroundings to make the best passes and plays possible, assisting the goal, rather than scoring it.
"There are a countless number of players who have helped me become the player and person I am today. These players have taught me to stay on my toes, make quick decisions and most of all, how to be a team player. All the senior players have helped me with one thing or another, but the one who has helped me the most has been Shane Enlow. Shane devotes many hours of his free time a week to make me, and my teammates, what they are today. The Washington Warriors would not be what it is today without the hours Shane has dedicated to this club. That is why I look up to him the most, not just because of what he offers as a player and a coach, but because of who he is as a person."
Brian echoes the praise of the Washington Warrior coaches. Brian, a River Ridge band member and Washington Warriors player since 2009, says his coaches Shane Enlow and goalie coach Austin Moorhaus have played a big role in his success in the rink. Recognized with many awards, locally and nationally, Brian is ready to use his skills in the goal to help Team USA bring home a medal. Brian's brother, Douglas, a student at Aspire Middle School, is also a Washington Warriors player and is proud of his brother's accomplishment. "I hope to one day follow in his footsteps," says Douglas. 
Brian knows the road to China will involve hard work and dedication, but that is nothing new to him. While he has a GoFundMe page set up for family and friends to support his trip expenses, Brian is also working hard at odd jobs for friends and family to earn extra money "I want to to prove I can do this by working hard," he shares.
Outside the rink, Wyatt is a son, a student and a brother. His hobby? Skating. His job? At the rink. His future looking bright as he works his way to championship level play in China this August.
"I wanted to make the Junior World Rink Hockey Team to represent my country, sure, but that isn't the biggest reason. I wanted to make the team to prove to myself I could do what I had set my mind to."
And he did.
Ricardo's Kitchen and Bar will be hosting a Spaghetti Feed Fundraiser for Wyatt on April 23, from 4:00 to 7:00 p.m.  One hundred percent of the profits will go towards Wyatt's expenses to the World Roller Games.  Presale tickets are available for just $10 or you can pay $12 at the door the day of the event.
Contact Ricardo's or Danielle Mayo for more information on the fundraiser or to reserve your tickets today.