Spring is nearly here and the masterminds behind Intercity Transit's Walk N Roll Youth Education Programs are busy at work as they prepare to launch another dynamic series of courses through Earn-A-Bike.
Earn-A-Bike, led by David Coppley and Jessica Gould, aims at arming middle school age students with their own bikes, as well as the tools and knowledge that will empower them to be competent and safe riders.
"I'm just glad to be given this chance to help kids realize what kind of mobility and self-reliance is possible with a bike," said Coppley.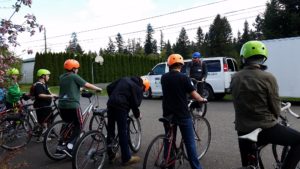 Each year, Earn-a-Bike is able to reach out to one middle school within the Intercity Transit service area, with classes held in the fall and in the spring. That potentially means 70 bikes are refurbished and donated to young riders, 70 students are taught basic bike maintenance and safe-riding skills, and 70 local youth are empowered and encouraged to grow into life-long bike commuters.
Casey Wilson, AVID teacher at Nisqually Middle School and certified League of American Bicyclist Instructor, fought to bring Earn-a-Bike to her school and students. "We are really excited to have this opportunity because it gives our students knowledge about being safe and using bikes as a viable mode of transportation. Having a bike opens up the world in a new way."
"The kids are excited, too," added Nisqually Middle School Principal, David Crane. "Just this morning, I saw a student walk past the bike setup in our lobby, do a double take and come back for an application."
Earn-A-Bike got its start back in 2011 at Roosevelt Elementary and continued to serve elementary-age students until 2014 when the current middle-school based curriculum debuted at Tumwater Middle School.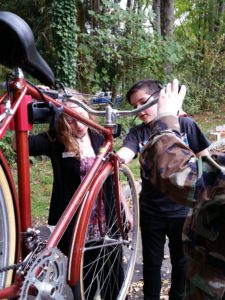 "I think that the change in audience was a good thing, Coppley reflected. "Developmentally, middle school students are at a point where you can engage them in a much higher level of learning. They also tend to travel without their parents more frequently, which increases the need for education."
Students who register for Earn-A-Bike participate in four after-school classes over a course of two weeks. Classes are kept small, no more than ten riders, to allow instructors to accommodate a wide range of skills and comfort levels.
Coppley, now a three-year veteran of the program, admitted that he has picked up a few tricks along the way to keep his students safe and engaged, no matter their background.
"Peer leadership can help with the class dynamic. Participants who are distracting are often bored because they have a high skill level. Finding places for them to help their peers provides a rewarding outlet for their energy. We also pay a lot of attention to the students when they ride, and we ride on the roads in a formation based on what we observe. It is important to know how to group riders so that we will all be riding as a cohesive group."
For Principal Crane, the strengths of Earn-a-Bike lie in the not so obvious skills embedded within each lesson, such as problem solving and perseverance, that can be transferred and applied to their lives outside of school.
"Our class may be the first time a student has held a tool and fixed something with their own hands. It is very rewarding to be a part of that moment and to see a spark light up in a kids' eyes as they realize what they are capable of," added Coppley.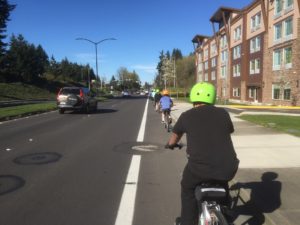 The Earn-a-Bike program survives and thrives through the work of volunteers.
With every new volunteer, Earn-A-Bike can increase its impact. The benefits range from more educated riders on the road, to promoting healthy lifestyles, to lowering our carbon footprint in our community and world.
Plus, as Coppley points out, "This work is inherently fun. How can you go wrong with kids and bikes? In fact, one of the things I hear over and over from the volunteers who we work with is that they wish there was a program like this for them when they were growing up."
Earn-A-Bike and Walk N Roll are always looking for new volunteers. Whether you are mechanically minded, an experienced bike commuter yourself or simply have an unused bike that needs a new home, you have the power to keep this program growing.
Want to Donate?
Bike shop volunteers refurbish all types of bikes, wheel diameters of 26" and larger, no matter the condition. Your donation will be paired with a helmet, lock, bike map and more to give to a future graduate of the Earn-A-Bike program.
Familiar with Bicycle Mechanics? Or Want to Learn?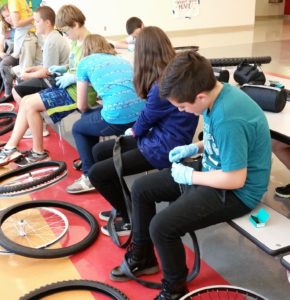 Anyone can join the team at the bike shop to rebuild, clean-up and get all donated bikes into excellent riding condition for the students. All you need is a willingness to learn and be available during open shop times.
Experienced Bicycle Commuter?
Whether in the parking lot learning the basics or out in the neighborhoods putting their new skills to work, students of the Earn-A-Bike program learn from our experience as bicycle commuters. Interested volunteers can sign up to support afterschool classes and supervise after school rides.
Contact Jessica and David today to find out how you can get involved at walknroll@intercitytransit.com or by calling 360-705-5855.
Bike Shop Hours and Location:
Wednesdays 1 p.m. to 5 p.m.
Saturdays 11 a.m. to 4 p.m.
209 Thurston Ave. SE
Olympia, WA 98501
Sponsored