When Dr. Grant Tibbetts was interviewed for his current role as Medical Director at TRA Medical Imaging, the company's president asked him an important question: what would you change first? He had an answer ready. "Just three months earlier, the FDA had approved 3-D mammography," explains Tibbetts. "It's the biggest breakthrough in breast cancer screening in 30 years. I told him, 'Let's take care of women's breast health first, and that will set the tone for everything else.'"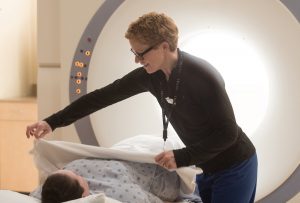 That conversation led to the opening of a Women's Imaging Center as part of TRA's practice at Olympia-on Lilly. The center offers 3-D mammography, breast ultrasounds, and biopsies with more coming soon. Other services include hysterosonograms and hysterosalpingograms, imaging procedures producing detailed images of the inside of a woman's uterus and fallopian tubes respectively.
Tibbetts wanted to address women's health first for several reasons. First, the diagnostic interactions between radiologist and patients are more intimate in this area. "If we do it well and carry over that idea and that relationship to other modalities, we increase the likelihood of patient interaction," he says. "The radiologist becomes a little more visible to the patient. We really want to focus on that, as well as building the relationship with the referring physician."
Second, women are often the decision makers when it comes to health care, he says. "In the average family, women are caretakers. Men tend to wind up at the doctor at their wife's urging…maybe that's why married men live longer. So if women received great care here, they're more likely to bring their kids, grandkids, and yes, even their husbands."
The center is designed with patients in mind, both in terms of scheduling and aesthetics. If a doctor catches something suspicious during mammography, they'll move to conduct the next level of testing as quickly as possible. "The idea is for this to be a one-stop shop," says TRA Marketing and Sales Manager Jill Makowichuk. "We offer a broad range of services so that patients don't have to go to multiple locations to get a diagnosis."
Visually, the center could be mistaken for a coffee shop, at least if you're looking at the design and the art on the walls. "When we remodeled, we created a nice big curved wall with warm colors. The Olympia Art League is providing us with paintings that change every month," says Tibbetts. "The artists love the idea that their art is bringing comfort to people in anxious times and the patients do enjoy and often comment on the art."
Women's imaging contains a high degree of uncertainty, and there's art in striking a right balance, says Tibbetts. "3-D mammography is a breakthrough, but we're still playing 'Where's Waldo.' He's absent on most of a 1000 pages but there are a lot of characters that look like him.  The challenge is to find him every time and not biopsy 17 of his cousins."
Sometimes, there's not a book answer, he says. "It may come down to, 'This is what I'd tell my mom.' A lot of what's going on for the patient is coping with the diagnosis. We try to meet the patient where they're at and help them navigate the situation."
For more information about TRA Medical Imaging, visit www.tramedicalimaging.com or call the Olympia location on Lilly Road at 360-413-8383 or toll free at 866-761-4200.
Sponsored