Growing up on a farm in Nebraska, Iris Young never thought she would be living in Lacey one day giving quilting tips to younger generations. But for the past 17 years, that is exactly what she has been doing. When I visit this 97-year-old, amazingly talented woman, the first thing I say is, "You do not look your age at all." And I am telling the truth. She just laughs and says quilting and lots of moisturizer are her secrets.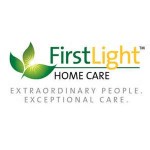 Iris tells me she first learned about quilting as a young girl. "I was inspired by my grandmother. Back then you didn't go to town and buy a blanket, you made quilts." It was not just a hobby; it was a necessity. "She was always quilting. She made most of the quilts for our family to keep our beds warm, and we wore them out, sad to say." Iris fondly remembers a quilting frame standing in her grandmother's living room and the many unique patterns she created. Although most of these quilts are long gone, Iris still holds onto the one she received as a wedding gift and she makes sure to carry on the tradition. "Whenever anyone in the family gets married, like my grandchildren, they get a quilt."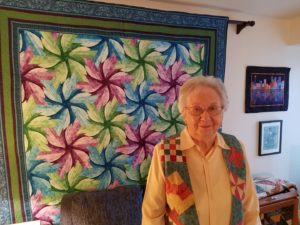 It is a surprise to learn Iris has not been quilting her whole life. On almost every wall of her apartment you can see the vibrant colors and patterns she has brought together to form these incredible pieces. Iris explains that she did not even really get started with quilting until she retired from teaching elementary school. She was 65 and already an accomplished watercolorist, but it was time to do something different and she dove in with both feet.
Iris does not sell her masterpieces. Instead they are heirlooms her family is very protective of. "They consider them their heritage. Someone wanted to buy one once, one I didn't really care that much for, so I thought I could sell that one. My daughter said, 'Mom, if you start selling your quilts, there's going to be a family uprising.' They want them when I'm gone," she says laughing. "I do it because I love it, and the kids appreciate it. I just have no desire to sell them."
Really, who can blame her family? These colorful works of art take a lot of time and energy. In Iris's own words, "There used to be a saying that, 'it takes as long to make a quilt as it does to make a baby.'" Judging from the details on her quilts, and the size of some of them, I believe it.
As Iris shows me one bedroom dedicated completely to her craft, she explains that some quilts are done entirely by hand, while on others she uses a sewing machine for parts. Her ideas come from her own creativity and, at times, with inspiration taken from books. Iris says she prefers shades of blue and green and does everything from complex patterns and landscapes to stained glass style pieces.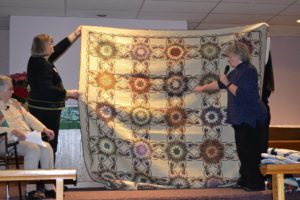 The ribbons on the wall speak for the quality of her work. She shares a story from when she lived in Texas with her sister and participated in an event with the quilters' organization there. They had three different ribbons to give out, but only one winner. "I got all three of them, so they were glad when I moved, and someone else got a chance," Iris says with a smile.
She is happy to share her talent with others. As members of Quiltmakers of Olympia, Iris and others not only teach new quilters their craft but also make quilts to give to various community organizations in the area. When Iris relocated to Olympia in 2000 to be near her children, quilting is what helped to connect her to the community. "That's the way I've gotten to know people." It is these friends she has made who help take her to her regular activities, because the one thing she does not do anymore is drive.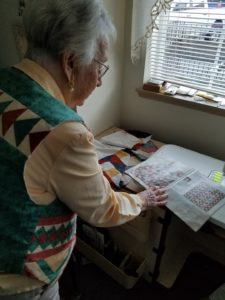 Iris's daughter, Rita, is following in her mother's footsteps as an avid quilter, but Iris says it was a bit harder to get her granddaughter interested since she is not much for sewing. However, she still managed to make a beautiful piece with her own style using iron-on pieces. Because really, there is no wrong way to make a quilt. Each one is uniquely the quilter's own.
Iris says she thinks the craft is growing and encourages all new quilters to join a local guild to learn the ropes. She even offered me some lessons if I can only find the time.