Universally, community service is a way for people of all ages to come together and ignite change. People with a passion to improve themselves and others, support those in need and better their communities. But with nothing in it for themselves, what is the allure?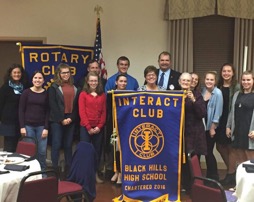 Debra Nickerson, advisor of the Black Hills High School's Interact Club, has been answering this question with more than just words. At 16, Nickerson was the youngest volunteer for her hometown's Crisis Intervention Clinic. She has been involved in community service everywhere she has lived. Her long list of volunteering includes: Greenpeace in Alaska, Women's Resource Center, Chair of Social Justice Committee at her church, Thurston Gun Sense, Sympatico Crisis Intervention Center and Black Hills Audubon for over 15 years, three of those as President. 
"I want to make a positive difference in the lives of those with whom I work and serve through my volunteer endeavors," Nickerson shares.
Nickerson has been at Black Hills for 17 years teaching English and reading before transitioning to the position of teacher-librarian 10 years ago. She has been the advisor for the Key Club for several years and recently started an Interact Club at BHHS, partnered with Tumwater Rotary. When Tumwater Rotary was approached by TOGETHER!, it seemed only fitting that the Interact Club join in, too.
The Interact Club, new to Black Hills only last year, is all student-directed with a helping hand from Nickerson who encourages students to bring in new ideas and create a plan to put them into action. The students have already put on bake sales, organized food bank volunteer hours and participated in several of the Tumwater Rotary events. With TOGETHER!, they tackled a new project head-on, ready for the challenge.
What is TOGETHER! doing at Black Hills? Jennifer Gould, the BHHS TOGETHER! representative explains: "Our mission is to reduce barriers to student and family success by integrating community resources with in school support systems."
TOGETHER! has initiated something called "The Hub", a place where students and families have access to supplies for basic needs like clothing, shoes, hygiene, food and school materials. It also supplies a place for families to access community supports for nees such as health insurance and housing. The idea started out as one-time donation and drive and evolved into setting up permanent spaces in local schools to serve the community.
At Black Hills, the Interact Club has worked with TOGETHER! to make The Hub a reality by cleaning and repainting the space, organizing supplies and actively seeking out donations not only through the school but also through the Tumwater Rotary. The Interact Club plans on taking steps to collect more donations and expanding resources for The Hub through school fundraisers and other community projects.  
Gould is very grateful for the effort and participation the club has put into the project. "What I love about community-school work at Black Hills is the sense of family and relationship," she shares. 'Students care about their school and the students who attend here."
The Hub is helping TOGETHER! achieve their goal of bridging the gap between low-income students and academic achievement. Not only that, but it connects the school with the community, adding to the services already provided. It raises awareness for families who didn't know they could get help from the school.
Nickerson and Gould are working to better the lives of not only people in their community, but their work is strongly impacting the thoughts of students in the club, encouraging them and getting them excited about community service.
"I want to nurture students so they can work to their full potential. Through service to others, we learn not only about the complexities of the society in which we live, but ourselves as well," says Nickerson. "We learn humility, patience, compassion. We push ourselves to be better so we can be better for others who need us."
Margy Best Richardson, community service chair for the club says, "Interact makes me aware of needs locally and globally, and teaches me how to better myself and others through simple acts of service. The Hub is inviting and a great place to get help when you need it."

Interact and TOGETHER! have made a very obvious point of improving their communities. Community service is for all ages and a rewarding experience that teaches humility, compassion and patience. Small acts of kindness can make big impacts on those around us, which is exactly what The Hub is doing.
Anyone can help, whether you donate your time, money or clothing, TOGETHER! and the Black Hills Interact club encourage you to take the time to participate in your community.
For information about donating to The Hub, contact Black Hills High School at 360-709-7800