Walking into Shipwreck Beads it's easy to be intimidated. With 20,000 square feet, featuring row after row of colorful beads and gems, one might not even know where to start. Fortunately, there are plenty of people on hand to help you find whatever you're looking for at the "World's Largest Selection of Beads." And with Valentine's Day and Mother's Day right around the corner, Shipwreck Beads is the perfect place to create something special for your loved ones.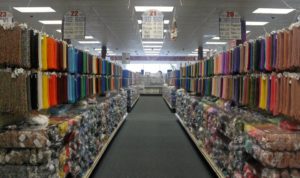 Started in 1969 as a small gift shop on Mudd Bay, Shipwreck Beads has remained a fixture in the Olympia community throughout the years. When they moved to their current location in the Hawk's Prairie area 15 years ago, they knew they were here to stay. "This is our permanent home, we're not going anywhere. This is where we live now," says Kelsy Vincent, social media coordinator for the business. She says she first started with the company when she was just a teenager and has watched the business grow and change with the times.
Beads weren't originally the focus, but when the original owner's kids saw how well they were received, they ran with it, eventually buying the business. Now, people come from all over the country just to visit the store. Some customers even RV camp in the parking lot because it's difficult to see everything in one day. There's also the Galley Deli in the store offering coffee, sandwiches, salads and soups in case you need to refuel during your shopping trip. But just because they're bigger now, Kelsy says it's still the same Shipwreck Beads. "Even though our shop is big, we're still a family-owned business. There's a lot of friends and family that all work together. We're a pretty close knit family."
However, Shipwreck Beads and its family is a perfect fit for Kelsy. Being a jewelry artist herself, she appreciates the creative process and enjoys helping other people make their own gifts. She says being handmade just makes it a little more special. "Anybody can go to the jewelry store and buy jewelry. Handmade takes a little something extra and a little more thought. When you're able to do that and give it to somebody you're giving them a little piece of yourself," says Kelsy. "It's more than just a gift because there's the thought and the time it takes to design it."
Of course, not every one can walk into a giant bead store and know how to design the perfect gift, let alone make it. That's where Kelsy says the Shipwreck Beads team can help. "There's a lot of resources and ways to learn to make some really nice jewelry and we've got every price point and every skill level." She recommends taking their Beading 101 class, offered every Sunday for $25. "If you're not sure what you're doing the class is a really good place to start." Class participants will learn basic beading techniques and have the opportunity to create a bracelet and a pair of earrings.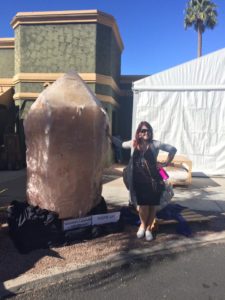 But if you don't need the hands on experience, you can always check out Kelsy's live videos on Shipwreck's Facebook page every week. Usually posted on Wednesday and Friday, she says these videos highlight different techniques and usually correlate to upcoming holidays. The best part is they are free and available online at any time.  Kelsy says it's important for the company to stay connected to their customers they've come to know over the years.
However, if you don't have time for the classroom or instructional videos, Shipwreck Beads has got you covered there too. "There's some really quick gift ideas. You don't even need to know how to bead. You can just buy a single chain throw a charm on it and call it good," Kelsy says. At the store you will also find an assortment of finished handmade jewelry pieces available for sale.
Kelsy says the company takes great pride in bringing amazing beads and gems to their customers. In fact, she just returned from their annual week-long buying trip in Tucson, Arizona. She tells me this large event is where they pick up the higher end pieces and gemstones to display in the store's Treasure Cove.  And they'll be up for sale just in time to make that perfect gift for someone.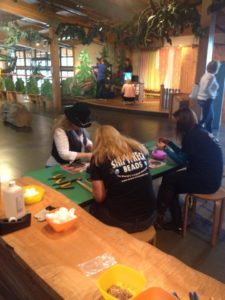 What's great about jewelry is how universal it can be, you don't have to worry about a perfect fit, and it's always in style. "There's never an inappropriate time to wear jewelry. Whether you're just making it for yourself or making it to give to someone else, jewelry is always great. Human's have been adorning themselves since the beginning of time. It's kind of who we are as people to want to express ourselves and this is a great way to do that."
You can also get a taste of the Shipwreck Beads experience at the Hands On Children's Museum. The employees volunteer their time at the Adult Swim nights hosting the craft area. Here adult "kids" 21 and over can enjoy the museum, have a few drinks, and even make some artwork. Kelsy says they are really proud of the relationship they've developed between their store and the museum. "We really try to do what we can in the community to try and give back."
Shipwreck Beads
8560 Commerce Place Dr NE in Lacey
Open daily from 9:00 a.m. – 6:00 p.m.
Sponsored