Over 30,000 people in the United States suffer a partial or full finger amputation each year. Two very simple everyday household items – doors and power tools – cause the majority of these accidents. I was surprised and pleased to learn that there is a cutting-edge prosthetic manufacturer right here in Thurston County.

When Colin McDuff lost his own finger in a hunting accident in 2010, he used his skills as a welder to fashion a prosthetic finger out of bicycle parts. An avid cycler, McDuff was inspired by bikers in the cycling world. Enterprising athletes have made prosthetic limbs using bicycle shocks.
The prosthetic fingers available on the market were cosmetic only and not functional. McDuff wanted a functioning finger that would allow him to type, hold a coffee mug or even play an instrument. He brought his innovative design to his friend Bob Thompson and Naked Prosthetcis Devices was born.
As the CEO of Lincoln Creek Lumber Bob Thompson knew there was a void in the prosthetic industry. Thompson was excited to bring a functional prosthetic finger to the market that would get people back to work after an injury. "We have a fully customizable prosthetic finger design that will allow the patient to pull the trigger on an air gun or type on a computer efficiently," explains Thompson.
Naked Prosthetics has two models of biomechanical prosthetic fingers, designed to replace partial or total loss of the fingers. The design functions just like a finger. A non-motorized device, the prosthetic uses the remainder of an amputee's finger to power the device. Once a patient has been determined to be a candidate they can request a proprietary sizing kit from Naked Prosthetics. Using the sizing rings and photos, NP Devices uses a very high-end 3D printer to create the simple, elegant and fully functional device. Working with physicians, surgeons and prosthetists, Naked Prosthetics makes every prosthetic finger specific to the needs of the individual patient.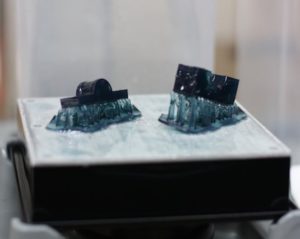 At NP Devices "It's All About Function." Naked Prosthetics is committed to making finger amputees whole by incorporating seamless aesthetics with function. No one appreciates this more than Saku Uchikawa, a computer engineer at Microsoft. Saku lost the top third of two of his fingers while doing some routine maintenance on his motorcycle. He was never able to adapt to keyboarding which accounted for almost 95% of his communication at work. The pain and loss of sensitivity decreased his productivity and effectiveness. He spent almost a year researching prosthetic options until he found Naked Prosthetics. Today he can do everything he had taken for granted before the loss of his fingers. Utilizing the two devices from Naked Prosthetics, he is able to type efficiently again as well as hold his phone and sort through his mail without feeling that he is no longer whole.
Once a customer is fitted with their prosthetic finger, it is only a matter of weeks or months before they are fully functioning. As Bob explains, "Although the finger or a portion of the finger is gone, the vibration of what is left sends a message to the brain allowing it to re-map and bring back function."
One of the more inspirational patient stories is that of Joey, a woman who lost seven digits to septic shock. An art teacher by trade, she also taught sign language and could no longer sign after the loss of her fingers. Once she was fitted with a Naked Prosthetics device, she was signing again in no time. The length from the prosthesis helped her form the letters as clearly as a natural finger.
Naked Prosthetics has grown quickly as the demand for their innovative product is exploding. They are on the forefront of the prosthetic industry in the US and in the world. Very few companies are able to produce a fully custom prosthetic at a reasonable price. Naked Prosthetics now employs 12 people locally including four engineers. The devices are designed, assembled and tested in the region.
Bob Thompson assured me that they are planning to bring even more products to the prosthetic market to make life easier for amputees. For more information on Naked Prosthetics visit their website at www.npdevices.com.