For John Kiley, it's another magical moment. He's coaching at basketball practice, putting his Olympia Bears through another drill, another workout, another preparation for their next game.
It's a been there, done that moment for Kiley. And he loves every second, every drill.
This is where Kiley dribbled up and down the court for the Bears 31 years ago. He was the starting point guard on the Bears 1986 state championship team, the one coached by Al Sokaitis. Then came a 10-year stretch were Kiley coached the Bears from 1992 to 2002, stepping away from his dream coaching job for one particular reason – he wanted to coach his sons while they were growing up, starting when they were in first grade.
Now, Kiley is back, coaching at his alma mater – and this time he's wearing two hats. At each practice, he's now both father and coach. His son, Luke, is the Bears starting point guard, playing the same position his dad did 31 years ago.
"It's a blessing," Kiley said when asked what it was like coaching his son. "I could get emotional talking about it."
But it's hardly unique. Kiley has coached Luke since the Bears senior point guard was in grade school. There's been no speed bump for Luke since John took over as the Bears head coach last year. Luke's been through it before.
"I'm really used to it because I've had him as my coach since first grade," Luke said at a recent practice. "When he was our coach last year, it was nothing out of the ordinary for me. It was normal. Just the fact that he gets everyone to buy in is something I've seen every year I've played for him. I just like it a lot."
If Luke ever has a question or a comment at practice, he'll begin his query with "coach." He never refers to him as "dad." And John never refers to Luke as "son." But John admits the level of expectations might be a little higher for his son.
"At times, he has bared the burden of the occasional yells and the high standards," Kiley said with a chuckle. "I think when you coach your kids they have to be held to an equal if not higher standard. He's had that burden at times. But at the same time I feel he's done a great job of leading this year and doing his job as a role player last year."
There are times while sitting around the dinner table at Kiley's home where dad suddenly becomes coach, giving his son a critique on a recent practice or advice on an upcoming opponent. John has tried to curtail these coaching tips over dinner.
One thing John has never done is watch game film with his son at home, critiquing his play.
"He's like a dad outside the court obviously," Luke said. "Some times he'll tell me what I need to work on, tell me good things and bad things."
It's all good in Luke's book.
"I hope we both look back on it as a very special opportunity," John said.
On game days, this father-son, coach-son relationship takes one more step in family relationships. Grandma and grandpa, John's parents, show up for every home game, sitting right behind the Bears' bench, cheering.
"I think it means everything to John," Jack Kiley said about what it means to John to coach his son. "The fact that he's got enough confidence in Luke, in him being the point guard to be able to direct the team and handle the ball as much as he does, it's got to be gratifying because that's what John did years ago."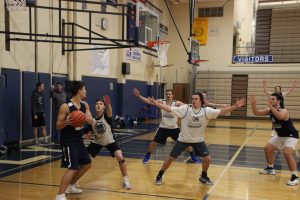 After every game, win or lose, Luke goes to his grandparents and thanks them for coming.
"I like seeing my grandparents in the stands," Luke said. "I try to play my best for them because they love coming out and watching us. I enjoy seeing them in the stands because I don't know how much longer I'll have with them. Any moment I can get with them is good for me."
There's one thing Jack never does with John. He never offers his son advice on coaching."I don't know crap about basketball," Jack said with a laugh.
On this Olympia coaching staff, John Kiley isn't the only former Bear, coaching for his alma mater. Three of his assistant coaches – Ryan Gerrits, Tim Hume and Matt Hargrave – wore the Blue and White and played basketball for the Bears. Hume played for the Bears in 1983, John's sophomore year. He's coached with Kiley for 20 years now.
"He was a senior when I was a freshman," Kiley said. "He was my idol."
Gerrits remembers as an eighth grader watching Kiley play on that state championship team.
"There's just a lot of tradition here," said Gerrits, a 1990 Olympia High school graduate who is now the school's dean of students. "People have fond experiences here and we love our community. We love our school. We want to give back. I want to raise my kids here."
Hargrave, a 2004 Oly graduate, was a sophomore in Kiley's last year as the Bears head coach before taking a sabbatical. He remembers Kiley's commitment to the program and the school.
"John always had the love for the program and the community," Hargrave said. "I just kind of realized that I always wanted to end up back here."
When people ask Hargrave why he volunteers to coach for the Bears, his answer is simple. He says it's payback time.
"They ask me why do I do that for free?" said Hargrave, who is a loan officer for the Timberland Bank. "Well, the Tomas Rowswells, the Kelly Golobs, the Mark Bigalows did it for me in the early 2000s. Now, it's my turn."
Kiley is a committed Bear. "I have blue in my body, and my soul and my veins," Kiley said. "I love Olympia."