Driving around town you have probably noticed beautiful stonework at different businesses, neighborhood entrances, and home driveways. I never really thought about the actual work to make these pieces of art until I ran across Macy and Shane Jewell. As I arrived at their home for another story, I couldn't help but notice all the wonderful rocks dotting their landscape. And, when I saw their actual workshop I was fascinated to learn about their business, Reflections Custom Etching. I just had to come back and find out more.

Macy tells me she got started in the etching business nearly 40 years ago. She was running a restaurant in downtown Olympia and went into Mansion Glass, which was just above it. She was hoping to learn how to make some Christmas gifts, but what she stumbled into was much bigger. Having recently graduated from The Evergreen State College, and knowing she didn't want to stay in food service forever, she decided to make a change. "I made a few samples and started walking around town and saying, 'Hi how are you doing? This is what I do,'" she explains, looking up from her latest project.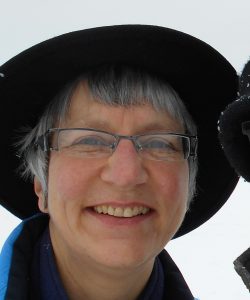 Her husband, Shane, helped where he could including building a homemade sandblaster in the garage. However, he was working as a commercial fisherman and gone much of the time. It wasn't until the mid 1990s that he also decided to make a career change and focus on stone and glass etching. "I just decided to stay home one year and see if we could make it. In the beginning I was doing things like following dog shows around trying to sell rocks," Shane says with a smile. It wasn't glamorous, but it got their name out there and their business began to really grow. They both say the biggest hit at the fairs was the stones themselves because everyone wanted to touch them. It didn't matter so much what words or images were on them, but more about the rocks themselves.
There must just be something about rocks because I also find myself drawn to them. Even now, standing in their studio, I reach down to pick them up and rub them between my fingers. I ask Macy why she thinks people gravitate to rocks. "It's a little bit of Mother Earth. We all come from the earth and will return to it." Rocks are complex, so both she and Shane have spent a lot of time learning about the geology and science behind the rocks they work with. "It can be very unforgiving. You have to learn to read the rock. All rock has grain one way or another. It has crystalline structure you have to work with. There can be hidden fractures, hard spots, or soft spots," Shane explains.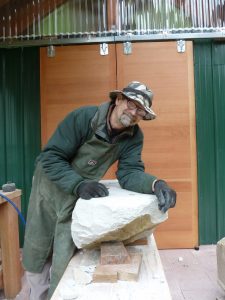 As for where they get their rocks, the two of them say most of them come from the northwest. Shane tells me, "We do a lot of collecting – beaches, rivers, roadsides; we've got a lot of places we go." But not all the rocks they use are their own.
Macy says that because the majority of their work is custom, often clients will bring in a favorite stone or boulder with an idea in mind. Then it is up to Macy and Shane to make it a reality. Whether it is an address sign, a pet memorial, or a headstone, the same effort and thought goes into the creation. Shane tells me the best part for both of them is interacting with the customers. "It gives me satisfaction when I see their emotional response to what I create and what Macy has created."
Although the couple performs very similar work, they also have their specific talents. According to Shane, "Macy is a lot better at glass than I am. She's got a more delicate touch and I more like to bang on things." The process itself is interesting and very time consuming. Once a rock or piece of glass has been selected and an image chosen, the work starts at the computer. "I cut a stencil for each stone. It is a big roll of tape that runs through a plotter. I tell the computer what it is that I want it to cut. Then I have to pluck out all the area that I want to get sand blasted," Macy chimes in. She does this meticulous work with an X-acto knife and magnifying glasses to get the shapes just right.
Next comes the actual sandblasting. Stationary gloves allow the artist to hold the stone in the machine while applying the sand to the specific areas they want to blast. This gives the image depth on the stone, and color is added later if needed. Because this only works for smaller pieces, Shane often must build a booth on location or outside at their home to get the image he wants on larger stones
That is only after he has spent the time smoothing the rock's surface with multiple levels of grinders and using his hammers and chisels to get just the right shape. These large-scale projects can take upwards of eighty hours to complete, but Shane says it is worth it. "I enjoy taking something that most people just look at and see a rock. I see more in that rock, and I see what I can do to it. Every rock is different and every time I do one I learn something new. It's always fresh. You do something this deep and it's going to be there basically forever."
If you would like to view some of Shane and Macy's work you can visit their website, but it is also proudly displayed all over town. From the stonework on Providence Way at Providence St. Peter Hospital to the neighborhood sign for Horizon Pointe, you've probably seen the work of Reflections Custom Etching.