Sometimes a gift is more than a gift. For children and their families facing hardships, gifts are hard to come by financially and even emotionally. We are fortunate that Thurston County people and organizations think ahead for these children, for whom, a gift means the world. That's only one side of the story though. For the person or organization who gives the gift, it can mean a great deal too. Here are some ideas for donating gifts and monetary contributions so Thurston County families and children experience a holiday they will remember.

The Olympia Toy Run will take place on Saturday, December 3, 2016. There are 19 toy drop-off locations where new, unwrapped gifts can be donated. The gifts will be strapped to the front of a motorcycle and brought into town by hundreds of riders. The cost to participate in the Olympia Toy Run is $10 for a single rider and $15 for a couple. Registration begins at 10:00 am at the South Sound Center and the sea of motorcycles depart at 1:00. A map is available that shows the route and the end of the parade at Marathon Park at the Deschutes Parkway. Once the toys are delivered, the Salvation Army's Toy-n-Joy Shop will prepare them for distribution to local children. Due to our frequent rainy days, please donate gifts that can weather the ride (no stuffed animals).
The Tumwater Lions Club hosts a holiday assistance program each year partnering with the Tumwater School District, Tumwater City Hall, and the Tumwater Fire Department to provide toys and clothing for Tumwater kids. To donate a toy, shoes or coat, there are tags with child gift requests and sizes located at Tumwater City Hall beginning Wednesday November 23. Families can be adopted by individuals or businesses too. The unwrapped gifts and clothing should be dropped off labeled with the child's and/or family number before December 9.
Toys for Tots is a national mission of the U. S. Marine Corps Reserve to collect new, unwrapped toys prior to the holidays and distribute those toys as holiday gifts to less fortunate children in the community. In Thurston County, children and their families can register with DSHS Community Service Office beginning November 28 and ending Friday, December 16. Toys for Tots in Thurston County has served over 6,500 families and 15,000 children in the last five years. Over 115 local businesses have drop-off boxes in their stores and more are needed. To become a drop-off site for Thurston County or a volunteer to help with the "bag and drag" day of packing the toys, contact the Thurston County Toys for Tots Coordinator, John Moysiuk. Toy distribution days are December 18-21.
Mixx 96.1 "Wrapping Up the Holidays" is a fund drive to collect toys, monetary donations, and gift cards for children and families in need. The radio station broadcasts live and collects donations 6:00 a.m. – 6:00 p.m. on December 21 on the corner of State and Washington in downtown Olympia. Volunteers are needed to stand on the corner (prepare for the weather), and help the station collect items. There is only one requirement to volunteer—smile, cheer and wave to the residents of Thurston County. Call the station at 360-943-9937 or email the station and sign in on the morning of December 21. Pick a time, let the station know if you will be alone or part of a group.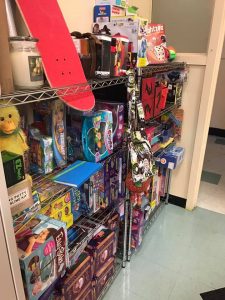 Family Support Center of South Sound matches less fortunate families with individuals and organizations to make holiday gifts and meals happen. Last year 100 families received gifts and support, and 698 children received a holiday gift. The Family Support Center needs toys, clothing, coats, blankets, and shoes for children and youth of all ages.  Gift tags are ready for pick up, so please return the gifts to the Family Support Center by December 19 for distribution. Contact the Family Support Center directly for donation information.
The Capital Mall Salvation Army Giving Tree is set up in the Theater Court at Capital Mall. Individuals are invited to select a paper angel tag with the first name, age, and gender of a child in need of a gift. Individuals may take one or more tags. The Giving Tree is open through December 18. Grab a tag and give back! Drop off the unopened package at Olympia's Wetzel's Pretzels along with the tag.
Finally, in the midst of the hurry and hustle of the holiday season, there is one last way you can help those in need during the holidays: drop your change or your bills in the red bucket outside stores around Thurston County. The Salvation Army accepts all donations—big or small—and the ringing of the bell reminds us of holidays we treasured. Please consider donating and volunteering for your neighbors in Thurston County. It makes a difference.