Donna Killelea, volunteer for Paddle to Nisqually, signed up to help with food. "It is just such a huge endeavor. All of these people who are on the canoe journey need to be cared for, housed, and fed. Then there is the public who attend the event. There is nothing small about this. They need more and more and more volunteers." The Paddle to Nisqually canoe journey lands at the Port of Olympia on Saturday, July 30.
Killelea's church Olympia Unitarian Universalist Congregation includes a group interested in learning more about the local tribes. For the past month, this group, called Toward Right Relations has been making necklaces at the Nisqually Tribal Center to give away during the Paddle to Nisqually.
"The tribe provides the materials. We string beads on wire and add some other decorations like canoe paddles, whales, porpoises, and other characters. Each participant will be given a necklace. Some of the necklaces also have a tiny woven basket to hold a totem," she describes. It takes one hour to make each necklace and volunteers have amassed 2,000 necklaces.
At the Nisqually Tribal Center Desirea McCloud is sewing. There are sewing machines set up for people to use. "I am working on an Elder Blanket," she says. She holds it up and I see that it is a fleece lap blanket. "The top of this is folded over and stitched down but left open at either end, making a place for someone to put their hands and arms into for warmth. I can't wait until the Give Away, when we give our gifts and see their smiles and they see how hard we have been working," she adds with a big smile.
Long tables are set up with necklace materials, finished necklaces, blankets, and hats. Dance regalia is laid out on one of the tables. Anita Paz, Volunteer Coordinator for the Paddle to Nisqually, interprets the designs on the capes for me.
"The theme for the Paddle to Nisqually, 'Don't Forget the Water,' is written in Lutshoseed, our tribal language, across the top of the regalia," Paz tells me. She points at the other designs on the cape, "The Moon which manages the water, the stars which represent the birth of Chief Leschi, Mount Rainier where our water starts from, the canoe is who we are, 'Swualli-absch,' and the fish is our tribal logo."
The capes and vests are shimmery and elegant. Paz expects that there will be about 150 dancers. Each tribe will present itself, and sing and dance with its own protocol. With the canoe journey participants, tribal guests, and everyone who comes out to view this event, coordinators expect 10,000 people over the course of the week-long events.
Karen Jackson also from the OUUC has been helping sew dance regalia. "Today a young mother came in to the center. The woman has never sewn anything before and wanted to make two dresses for her daughters in the Regalia fabric and colors. I was able to help her cut out the material and begin sewing the dresses for her girls. The mother really wanted me to show her, not do it for her. She wanted to do it herself. I love to sew. I have been a seamstress for many years, so it was a lovely way for me to help out. I also wove some of the little cedar baskets that are on some of the necklaces."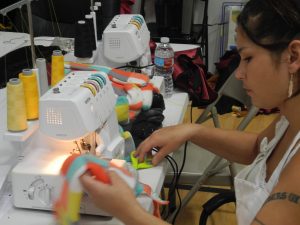 "Volunteering has been a really amazing experience," she continues. "When we first went out to help, our group went Wednesdays for three hours. We were told that if we wanted to remain, we could share a meal and watch the dancers practice. It was just lovely. The dancing is really cool; watching the practice and the little ones. The culture and the way elders are treated is so inclusive.
Jackson and her husband will be volunteering for Green Team during Paddle to Nisqually. They will be either driving a cart to pick up recycling and trash or supervising a recycling station. "I am hugely glad I volunteered and I will look for other opportunities to work with our local tribes."
In addition to OUUC's Toward Right Relations volunteer efforts over the past few months, the group has also coordinated the designing and printing of over 1,300 fleece blankets to donate to the Paddle to Nisqually. Local artist Jody Bergsma created the design for the blankets.
Paz says that many more volunteers are needed through August 6. Two-hour time slots make volunteering easy. "Anyone interested in volunteering can sign up online on the Paddle to Nisqually website. If someone has time to respond to your request to volunteer, you will receive instructions," Paz explains stating that there are so many tasks that sometimes other things take precedence over responding to email and phone messages. However, she adds with emphasis, "There are 83 canoes signed up. We expect 100 – 120 canoes. We need as much help as we can get for protocol which is taking place near the Nisqually Reservation Tribal Center." Volunteers are encouraged to show up and park in Lot A before boarding a shuttle to the Volunteer Booth. Paz says you will get assigned to a station where there is the most need at the time, including the 24-hour dining tent preparing and serving breakfast and dinners.
"We understand that people have their own lives. We appreciate whatever they can do to volunteer. All the tribal employees and volunteers have worked very hard to get ready for our guests. People have put in many hours to make sure everything gets done and is ready. We thank them all," Paz says in summary.