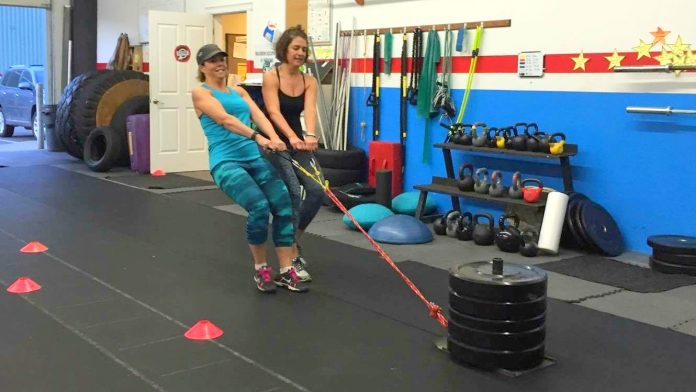 Submitted by Bodymechanics Fit Body Boot Camp
Bodymechanics Fit Body Boot Camp in Tumwater offers fun and challenging boot camp style workouts 6 days a week.  People of all fitness levels, sizes and ages are welcome to try out our classes as each exercise we do is modifiable to all abilities.  Our classes are motivating, effective and challenging for the new member to the most experienced athletic person.
NASM™ trained personal trainer, Jeremy White says his goals for members are that "they become more fluent in movement and increase their cardio vascular endurance."
One thing that sets Bodymechanics Fit Body Boot Camp apart is our commitment to creating a family-like gym, where members become friends and check in on each other.  Accountability and motivation increase exponentially in group settings and members reach goals faster than those who go it alone.  Improved overall health, improved mental clarity, increased flexibility and feeling more self-confident are outcomes our members experience.
Nicole Fernow-Marval, CPT, LMP who leads our very popular Team 620 class says, "My goal is to help members have more sustained energy, to start eating healthier foods and make better food choices.  I love training boot camp classes and see everyone get fit and commit to their health."
As an avid athlete, Nicole certainly walks the walk, and talks the talk.  She has participated in Strong Man (Woman) competitions and run several half-marathons.  Nicole shares her passion for fitness and nutrition with bootcampers every day.
Bodymechanics Fit Body Boot Camp owner Shari Aldrich, who also owns Bodymechanics Boot Camp (Centralia) and Bodymechanics School of Myotherapy & Massage, is passionate about health and fitness. Her personal experience with family health issues led her to opening the bootcamp and lives by the belief that "movement is life, stillness is death."  Shari has worked to get the right team in place, so that members will get results that isn't common in a traditional gym setting.
Often times we hear that clients who attended other gyms felt they were just a number – not greeted when they walked in the door and felt uncomfortable using equipment and intimidated by others in the gym.  Our gym is different – we check in with members who miss a day, we check in with goals monthly and we motivate daily.  Members are led through the workout by our skilled trainers and are assured they are doing the movements correctly to minimize potential injury.
Our goal at Bodymechanics Fit Body Boot camp is designed to engage members and create a family environment that is safe, fun and offering a non-intimidating atmosphere for members.
Workouts are designed and led by certified personal trainers in a manner that is created to be fun while challenging members and maximizing fat loss in less time.  We strive to help members deepen their knowledge of fitness and what it really means to be truly fit and live a healthy lifestyle. We start with the basics and dig deeper into more advanced movements and techniques as each client and group progresses.
Our convenient class schedule allows those who desire morning or evening classes to come in, have a well designed workout prepared, and then get on with their day.  Shari enjoys training boot camp classes in Tumwater when able and has noticed members enjoying life more – going on hikes, bike rides and running races.  Sedentary lifestyles change, and members make plans to do activities with each other outside of boot camp classes, which speaks to the family atmosphere created in class.  Shari notices the fun that members have engaging and encouraging each other on the group Facebook page.
Bodymechanics Fit Body Boot Camp Classes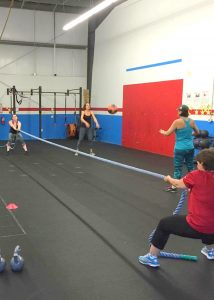 High energy, fun and effective boot camp classes designed for those getting into fitness and those who are looking to increase their fitness level.  Members can count on losing weight, fat and inches while gaining in fitness, strength and endurance utilizing our dynamic exercises with body weight, suspension trainers, medicine balls, dumb bells and kettle bells.
We promote unity, lifting each other up.  No one will feel left out and we believe in what we do and that is to help people become better versions of themselves.
Our current membership special for people new to our facility is 4 weeks for $67.  After that, membership price is based on member goals and individual needs.  New members will participate in an assessment with our trainer to ensure that the bootcamp is both appropriate for them and that together, we can help members reach realistic goals.
For more information on any of our programs, including schedules, please give us a call at (360) 350-0015.