The once large crowd at the Columbia Basin Racquet Club in Richland had long since dispersed.
There really was no reason to stick around. The activities had ended. The fans and officials had departed, but yet Angela Schuster remained. Standing there still soaking everything in with her parents and oldest brother, she had no desire to leave.
"They ended up kicking us off the court," Schuster said. "We probably would have stayed there a lot longer if they hadn't made us leave."
It made perfect sense why the Timberline sophomore wanted to prolong the experience. She was less than an hour removed from winning the Class 4A state girls tennis championship on May 28, becoming the first Blazer to accomplish the lofty feat in the school's 46-year history.
Schuster's strong performance also helped the Blazers take home the second-place trophy, the top finish ever for the program.
"It's just unbelievable," Schuster said. "When they announced we were second overall as a team, everyone just started screaming. I was just so happy for our team."
A year after finishing fifth at the state tournament, Schuster cruised to the state finals after sweeping her first three opponents in dominating fashion before defeating Hannah Gianan of Camas (2-6, 7-6 (4), 6-4) in the title match to secure her first state championships.
"She unassuming. She's so quiet and small," Timberline coach Kristine Mosher said, "but when she gets out on the court she's always battling and grinding. She has this never give up attitude."
That positive outlook was more than tested in the state championship match after Schuster dropped the first set, 6-2, to Gianan.
Rallies just don't occur very often in the 4A girls finals. Straight set sweeps had become the norm the last two decades. In fact, only two players over the last 15 years have dropped the first set in the state championship match and came back to win.
Schuster became the third.
"All I could think of during that first set was how good she was," Schuster said, "but I didn't want to make it all the way to finals and lose. I think I would have rather lost before the finals than to lose in the finals. It would have been so difficult to get that close (to a state title) and not win."
That scenario failed to transpire, but that's not to say things came easy.
Schuster and Gianan, who had won back-to-back state double titles the previous two years, battled back and forth during a second set that Schuster won, 7-6 (4), after thwarting away five match points.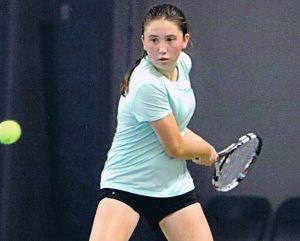 Schuster closed things out with a 6-4 third set that saw Gianan constantly coming back before ultimately falling.
"After the second set I definitely had a lot of confidence," Schuster said. "I went up 5-2 in the third, but made the mistake of letting up a little bit. I just had to regain my focus and close the match out."
But fighting back from an early deficit in a high-profile match was nothing new for Schuster this season. She faced a similar task in the finals of the 4A West Central District where she dropped the first set to Gig Harbor's Joyce Park, a close friend of Schuster's, before winning the next two sets and the district title (2-6, 6-4, 6-4).
"The same exact thing happened to her at districts," Mosher said. "She doesn't let much phase her on the court. No one wants to be down early, but she's really shown a lot by the way she always battles back."
It's now been more than a year since Schuster last dropped a high school tennis match. That last loss came in the first round of the 4A state tournament during her freshman year when she fell in straight sets (6-2, 6-0) to Sammi Hampton of Skyview.
No shame there as Hampton was kicking off her run toward a fourth consecutive state championship last year by defeating Schuster.
Looking back now it almost comes across as her match against Hampton was also the passing of the torch.
Schuster rebounded from the defeat by winning her next three matches to secure a fifth-place finish at last year's state tournament, and has now won seven straight state tournament matches.
Unlike Hampton, however, Schuster will not get the opportunity to defend her 4A state championship as Timberline will move down to the 3A classification next season.
"When I heard we were leaving 4A I got excited. There's a chance I can win a 4A and 3A state title. That would just be amazing," said Schuster, whose brother David played collegiately at the University of Hawaii, while oldest brother Michael played at Gonzaga University. "There's a lot of great players at the 3A level though. It may actually be tougher than 4A. But I'm excited for next year. There's some things I want to improve on and hopefully I come back next year as a better player."