The Union Gospel Mission Dental Clinic's new location makes emergency dental care more accessible to the elderly and handicapped. Prior to the month long move, those in wheelchairs and walkers had a hard time navigating through the thick gravel surrounding the previous location on Franklin Street in downtown Olympia. Now, located across the street from the Transit Center on Washington Street, the clinic is right off the sidewalk leaving the pathway able to be easily navigated. "The move has proven to be very user friendly," says Linda Barrett, the dental clinic manager.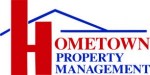 The Union Gospel Mission's (UGM) goal is to share God's love in practical ways, catering to the needs of the disadvantaged in many ways. Laundry services are coordinated, regular meals are served, numerous health programs provide emergency care and long-term recovery services are offered to hurting and homeless people are just a few examples of the UGM at work.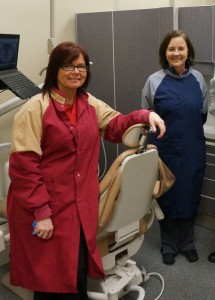 Barrett has been serving her community for the past 14 years through the Union Gospel Mission Dental Clinic. A regular Monday morning for her consists of a dozen homeless patients and a dozen (or more) teeth to be attended to. "We have a wonderful program going here. Without the help of the volunteer dentists it would not exist," explains Barrett. The volunteer hours spent by local dentists, like Dr. Karl Hoffman of Hawks Prairie Dental Center, make all the difference in people's lives.
Dr. Hoffman has been working with The Union Gospel Mission Dental Clinic (UGMDC) since its beginning, almost 14 years ago. "He graciously participates in not only coming here and helping us with these emergency patients, but also has been my number one go-to guy for the Thurston County Dental Access Network," says Barrett. She explains that this network is a program that allows emergency cases to be seen by a dentist in their private practice on days when the UGMDC is not open. "I've never been turned away by Dr. Hoffman and I know I can call him any day to get an emergency patient checked," she shares.
The work that began in 1995 as street ministry passing out coffee and sandwiches has since grown into a multi-clinic system serving those struggling with poverty, addiction, and homelessness. Currently, the dental clinic is primarily urgent care rather than restorative. Aching teeth and wisdom teeth removal are the most common ailments people come in to have relieved.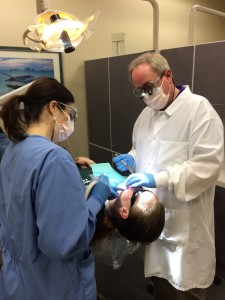 The dental clinic meets basic health needs in more ways than one. The UGMDC is considered a first stop on a long road to recovery, in many cases. "We are the first stop for all people who are going to undergo heart valve replacement, heart surgery, or any cancer treatment," explains Barret. "They need all of their dental work done prior to any treatment."
And for those living below the poverty line, a regular dental checkup is usually not in the budget, much less an extensive treatment or procedure. Dr. Hoffman encouraged Dr. Ryan Womack of Capital Oral and Maxillofacial Surgery to start coming to the mission and has turned out to be a star. He handles very complex patients and is a wealth of information for other dentists as well. He volunteers monthly and, although some patients have to wait to see him, the clinic didn't have an oral surgeon previously and he's certainly worth the wait.
Barrett expresses deep appreciation for the dentists who bring in volunteers to keep the mission running. Dr. Hoffman's assistant Jennifer is also an unpaid volunteer, for example.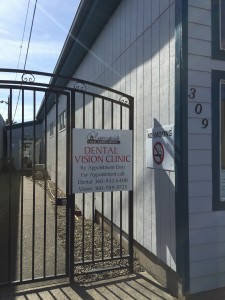 Although the dental clinic is first and foremost an urgent care unit and not a restorative clinic for non-emergency care, they hope to one day be able to offer preventive care. "It is by the grace of private donors, private grants, and the help of the community that we are able to be open and operating," says Barrett. And individuals in the community can help, too, with donations of time, money (just $60 covers a visit to the dental clinic) or supplies such as dental floss.
The clinic dreams about extending services, but funding is always a concern. However, with the help and countless donated hours of the 23 volunteer dentists and the more than 25 UGM employees, many less-fortunate men, women, and children find hope and help at the Union Gospel Mission.
If you'd like to help the Union Gospel Mission Dental Clinic visit them online or call 360-943-6400.