Submitted by The City of Olympia
Explore the creative and spirited arts community of Olympia, WA and help celebrate our 52nd Arts Walk! Olympia is home to a vibrant mix of musicians, filmmakers, writers and visual and performing artists. Arts Walk is the largest festival of this type in the region – an unparalleled opportunity to embrace the arts and meet the artists. Dates for the event are Friday, April 22 from 5:00 p.m. to 10:00 p.m. and Saturday, April 23 from 12:00 to 8:00 p.m. 
Arts Walk brings together over 120 businesses and over 250 visual and performing artists with over 30,000 visitors in Olympia' historic downtown as they welcome the arts in all forms during this twice-yearly event.
Meet artists from all career levels, pre-school through professional.
Listen to a variety of live music including Rockin' Blues, Folk Harp, Indian Sitar, Brazilian Jazz and Ukulele.
Learn to Swing Dance, try out a new instrument, or stop in at several family art activity areas.
Check out poetry, adult storytelling, puppet shows, or the outdoor craft market.
Take in impromptu street performances, all kinds of dance and of course, exhibition of fine art from photography, painting and drawing to sculpture, textiles, ceramics, printmaking and more.
The festival also includes the spectacular Procession of the Species, an artistic and environmental celebration presented by Earthbound Productions. The event is a colorful and joyous street pageant using the languages of art, music and dance to inspire cultural appreciation, understanding, and protection of the natural world;  the Procession begins at 4:30 p.m. on Saturday. Due to the popularity of the Procession, it is extremely important for individuals to pay close attention to street closures and tow away zones.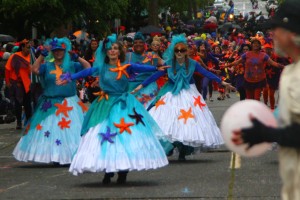 Oregon Coast, by artist Jenn Kliese, adorns the cover of the Arts Walk map this spring. The work is wax pencil and soft pastel on craft paper. Jenn grew up in northwest. Moved by the natural landscape of the west coast forests she works to express how it feels to be in the landscape more than how it looks; to pull the viewer back into their place in the wild. Jenn will be showing her work at the Olympia Knitting Mills (#81 on the Arts Walk map), which is a series of art studios Kliese shares with 5 other women artists. The space has a long history in Olympia, from textile manufacturing to music industry and visual art collective.
Arts Walk is sponsored by the City of Olympia Parks, Arts & Recreation Department and Olympia Arts Commission, with support provided by Art House Designs, Capitol City Press, Heritage Bank and MIXX 96fm.  Arts Walk maps are available at participating locations after April 11, and at Olympia City Hall, 601 4th Ave. East and The Olympia Center, 222 Columbia St. NW.  A digital map and Arts Walk app are also available after April 11 at olympiawa.gov/artswalk. For more information, contact Olympia Parks, Arts & Recreation at 360.753.8380.