For a second consecutive season Matthew Anfeldt will head into the high school state wrestling tournament as a regional champion.

The Tumwater High School junior successfully defended his 106-pound title at the 2A Region III tournament by defeating 2A Evergreen Conference rival Roehre Cunningham of W.F. West in the finals, 3-2.
"It's all been practice up to this point," Anfeldt said. "This is when it all starts."
Anfeldt will take his top seed into Mat Classic XXVIII, which will be held February 19-20 at the Tacoma Dome.
He will be one of five Thunderbirds to compete at the state tournament. Tumwater also received a regional title from sophomore heavyweight Cy Hicks.
It was the third meeting this season between Anfeldt and Cunningham and the second consecutive year they have met in the regional finals.
After losing the regular season matchup during a dual meet, Anfeldt notched a 3-1 victory over Cunningham at the 2A Evergreen Conference Sub-Regional tournament.
The regional final was another close affair between the two as Anfeldt held a 3-0 lead until being penalized a point for clasping late in the second round. A second penalty against Anfeldt occurred early in the third, putting the match very much up for grabs over the final 2 minutes.
"I was confused. I knew I had to fix this," Anfeldt said about the consecutive 1-point penalties. "My brain goes too fast (when I am wrestling). I just tried to breath and slow down."
The strategy worked as Anfeldt, who defeated Cunningham 3-0 in the 2015 regional finals, failed to surrender another a point the remainder of the match.
Now, Anfeldt will look to draw on last year's state experience. He went 1-2 at the 2015 state tournament, winning his opening round match before dropping two straight.
"It was amazing last year. There's so many people watching you," Anfeldt said. "I think this year I'm going to go in more confident because I'm going in bigger than last year. I have a good five more pounds on me."
Anfeldt tipped the scales at an undersized 96 pounds as a freshman, conceding 10 pounds, and considerable strength, to his opponents. He topped out around 103 last season before fully settling into the weight division this season.
"It feels nice. It's so much better because when I went up against someone bigger I had a hard time with the strength," Anfeldt said. "I just kept working. I knew when I got older things would work out. I would just have to maintain my weight."
Hicks claimed the heavyweight title with an injury default victory over W.F. West's Cole Miller. Hicks defeated Zackery Hegwine by pin (58 seconds) in the first round and Aberdeen's Eui Jeong, 3-1, in the semifinals.
Hicks, who placed fifth in the heavyweight division last year as a freshman, faces Othello's Chem Cantu in the first round at state. Looming on the other side of the quarter bracket is Orting senior and defending champion Hunter Mullins, who also happens to be Hicks' cousin.
A potential quarterfinal showdown between the top two-ranked 2A heavyweights in the state is a strong likelihood with the winner emerging as the clear-cut favorite for this year's crown.
Joining Anfeldt and Hicks at the state tournament will be teammates Brin Hanson, who lost in the 220-pound regional finals, 9-0, to Hockinson's Cameron Loos, Logan Greenwell (fourth, 138) and Colter Jacobsen (fourth, 145).
Black Hills advanced two wrestlers to state in seniors T.J. Borden, regional champion at 190, and Gage Keesee, who finished third in the 160-pound division.
Junior Jacob Paris was the lone Rochester wrestler to secure a trip to the tournament by clinching second-place at 120. Paris lost to Centralia's Mykka McAllister, 9-7, in the regional finals.
Other Wrestlers Headed to State
Yelm captured the 4A Region II team title in dominating fashion, claiming five individual championships while advancing 13 wrestlers to the state meet.
Ryan Davis (106 pounds), Thomas Munoz (126), Bo Campbell (170), Tyler Losch (182) and Jeremy Smith (190) each took home a title. Davis, a freshman, bested Olympia's Chase Poston, 4-0, in the championship round to win his first regional crown.
Seniors Munoz and Campbell were both runner-ups at last year's tournament, with Munoz finishing second in the 120-pound division and Campbell losing in the 170-pound finals by injury default.
The Tornados also received second-place finishes from Jacob Nolan (145), Derrick Platt (160) and Holden Miller (285).
Poston was one of five Olympia wrestlers to advance to state.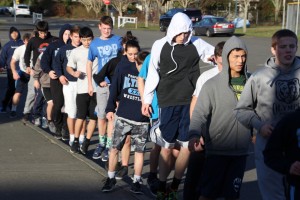 Senior Logan Pine won the 145-pound classification with an 18-8 victory over Yelm's Nolan in the finals. Also placing for the Bears were senior Patrick Flannery and junior Layn Pannkuk, who finished as runner-ups in the 182- and 138-pound division, respectively, while teammate Trevor Shaw was fourth at 126.
Timberline junior Adam Benson defeated Platt in the 160-pound final by a score of 10-8 to become the lone Blazer to secure a championship. Timberline also got a second place from Bryce Vaughn, who dropped a 9-0 decision to Andrew Harris of Mount Si in the 220-pound championship.
Girls Regionals
Yelm will also have five female wrestlers participate at the state tournament. Freshman Phoenix Dubose (105) and sophomores Kaylin Wilson (135) and Bailey Fullerton (145) finished second in their respective divisions. Joining the trio at state will be teammates Bree Hyder (third, 105) and Chelsey Rochester (fourth, 145).