His jump shot is textbook. The flick of his wrist, the release of the ball is flawless mechanics.
But before Christian Davis could become Yelm High School's go-to-guy on the boys basketball team on offense, before he could become their leading scorer, he had to have a mindset makeover. Now, he's no longer the reluctant shooter.
After a heart-to-heart talk with Coach Jordan Barnes, Davis has indeed become a scoring machine. He was told that the team needed him to shoot the ball.  Now, he's instant offense. In their first three games of the season, the 6-foot-4 senior guard scored 44, 41 and 30 points. He was an opponent's nightmare.
"We had a conversation at the start of the season," Barnes said. "I told him he was going to be the guy who got us to the playoffs. He knew he had to score and shoot a lot. Last year, he wanted to get his guys involved more. But I told him that somebody had to take over the scoring load and it was going to be him."
Mission accomplished. Davis is averaging 28.1 points, scoring 20-plus points in nearly every game.
"He's never been held under 20 on games he's not injured," Barnes said.
In a recent must-win game against Stadium, Christian Davis was held scoreless. That's because he didn't play because of a sprained ankle. However, with an enthusiastic Davis shouting encouragements from the bench, Yelm got all the scoring it needed with a hustling, scrappy team effort, pulling out an exciting 60-53 win. The last time Yelm beat Stadium earlier this season, Davis had 30 points, 14 rebounds and 10 steals. But a fired up Tornadoes team did it without their top gun this time around.
But Davis isn't just an offensive super power, going to sleep on defense or forgetting about passing the ball to an open teammate. He's averaging 7.7 rebounds, 3.5 assists and 3.5 steals. And as evidence that he's not a shooting fanatic, throwing up just any shot, Davis is shooting 54 percent from the field.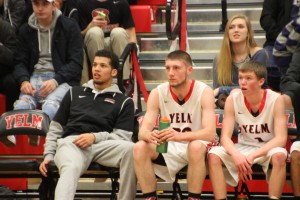 "His ability to pass is just as strong as shooting," Barnes said. "Sometimes I tell him to put his foot on the peddle and get to the basket because we need the points. Sometimes Christian's worst shot is our best shot. The kids understand that."
Davis is among the best-ever to wear a Tornado uniform.
"I asked our announcer (Phil Degon) about that and he said that Davis is probably the most dynamic scorer in school history," Barnes said. "He says he's never seen a scorer like him. He's up there."
As his team's scorer, Davis gets the praise when his shot in the closing seconds is good. But there's also the weight of disappointment when that shot rims out. Developing a tough mindset to endure that, Davis got some advice and help from his older brother, Alfred, a Lincoln High School graduate who is now playing professional basketball in South Korea.
"He helped me mentally and physically become a scorer," Davis said. "That's why I am who I am today because of him, because of all that training."
Davis has also learned the secret of having a short-term memory.
"When you're young, if you miss a shot you might stop shooting," said Davis, who averaged 19 points last season. "That's what I used to do. If I missed a shot, I'd just wait to shoot, but I started maturing. Now, it's okay I missed a shot. I'll make my next one."
When Davis plays his last game for the Tornadoes, his basketball days won't be over. He's going to play college basketball next year somewhere. He's just not sure where yet.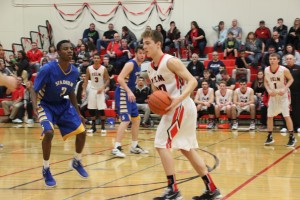 "I don't care where I play," Davis said. "I just want to play, so I can get a degree and have a job at the end."
It's not a surprise that these Tornadoes know each other's game. Four seniors have been on the same team since they were in fifth grade. Davis has been teammates with Chad Davis, Danny Jansen and Trent Lotton. Like Christian, Chad Davis is a workhorse on the court. Both are team captains.
Chad, a 6-foot-2 post, is averaging 10.5 points and seven rebounds.
"Chad's the glue to our team," Barnes said. "He's the last of a dying breed. He's a kid who comes in and works hard. He has a worker's mentality."
Chad works for Stewart's Meat Market.
"He comes from a family that's all about hard work and making money," Barnes said. "He's a true farm boy. That's the only way to describe him. Everything out of his mouth is 'yes, coach.' He's definitely a leader. He's a captain."
Chad, a returning starter and the only other player on the team averaging in double figures in scoring, does whatever he can to help his team win.
"I'm there to get rebounds and hopefully score a few points," Chad said. "I just try to help the team out as much as I can."
Chad started working with brother at Stewart's Meat Market when he was 15, doing things around the farm. "I've been there ever since making money," Chad said, then adding with a smile, "I like making money."
And the Tornado fans have liked having Chad and Christian hustling up and down the court all these years.