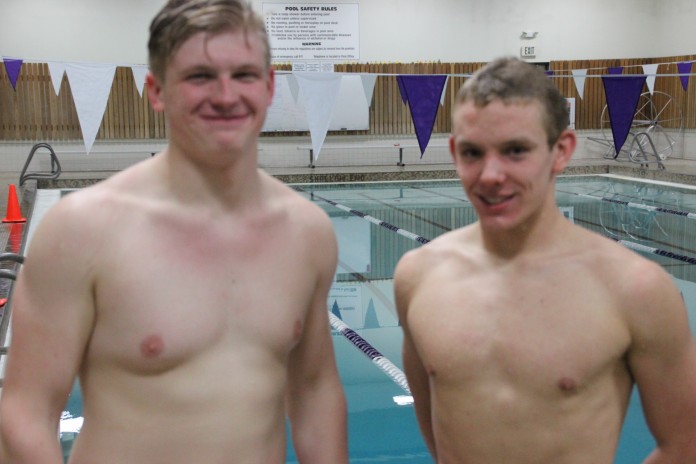 Wyatt Couey and Justin Ridgeway both faced troubling challenges.
And instead of whining, instead of complaining about their situations and throwing up their hands and just giving up, these two North Thurston High School swim team members dug in and fought back.
Last year, Couey failed to make state in an individual event. And a disappointed Couey, now a senior and down to his last chance, committed to swimming six and seven days a week. Just a couple of weeks after the state meet, Couey started turning out with the Thurston Olympian Swim Club. He was determined to swim faster.
"I really wanted to swim at state last year and I didn't get the opportunity," Couey said. "I wanted to give myself the best chance and to continue in college."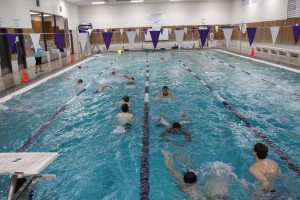 So, Couey is pushed by a goal – to get a college swimming scholarship. Like Couey, Ridgeway hasn't caved to disappointment. And there was plenty of reason for disappointment for this sophomore. Ridgeway has heart problems, an enlarged aorta. But, with doctor's approval, he turned out for swimming last year at North Thurston as a freshman, just like his two older brothers (Tyler and Conner) did.
"It sucks," Justin said about his heart issues. "I guess I was born with it."
And, just like his namesakes did, Justin is shooting to qualify for state. He just missed making it in the 100-yard breaststroke last year as a freshman. His brother, Conner, barely beat him out.
"I don't talk to him anymore," Justin said with a chuckle.
Initially, Justin turned out for swimming because his brothers did. It was a family tradition. But now he's motivated by something else. He's got goals.
"I like the challenge," Justin said when he was asked what he likes about swimming. "It just makes it more fun to have a challenge – to try and do better."
Like Couey and Ridgeway, Logan Anderton didn't turn out for swimming until his freshman year. Anderton isn't your prototype swimmer who has qualified for state year after year. Typically, the guy who goes to state is a year-round swimmer and started swimming when he was in grade school. But not Anderton. Friends turning out for swimming and a prod from his dad finally got Anderton in the pool when he was a freshman.
"I had the foundation," Anderton said about his quick success in swimming. "I ran cross country my freshman and sophomore year."
So, he had the conditioning. And from the beginning he's had a knack for swimming the butterfly.
"Coach put me in the butterfly more and more and I got more comfortable with it," Anderton said.
He swam the butterfly leg on his team's medley relay that placed at state last year.
Jeffrey Harn, a sophomore on the Rams swim team, got an early start in swimming. He was in the pool and swimming on a club team by the time he was 11.
"My mom had me turn out for swimming because I had too much energy," Harn said.
And Harn has a swimming heritage. His dad, John Harn, swam at Timberline High School back in the 1980s. His uncle, Tom, still holds some swim records at Timberline.
"I don't know if I'm faster than what my dad was," Harn said. "I don't know what his times were, but I'm definitely not faster than my uncle."
Harn, who swims year round with the Thurston Olympian Swim Club, swims the freestyle and the backstroke. He did the 200 individual medley a couple of times last year. He's committed to swimming faster.
"I swim in the off season to keep up my times and my conditioning," Harn said.
Like a lot of his teammates, Lucas Johnson, a senior on the Rams swim team, didn't get involved in swimming until he was a freshman. It was the invitation of his friends and the suggestion of his dad that got Johnson in the pool and turning out.
"It was like these guys are doing it, I want to try it out," Johnson said. "It was fun."
Besides the friendships – the team often has pizza parties and video game nights – Johnson has also liked the challenge of swimming.
"I like the competition," he said. "When you finish your race and you see that you've PRed, it's one of the most rewarding feelings."
The Rams have a winning tradition. After a recent win against Mount Tahoma, North Thurston has won 43 straight dual meets, a win streak that that stretches over five years. Counting the girls team's string of 63 straight wins, the Rams have a 106 meet win streak.
"The combination is fun for me," said Jak Ayres, who has been the Rams boys and girls coach during that string. "Over 100 wins in a row without a loss between the two – it says something about our school."
Both Ayres and his assistant coach, Laurel Smith, who Ayres gives a lot of credit for the win steaks, swam at Olympia High School under long-time coach Don Martin. Martin helped shape the coaching styles of both Ayres and Smith.
"I think there is something that Don gave us all and how he coaches and what was important while he coached," Ayres said. "He looked at every kid in the eye every day and found something to say to them every single day."
It's been a winning formula for the Rams.