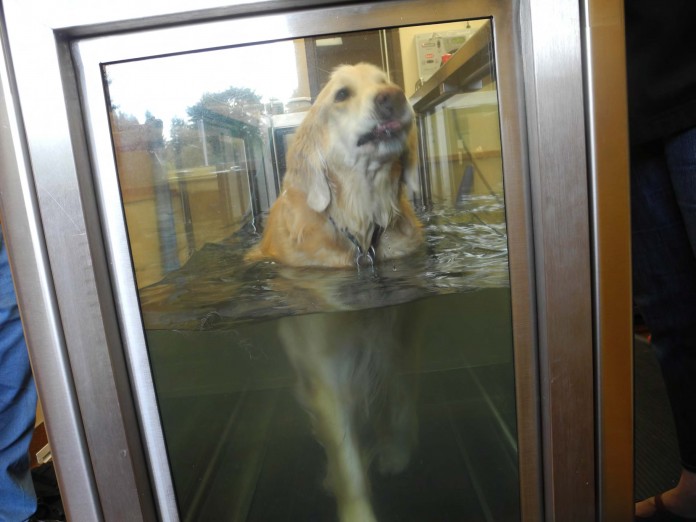 By Doris Faltys
"We tell people Shelby walks on water," says owner Dennis King. "Shelby loves her hydrotherapy treatments."
Dennis and his wife, Cheryl, bring Shelby, a golden retriever to Four Paws Animal Rehabilitation once a week for therapy that includes massage, cold laser, and hydrotherapy.
"She has had four surgeries," says Cheryl. "The most recent operation added two plates and thirteen screws."
"Shelby has multiple arthritic problems," says Four Paws Animal Rehabilitation owner Dr. Gregg Bennett, DVM, of Tumwater Veterinary Hospital. "She literally does not have a good leg to stand on."
Dr. Bennett opened Four Paws Animal Rehabilitation within his Tumwater Veterinary Hospital in the fall of 2008. "It is common for dogs to develop arthritis as they get older," Dr. Bennett explains. "For years, we have treated them with medications for pain and inflammation, but in many cases they reach a point where the medications no longer work and a pet begins to suffer. That often ends up with a dog being put to sleep. At some point I began to wonder what I could do differently – where alternative medicine can provide a choice."
"The purpose of rehabilitation therapy is to help animals be more comfortable, recover from surgery, and improve quality of life," continues Dr. Bennett.  "You cannot make a dog do something that hurts. You have to find ways to exercise that don't involve more pain in the process and that is what water therapy does more than anything else. It gives us an ability to help strengthen their muscles when there is no other way to do it."
Dr. Bennett first examines Shelby to determine and measure her range of motion improvement since last week. "Her range of motion has improved, and she is not reacting painfully with the knee joint," he says.
The exam is over in a few minutes and Shelby is panting with excitement and eager to go into the water treatment room, pulling on her leash to lead the way.
"She is telling you what usually happens next," Dennis tells me.
The water treatment chamber is a glass box with a treadmill floor. The chamber stands open at one end and Shelby walks in without any urging. Once the chamber door is closed, the treadmill floor begins to move and Shelby walks. Slowly, warm water begins to fill around her feet until it reaches a bit above hip height. Dana Gordon, Small Animal Massage Practitioner (SAMP) talks soothingly to Shelby and gives the dog a treat.
"Basically the primary idea is pain control. If you are recovering from surgery and you are in pain, the first thing is you stop using that part of the body. Less use means more atrophy – a vicious cycle. What water therapy provides is a way for a dog to exercise without stressing out their joints," explains Dr. Bennett who once treated an African Clawed Frog that was having a hard time swimming.  The frog needed surgery to remove five large glass aquarium rocks it had swallowed.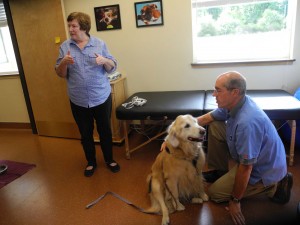 "We are looking at a way to maximize muscle use in relation to impact," continues Dr. Bennett who has owned Tumwater Veterinary Hospital for 26 years. "Walking in water causes way less impact, because we can make an 80 pound dog, like Shelby, weigh 20 pounds in the water. She is actually putting a fraction of the weight on her legs. Twenty minutes of walking in the water is basically equivalent to two hours of walking. But, it is not even twenty minutes worth of impact. It is like five minutes of impact for two hours of walking."
Dr. Bennett says that most dogs like water therapy as much as Shelby.  Many dogs are scared or confused in the beginning, as the floor starts moving and the water begins to fill the tank.  In the early stages, the dogs visit twice per week and then transition to a single weekly session to gain strength.  "It usually takes two or three visits to get to the point where they are pulling us into the treadmill like Shelby," he adds.
"In some cases, it is not a pain issue, but a nerve damage issue. Dogs who have serious back problems, like a herniated disk, have been paralyzed and they have been dragging their back legs. Obviously some of them we can't help because there has been too much damage. But some dogs, who are at that stage on dry land, we can take into the water and with the buoyancy of the water, they are able to take a step," says Dr. Bennett, who has also treated wild animals including an albatross, bear cub and bat.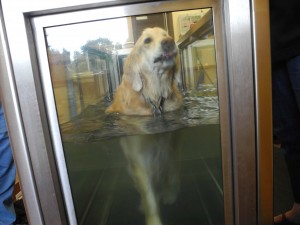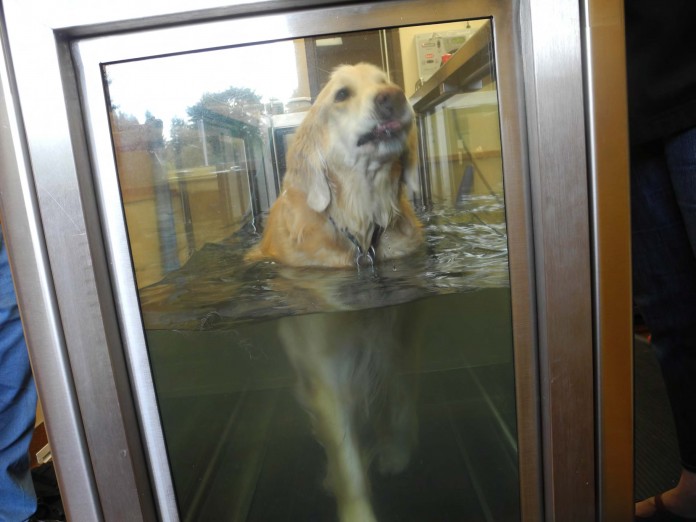 Besides being fun, Dr. Bennett says that hydrotherapy is rewarding.  "I was looking at a dog walking in the water treadmill this morning, basically looking like a completely normal dog – legs moving, every step placed right where it should be.  Then, (the dog) gets out of the treadmill and can't walk, but that is just a stage in the process. When we see that the signals are firing slowly but working, it is occupational therapy time. Dogs have to learn to walk again with what they've got. And the good news is that a lot of dogs can walk pretty well," says Dr. Bennett, who knew in seventh grade that he wanted to work with animals.
"For most dogs there will be a little bit of a deficit, but they are happy and mobile and pain-free," he summarizes.
Tumwater Veterinary Hospital also treats birds delivered to the practice by the Washington Department of Fish and Wildlife.  Dr. Bennett provides free services to Raindancer Wild Bird Rescue.
To learn more about Four Paws Animal Rehabilitation, visit their website or call 360-753-7297.