By Margo Greenman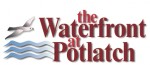 Crab cakes, crab melts, deviled crab and crab dip are just a few different ways you can prepare and devour the ten-legged crustaceans. But before you get your hands messy in the kitchen, load up your gear and get your hands wet by catching your own Dungeness crab in the Hood Canal.
Hood Canal crabbing, which opened on June 15, is a great way to enjoy a sunny, summer day on the water before creating a summertime spread in your backyard.
Crabbing, which the Washington Department of Fish and Wildlife explains is "one of the Puget Sound's most popular recreational fisheries," is a favorite pastime for many and an exciting new adventure for others. If you're just getting ready to set your pots for the first time — or if it's been a while and you need a quick refresher — there are a few things you should remember before dropping your crab pots.
Getting Ready
Before you hit the water, there are a few items you will need for a fun, successful day of crabbing around the Hood Canal. First and foremost, you must have a fishing license. Fishing licenses vary in price depending on whether you purchase a one-day or annual pass. For fishing license types and prices, visit the Washington Department of Fish and Wildlife online.
In addition to a fishing license, you'll also need a gauge for measuring your crab. It is illegal to collect Dungeness crabs that are smaller than six-and-one-quarter-inches across. Using a gauge like this one will ensure that your crabs meet the required measurement. You'll also want to educate yourself on the difference between what male and female crabs look like, as collecting female crabs is prohibited. This illustration on the Washington Department of Fish and Wildlife's website will help you identify the difference.
Finally, the Washington Department of Fish and Wildlife requires that crabbers record their haul on a Catch Record Card before reporting their catch (even if it's zero) online.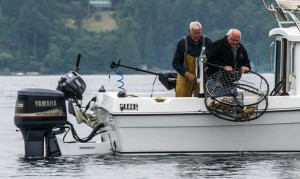 Gear Up
In addition to items required by the Washington State Department of Fish and Wildlife, you'll also want to make sure you have the proper equipment for catching Dungeness crab. While there are several ways to catch crab, crab pots are the most common. You can find crab pots and the equipment that goes with them – red and white crab buoys (so you can find your pots after you drop them), line (so you can pull your pots back up) and biodegradable escapement devices (e.g. a pot lid hook) – at most sporting goods stores.
Make sure to bring along some good bait and a cooler with ice to store your haul in. Washington Department of Fish and Wildlife says fish carcasses, clams and squid work best for baiting crabs, but chicken and turkey work, too.
While packing these things, don't forget other essentials that you'll need while out in the boat. Food, water and sunscreen are all a must if you want to make the most of your day.
Where to Go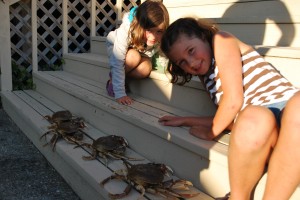 You're all packed up and ready to go, but where do you go? The Hood Canal — or Marine Area 12 — can be accessed from several different launch sites around the area. These launch sites, which include the Skokomish Park at Potlatch, Quilcene Marina and Twanoh State Park among others, are all listed on the overview page for Marine Area 12 on the Department of Fish and Wildlife's website.
Once you're in the water, the Department of Fish and Wildlife recommends following a few easy steps that will make dropping (and retrieving) your crab pots easy and fun.
First, be sure to set your crab pots in areas free of strong currents and heavy boat traffic. Pots that are set in these areas are more likely to get lost. To ensure retrieval of your pots, the Department and Fish and Wildlife recommends: knowing your water depth, using the correct length of line, using extra buoys where strong currents are present, and using a GPS system to mark your buoys.
Once you pull up your pots, remember that you can only collect male crabs that are at least six-and-one-quarter-inches across. Each licensed crabber on board your watercraft can keep up to five male crabs.
Head Home (or Stay a While)
After you've (hopefully) collected your limit for the day, don't forget to report your Catch Record Card online.
You can clean the crab before you cook it, but cooking it first is easier. If it's your first time, there are lots of great tutorials on YouTube that demonstrate how to cook and clean crab, step-by-step.
Once you've cooked and cleaned the crab, the options for preparation are endless. Of course, if you're like me, you'll opt for eating it fresh with a side of garlic butter (don't forget the napkins).
If you decide to stay a while, be sure to keep your crabs in the cooler until you can properly cook and clean them. There are lots of nearby campsites where you and your family can enjoy feasting on fresh-caught crab cooked over an open fire. Nearby Potlatch State Park and Dosewallips State Park are just a hop, skip and a jump away, and each provides the perfect setting for a moonlit crab feast.
For further lodging options, visit explorehoodcanal.com.
The Hood Canal Dungeness crab season is open Thursday through Monday now through September 7. For more information about rules and regulations, boat launches and more, visit the Washington Department of Fish and Wildlife online.