By Katie Doolittle

It's the classic conundrum: how can we keep our families entertained throughout these hot summer months without over-heating or over-spending?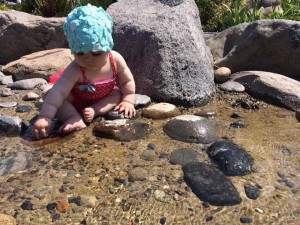 Happily for the sweat- and splurge-averse, there are plenty of free or inexpensive local options. Keep cool and kid-friendly on a shady hike, or enjoy air-conditioned activities at a Timberland Regional Library location. Depending on the time of day, plenty of local parks offer shade.
But by far, our family's favorite way to keep cool is to go swimming or wading. Our summer adventure bag contains plenty of sun screen and swim diapers! June through August you can find us at any of the following locations, buckling life vests over our bathing suits and running for the water.
Here is where my family chooses to cool off:
Columbus Park (5700 Black Lake Boulevard SW, Olympia)
Pay $7 per vehicle for access to this private campground and recreation area. Their swimming access to Black Lake includes a floating trampoline, dock, and fabulous grassy area.
Discover Aquatics (110 Delphi Road NW, Olympia)
This saline pool is kept at a comfortable 89 degrees year round.  While most of the pool's open hours are reserved for swim lessons (think small class sizes and no chilly kids), open swim is offered on Friday night and Saturday afternoon.  Want some adult only time?  Try lap swim on Saturday and Sunday. Get the complete schedule and pricing information here.
East Bay Public Plaza Stream (414 Jefferson Street NE, Olympia)
Located just outside the Hands On Children's Museum, this reclaimed water feature is a true delight. While their kids play in the shallow stream, parents and other caretakers can sit under shade umbrellas provided by LOTT Clean Water Alliance. If you're planning to visit the museum, be sure to bring shoes and shirts! (And maybe a few dollars for an ice cream.)
Evergreen State College (2700 Evergreen Parkway NW, Olympia)
Often overlooked because it's on a college campus, The Evergreen State College pool is a great choice for families looking for an open swim.  During the summer, the indoor pool is open from 12:00 – 8:00 p.m. Monday through Friday.  Remember to bring a few bucks for parking on campus.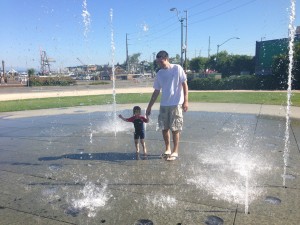 Gail and Carolyn Shaw Aquatics Center (401 SW Parkland Drive, Chehalis)
Slides! Water toys! A beach-entry style pool! This recently renovated facility caps out at 201 patrons, so be sure to arrive early. Monday through Thursday hours are 12:00 p.m. to 2:30 p.m. and then 3:00 p.m. to 5:30 p.m. Admission is $3 for youth (0-17) and $4 for adults (18 and over). On Fridays and weekends, everyone pays $5. The Friday and weekend hours are 10:00 a.m. to 2:00 p.m. and 2:30 p.m. to 6:00 p.m. Cash or check only.
Heritage Park Fountain (330 5th Avenue SW, Olympia)
People of all ages enjoy the circular array of water jets in this small but popular park. Open Thursday through Tuesday, June through September. Hours are 9:00 a.m. to noon, 1:30 p.m. to 5:00 p.m., and 6:30 p.m. to 9:30 p.m. Curious about the closures? The city does it to maintain safe bromine water levels. Bonus: the scheduled shut-offs can be an excellent way to get recalcitrant toddlers out of the sun and home to nap.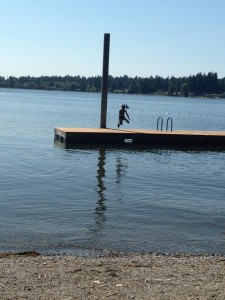 Kenneydell County Park (6745 SW Fairview Road, Olympia)
This 40-acre park features trails, picnic areas, barbecue grills, athletic fields, and two large playground structures. There's 1,000 feet of freshwater beach and a developed swimming area on Black Lake.
Long Lake Park (2790 Carpenter Road, Lacey)
Lifeguards are on duty from 11:30 a.m. to 7:00 p.m. through Labor Day. As with all outdoor swim sites, this one is weather-dependent, but aside from the 285-foot beach frontage, there are also pedestrian trails through the 10 heavily wooded acres (translation: shade). Other amenities include sand volleyball courts, restrooms, barbeque grills, and picnic tables.
Millersylvania State Park (12245 Tilley Road S, Olympia)
Deep Lake attracts boaters, swimmers, and fishermen. Paddle boats and canoes are available to rent, which can be a lovely treat for older children. There are plenty of hiking and picnicking options, too! Day use is free with a Discover Pass. Check their website for more information about camping overnight.
Pioneer Park (5801 Henderson Boulevard SE, Tumwater)
This gorgeous park has all kinds of family-friendly amenities, from the play toys and picnic areas to clean and accessible restrooms. Additionally, the park includes access to the Deschutes River. Families can float on inflatable devices from here all the way to Tumwater Falls Park. Word to the wise: don't forget to arrange a ride back to your vehicle. Remember, life vests for the little ones are a definite must.
South Sound YMCA (510 Franklin Street, Olympia and 1530 Yelm Highway SE, Olympia)
With two convenient locations, there is no excuse to not jump directly into either the Briggs Community or Olympia Downtown pool.  Open swim gives families time to play together in the pool and the Y's swim lessons are well-respected.  While membership fees do exist, the Y makes it easy to enroll with financial assistance, military discounts, and other scholarships.  Get pool schedule information here.
Tanglewilde Recreation Center (414 Wildcat Street SE, Lacey)
This public outdoor pool runs on summer hours through Labor Day. Recreational swim occurs from 1:00 p.m. to 5:00 p.m., with family swim following immediately and lasting until 8:00 p.m. Day passes cost $6 for adults, $5 for youth and seniors. Children ages 4 and under swim free with a paying adult. Season family passes can also be purchased ($155 for residents, $235 for non-residents). Check their flyer for full details.
Tenino Sandstone Quarry Pool (399 Park Avenue W, Tenino)
Starting on July 1, the Tenino Quarry Pool will be open Thurdsay through Sunday from 12:00 p.m. to 6:00 p.m. It will remain open for the season through August 28. The cost is $2 per person for anyone living within the boundaries of Tenino School District. If you're coming from further afield, the cost is $4 per person.
Timberline High School Pool (6120 Mullen Road SE, Lacey)
Lacey Parks and Recreation operates the school's pool Monday through Saturday almost all summer, with just a few closures (July 4, July 17). Open swim hours are 1:00 p.m. to 3:00 p.m. Weekday open swim ends on August 14, but Saturday swims extend through August 29. It's free for children ages 3 and under; older participants pay $4 each.
Tolmie State Park (7730 – 61st Ave NE, Olympia)
The 105-acre marine park boasts 1,800 feet of saltwater shoreline.  The day-use facilities welcome families.  Spend the day beach combing, climbing on driftwood or swimming.  Read more in this article.
Thrifty Thurston highlights inexpensive family fun in Thurston County. The weekly series focuses on family-friendly activities throughout our community. If you have a suggestion for a post, send us a note at submit@thurstontalk.com. For more events and to learn what's happening in Olympia and the surrounding area, click here.