By Stacy Fisher

This is one of the most beautiful summers that I can remember, and we are shockingly, less than a month away from school routines, preparing lunches and getting kids out of beds in the morning.   It is time to get outside and explore a new trail or visit a favorite one.
Bringing our family of two young boys on a nature hike can take a bit of planning.  Usually a trip involves a couple of snacks, some convincing on the elevated trails (I am not above bribery… usually it's Skittles), and the occasional piggy-back ride to the car.
Washington Trails Association recommends the following ten essentials on any hike:  map, compass, water, extra food, rain gear and extra clothing, matches, first aid kit, knife, flashlight, and sun protection (including sunscreen and sunglasses).  We have found that most of these items are needed when traveling with children and pets anyways, but having them makes our day trip seem like much more of an "adventure."
Following is a list of some of our recent favorite family hikes.
Evergreen State College, Parking Lot F
This trail head is located at the back left hand corner of the F-lot and takes you to a couple of beautiful beaches.  You can park here for free on weekends, but be sure to buy a pass on weekdays.  (Hint – if you plan on staying less than two hours, the parking pass is only $1.)
The canopied trails lead over short boardwalks and bridges and although the trails are very easily seen, they fork in many directions.  Taking the main trails down to the beach and back is just about a two-mile round trip, although, you can wander for longer on the various paths.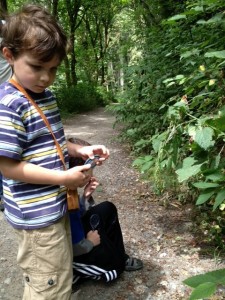 As to be expected, the majority of wildlife we saw were students, but we did happen upon a squirrel and quite a few birds.  This is a great hike with kids and dogs, although it may be a bit challenging in parts for jogging strollers.
1700 Civic Dr  DuPont, WA 98327
I was quite surprised to find this little gem of a hike in the middle of DuPont.  Look for the trail head in the parking lot of City Hall.  From there, the approximately 1.5-mile trail meanders gradually down through a forested canyon.  The ferns and moss covered trees provide wonderful coverage from the sun on a warm day.  On the day we visited, we spied various birds, chipmunks, fish, snakes and enormous ant hills.  There was a sign stating that bears had been seen recently, however, we were "lucky" (and loud enough) not to run into one.
The trail leads through a tunnel to a pebbly beach with wonderful views of the Sound.  The kids especially loved the remnants of old train tracks which were fun to climb on.  This was an easy hike for kids, dog friendly, and jogging stroller and/or bike friendly as well.
2600 East Bay Drive NE, Olympia 98501
This is hands down my children's favorite hiking spot right now, because they love to slide down steep dirt hills and we found a "cave" made from the root structure of an amazing tree.  Even if these things are not your cup of tea, you will love this park.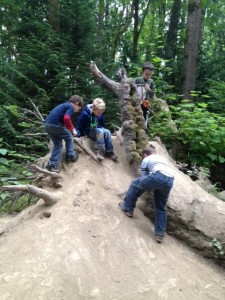 There is a great beach for spotting herons and starfish, playgrounds, bathrooms, swing benches placed through the park, and miles of trails to explore.  The main trail down to the beach is short but steep and the beach can be surprisingly muddy at low tide.  We plan on visiting the rose garden on our next trip, and bringing snacks and supplies back to our "cave" so that we may defend ourselves from any lurking trolls.  The trails are dog and family friendly, although a few trails may be hard with a jogging stroller.
931 Delphi Rd. SW Olympia 98512
We try to visit this trail seasonally, as like most places in our area, it is great fun to watch the area change with the climate and to say goodbye and welcome different wildlife.  Just over a mile, this flat trail is dog and family friendly.  Please note that you will need to display a Discover Pass to park at the nature trail.  You can read a further review of this wonderful trail here.
Olympia, WA 98512
The up to 4-mile trail winds you around some the area's 4-6 foot mounds scattered across the prairie land.  While on the path, you can read about the different theories of their origins, from glacial deposits to giant prehistoric gophers.  The trail is flat and family friendly, however dogs are not allowed in this park.  Also, please note that you need a Discover Pass when parking at the Mima Mounds.  For a complete review of this strange but interesting hike visit here.

Nisqually Natural Wildlife Refuge – Boardwalk Trail
100 Brown Farm Road, Olympia WA 98516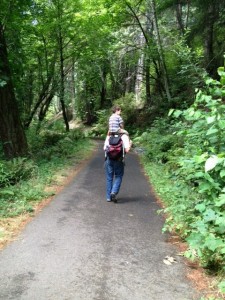 Different seasons welcome such a variety of life in the Nisqually Delta.  The new one-mile boardwalk trail leads you out into the Nisqually Delta, over the water during high tide and over mudflats during low tide.  Bring your binoculars and cameras to capture the wildlife on this family-friendly walk.  There is a daily entrance fee of $3.00 per four adults. Children under 16 enter free. Also, there are annual passes available for purchase at the Nisqually National Wildlife Refuge Administration Office and Visitor Center.  For more information about visiting this park, including its Junior Refuge Manager program, click here.
Thrifty Thurston highlights inexpensive family fun in Thurston County.  The weekly series focuses on family-friendly activities throughout our community.  If you have a suggestion for a post, send us a note at submit@thurstontalk.com.  For more events and to learn what's happening in Olympia and the surrounding area, click here.