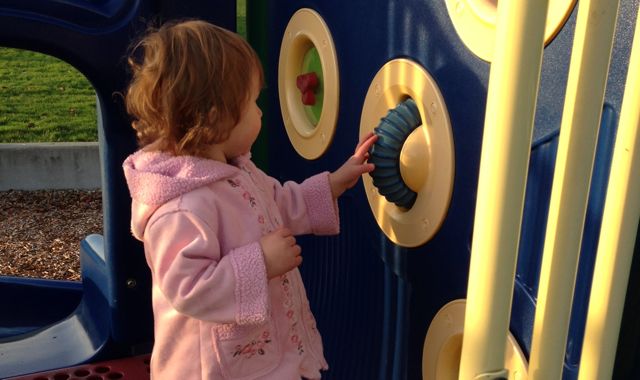 By Katie Doolittle

Fair weather is here once more and with it a chance to exercise and enjoy fresh air. As a parent, I look forward to a long season of playing at the park. Yes, I'm trying to instill a healthy lifestyle and an appreciation for nature in my child. I also know that playing on the various toy structures develops my toddler's motor skills, just as interacting with other kids pushes her social development.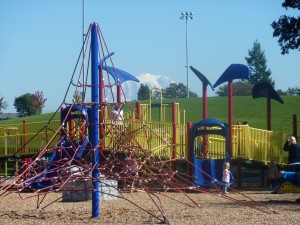 But I must confess to some selfish motives, as well. At our local parks, my daughter entertains herself without making a mess that I have to clean. She wears herself out playing, which makes for an easier bedtime. And when we're at a park, I never have to hear the dreaded whine: "I'm bored."
Bonus: all this fun is free!
The following list of parks is by no means exhaustive, but it was compiled specifically with toddlers in mind. For further recommendations, check out the Parks and Recreation websites for Lacey, Olympia, and Tumwater.
Terrific Toddler-Only Area: Lacey Regional Athletic Complex (RAC)
8345 Steilacoom Road SE, Lacey
The RAC actually has three playgrounds spread throughout the 100-acre facility. The one located near the soccer fields was designed specifically for toddlers, but the variety of equipment can keep older kids entertained as well. It's a cozy, manageable installation with excellent sight lines—affording small children a measure of autonomy and their adult caretakers a chance to sit the picnic table or rest on the neatly maintained grass. Bathrooms are just a short walk away. Ample parking nearby makes for convenient loading and unloading.
Multi-Purpose Magnificence: Woodland Creek Community Park  
6729 Pacific Avenue SE, Lacey
Sara Hanna, mother of three, succinctly describes this park's appeal. "You can see kids in all directions off the playground. There are big toys and a smaller play structure for little munchkins, too." She also appreciates the placement of the bathrooms. "You can 'stand guard' over one kid using the facilities and still watch over other children as they play," she says.
Martha Gilbert, another local mother, likes the "short walking trail—perfect for beginning bikers." One very unique feature: Long's Pond, located within the park, offers year-round fishing for anyone ages 14 and under.
Little and Lovely: Homann Park
1301 Carpenter Road, Lacey
Becky Geisler is an experienced childcare provider who currently cares for six children. Four of them are toddlers, and all of them enjoy Homann Park. "The play set is perfect for toddlers and because I take the kids in the morning before nap, we usually have it all to ourselves. The bathrooms are right by the toys and the parking lot is convenient for getting kids in and out of the car."
Super Shady Spot: Bigelow Park
1220 Bigelow Avenue NE, Olympia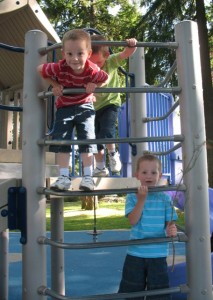 Looking to escape intense UV exposure? This is a great, shady little park. Kids can play under the trees, stomp mole hills in the grass, or climb all over the big toys. Caretakers can easily keep an eye on the play structures. One is for toddlers, and another for 5 to 12-year-olds. Taken together, they offer many options for swinging, spinning, and sliding. There's even a xylophone built in to the toddler structure. The parking lot and single-stall bathrooms are both close to the main play area.   
Nice Nautical Theme: Priest Point Park
2600 East Bay Drive NE, Olympia
Built to look like a ship, the Priest Point play structure has a captain's wheel and portholes. Toddlers can ride the whale bouncer or giggle with friends through the telephone tubes. Looking for some exercise? Various trails—including the Ellis Cove Trail—wend through the park offering excellent views and, in some cases, access to the saltwater shoreline. Please note that the trails can be steep and narrow. If you plan to hike with your toddler, you'll probably want to bring some sort of carrier.
Botanical Beauty: Friendly Grove Park
2316 Friendly Grove Road NE, Olympia
Deciduous and flowering trees dot the lawn of this magnificently landscaped park. The play structure and swings are ideally located next to the single-stall bathroom, and there are ample tables for a picnic lunch. Plenty of open space encourages exploration and free play. The Born Learning Trail includes a series of signs that offer ideas on how caretakers can support early learning through various recreational activities. The parking lot is small but nicely situated, and a nearby church offers convenient overflow parking.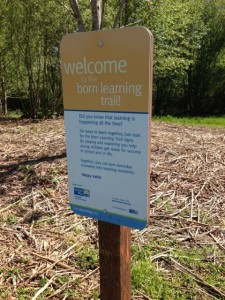 Great Room to Grow: LBA Park
3333 Morse-Merryman Road SE, Olympia
Angela Farley describes this location as "a park to span a lifetime," with ball parks and soccer fields in addition to big toys. She notes, "The bathrooms are conveniently central to the toys and fields. The park is popular year-round—hills for winter sledding, trees to escape summer heat." A mother of both a toddler and an older child, she appreciates that the play structures "are separated into two side by side areas for toddlers and bigger kids, which I like for meeting the needs of both my girls."
Rainy Day Delight: Play Town, Capital Mall
625 Black Lake Blvd SW, Olympia
This indoor structure is located near JC Penney in the Capital Mall. It's the perfect pit-stop during an afternoon of errand-running as well as a wonderful option for bad-weather days. Parents can sit on the cushioned benches that ring the carpeted play area while kids climb all over the coated foam sculptures. The installation feels both clean and safe. Playtime, the company that built the structure, touts its products as "naturally antibacterial." Please note that children must remove their shoes before playing.
Thrifty Thurston highlights inexpensive family fun in Thurston County.  The weekly series focuses on family-friendly activities throughout our community.  If you have a suggestion for a post, send us a note at submit@thurstontalk.com.  For more events and to learn what's happening in Olympia and the surrounding area, click here.