By Alyssa Ramsfield

Just one hour north of Olympia you can find one of the most picturesque state parks Washington has to offer. Warm, saltwater beaches, hiking trails, and scenic views of Hood Canal make up Twanoh State Park.
"It has to be one of the most beautiful places in Washington," describes Ginger Ford.
Ford was lucky enough to not only visit the park many times, but was actually a resident of the park while her father served as Park Ranger.
"In 1957, my father gave up his business of taxi cabs in nearby Shelton and took the job as Park Aide," explains Ford. "He was quickly promoted to Assistant Ranger in 1959. I was going to high school in Shelton at the time and was worried about living at the park so far from my friends and town. That feeling changed quickly!"
Ford's father was promoted to Head Ranger in 1963 and the family moved into the Ranger's residence. "The home had the most amazing view of the park," explains Ford. "I was lucky enough to do my homework in the park and have picnics on the beach. It was my very own paradise. The entire area is absolutely peaceful and gorgeous! I could feed deer from my hands, watch the salmon coming up the nearby creek, dig geoducks, and water ski late into the evening. Pretty soon, my friends were begging to stay the weekend with us."
"Hood Canal was the perfect summer getaway," says Ford. "Kids from all over Puget Sound visited the area. It was like a fun picnic every day with new people! Not to mention there was always a cute lifeguard on duty. I was lucky enough to work at the nearby concession stand and be a part of the daily fun at the beach. There was never a dull moment."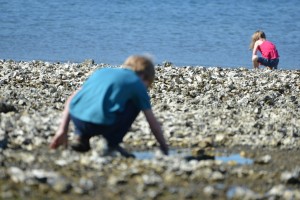 Ford's father retired as Ranger in 1973 and the family moved out of their Hood Canal home. "My time spent at Twanoh is very special to me. It was hard to leave after years of enjoyment. After marriage, I still brought my kids out to the park as much as possible. I wanted them to experience all of the wonderful activities the park had to offer."
The park still has many activities for community members to enjoy that sets it apart from many other parks in the area. Twanoh boasts a year-round campground, 3,167 feet of shoreline used for boating, swimming, and fishing, 2.5 miles of hiking trails, an abundance of wildlife, and unsurpassed views of the Hood Canal.
While the park is a sizeable 182 acres, it is able to still feel intimate. According to Ford, "Twanoh is a place for our community. The people are so friendly there. The beach is clean and great for a swim. It's well worth the drive." So take the drive north, dip your feet in the salt water, and delight in all of the amenities Twanoh State Park has to offer!
If you are interested in enjoying Twanoh State Park here are a few things you need to know: Day use park hours during the summer are 6:30am – dusk. You do need a Discover Pass in order to park your vehicle at the park ($10 for a daily pass or $30 for an annual pass).
Overnight camping check-in time is 2:30pm with a check-out time of 1:00pm. Quiet hours at the campground are from 10:00pm – 6:30am. The campground has 25 tent spaces and 22 hookup spots. There are two bathrooms available. Camp sites cannot be reserved. They are first come, first serve only. Campsites range in price from $12-$37 per night depending on size, utilities, and location.