By Gail Wood

The team's desire to do something no fastpitch team at North Thurston High School had done in 18 years came to their rescue.
After slipping late in the season, after losing four of their first six games at the 3A Narrows League and then district playoffs, the Rams caught fire to reach the 3A state tournament.
"I just think we got dialed in on our goal to go to state," said Dominque Greeno, the Rams senior shortstop and a starter since her freshman year. "That changed our atmosphere. We realized what we wanted to do with our season. I think we rallied around that really well."
And all fired up on their dream to reach state, North Thurston came through. Not wanting their season to end, the Rams outscored their next two opponents at districts 21-6 to advance to state.
"Our bats came to life," said Pat Dahl, North Thurston's fastpitch coach.
North Thurston, which tied Central Kitsap for the 3A Narrows League title, plays three-time-state-champs Kamiakin in the first round of the 16-team, 3A state playoffs on noon Friday at the Regional Athletic Complex in Lacey.
"We picked a bad time to get into a slump with the bats," Dahl said. "We also ended up walking a lot of people and other teams took advantage of that."
In addition to their bats coming alive, the Rams also got the pitching they needed. With Cierra Davis, a junior who has been a pitcher since she was in grade school, throwing strikes, North Thurston beat Sumner 16-4 and Capital 5-2 in the last two games at districts to reach state.
"Cierra is actually a big part of why we're going to state," Dahl said. "The two games we played Saturday this last weekend she commanded the mound. She pitched two great games to get us here."
Davis has been double trouble for opponents. She's not only been pitching well, but she's also batting well, hitting over .500 for the season.
"She's been swinging the bat incredibly well," Dahl said.
Greeno, who has accepted a scholarship to play fastpitch at Northern Illinois University, has swung a hot bat all season long, too. The senior shortstop is batting .650. And she's anything but a slap hitter. Greeno has hit two homers in a game a couple times this season, but she's not swinging for a homer every time she steps to the plate.
"I wouldn't say I try to swing for the fence," Greeno said. "I didn't hit any home runs my freshman year and then all of a sudden I started hitting them my sophomore year."
Three years ago during Greeno's freshman year, Dahl took over as North Thurston's head fastpitch coach. Dahl, who is a fireman, had turned down offers to coach the fastpitch team a couple of times. Finally, he accepted. From the start, Dahl, along with his assistant coach Tony Pittekau, put the emphasis on teaching the fundamentals of hitting and fielding.
"We made it very clear to them we were going to turn this program around," Dahl said. "Our practices were going to mean something."
And winning and losing was going to mean something.
"We were going to try to teach them the best basics and try to make them students of the game – to understand how this game is supposed to be played," Dahl said.
Eventually, that message got through and the Rams started winning, finishing a win from state at district in 2013 and 2014.
"These girls are the ones who have done it," Dahl said. "They've put in the work."
The Rams senior leadership has been another key. Besides Greeno, the other three seniors who have been on the varsity since their freshman year are Annelies Dahmen at third, Dejah Hickman at left field, and Ashley Skillingstad at centerfield.
"I'm happy for them more than anything," Dahl said.
Like her team, Davis, who has been on the varsity since her freshman year, has been up and down this season. But she's pitched well when her team needed her most. When she's looking for the third strike on a batter, she's got a couple of pitches to choose from.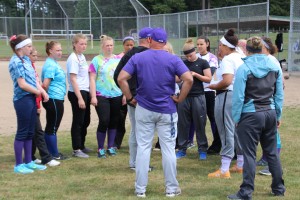 "Either my curve or a rise ball," Davis said.
She admits the pressure of pitching can get to her.
"But I'm working on taking what I can and building up my confidence," Davis said. "I love pitching. I want to continue doing this. It's the best job out there."
The key for North Thurston at the state playoffs will be how well the Rams swing their bats.
"I'd say we rely on our hitting a lot," Greeno said. "We rely on that a lot. When we're hitting well, I think we can beat anyone."