By Barb Lally
It is a beautiful, sunny day at 423 Z Street in Tumwater. There is the tapping of hammers, buzz of a saw and hearty banter among happy, young construction workers. The once abandoned home is not just getting a facelift, it is also a scene of genuine renewal for the workers, the neighborhood and the community.
The Z Street home renovation is born out of a community partnership forged by Homes First! the local non-profit whose mission is to own and manage housing for people who would not normally be able to afford rents and to encourage the use of public and private participation and resources towards the goal.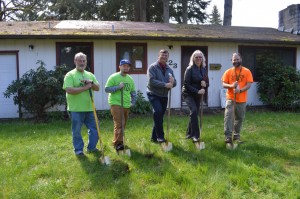 Wells Fargo Bank donated the Z Street home to Homes First! for $1 and donated $10,000 for a new roof. A group of Community Youth Services (CYS) YouthBuild students and their construction instructors from New Market Skills Center are renovating the home.  TCTV is filming and documenting their progress.
"These partnerships are the key to our mission," says Trudy Soucoup, executive director of Homes First! "When we work together for the health of our community, we all benefit beyond our individual goals. Strong partnerships build strong communities."
Started in 1990, Homes First! is celebrating its 25th Anniversary on May 20 at Olympia Federal Savings on 6th Ave in Lacey. The bank has helped finance the 28 properties with 80 units that the non-profit now owns, manages and rents. Together, they have served more than 3,000 people.
"It has been a privilege to support a mission that helps so many in our community," says Sandy DiBernardo, the vice president of marketing for Oly Fed. "Our efforts are rewarded not only by the joy a home brings to someone who needs it, but also for how neighborhoods are improved. With YouthBuild involved, there are huge benefits all around."
Building Better Lives
YouthBuild helps young people earn their high school diploma or GED while teaching skills and providing work experience in construction trades.
Construction instructors at Z Street teach, cover safety issues and answer questions as students rope in and climb ladders, chip away to remove a rotten roof, reinforce doorways and windows and cut pieces of lumber.
"For a lot of these youths, we are the first consistent adult they have had in their lives," says Tim Stender one of the construction instructors who has been involved with YouthBuild from the beginning and has more than 35 years experience in construction. "We try to give them a picture of what a good life looks like."
Life Lessons for YouthBuild Students
YouthBuild students are relishing an experience that is changing their own lives while helping the family that will eventually live in the rehabbed home.
"This is a house that started off abandoned with squatters living in it," says Deven Wigley, a YouthBuild student. "We are fixing it up and it will no longer be an eyesore in this well-kept neighborhood."
Like the home he is working on, Deven has a renewed vision for his life. Before YouthBuild, Deven questioned his intelligence and was an unmotivated student who dropped out of high school.
Now an avid reader and earning his high school diploma, Deven has gained new confidence. "I was scared to even give a presentation in a high school class," explains Deven, who is a musician. "Since I joined the program I have performed in front of 500 people, no sweat. I had one of the best times of my life."
Deven says his father worked as a carpenter and would always talk about it.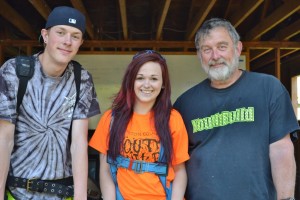 "I now get a good idea of what a day of work was like for him," he explains. "I am motivated to come here every day."
Deven is also motivated by the end result. "I think about the family who will actually live and raise their children here. I can't wait for that day to come."
Shayanne Grand, who came to YouthBuild after hitting rock-bottom, is inspired by the work on the home.
"The back of the house was concave where someone tried to drive through it," Shayanne describes. "The roof was moldy. With our work, it could go to someone like me in the future—someone who isn't doing real well but who doesn't want to be given up on."
Shayanne has an energetic personality and is honest about her past and the renovation that is taking place in her own life.
"I was going down a loser path with depression, drugs and hopelessness and I felt like I was never going to graduate," says Shayanne, now just two classes away from her high school diploma. "I didn't know what I was good at and ended up riding the wind wherever it took me until I entered the YouthBuild program."
Having realized that she is creative, she has a dream of working in architecture or cosmetology. Through YouthBuild she has grown confident in her strengths and has developed skills to better deal with life. Shayanne easily empathizes with the value of their work on Z Street.
"As long as someone has a good home base, somewhere they can feel comfortable living and taking care of their kids, it is security," she explains. "I have lived on the streets not knowing when my next meal was or where I was going to sleep. It is scary."
The Z Street project will continue until the home is ready for a tenant who will finally have the joy of a real home. The renovation improves the lovely Tumwater neighborhood and is giving the students a new opportunity to learn.
It is a clear testimony of the great work of Homes First! and Olympia Federal Savings, who for 25 years have established great community partners to consistently supply affordable, healthy rental housing in Thurston County and a way to a better life.
For more about Home's First! visit their website at www.homesfirst.org.