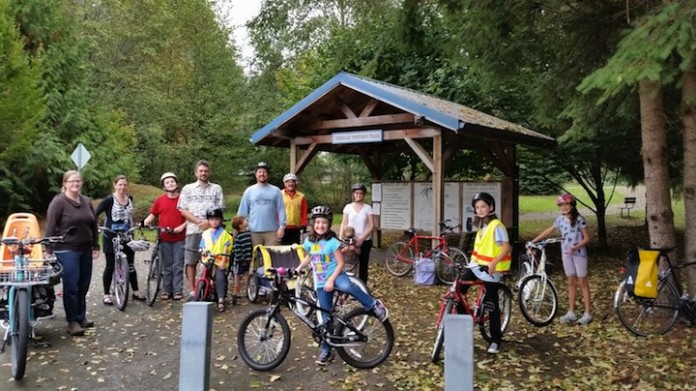 By Kelli Samson

It's long been known that simply learning about something won't make us good at it. It's the hours and hours logged in practice that make all the difference. With that being the case, many parents across Thurston County are raising some confident, safe bicyclists thanks in part to the opportunities afforded by our local chapter of Kidical Mass.
Kidical Mass of Thurston County is "a fun, relaxed, family bike ride on our streets, following the rules of the road and exploring the neighborhood." Rides usually take place the second Sunday of each month, beginning at a local elementary school and ending somewhere enticing to children, like a local park. Before departure, there is a short lesson in bike safety. Families then ride together in bike lanes or on the roads, depending on the route.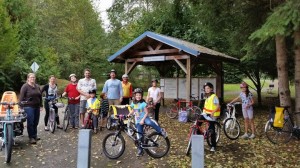 Kidical Mass went on its inaugural ride in 2008 in Eugene, Oregon. Since then, it's taken hold in literally dozens of cities across North America, from Florida to Alberta, Canada. The purpose revolves around educating kids and their families about bike safety, sure, but it also is tied to getting families outside and tying them more tightly to their communities.
Beginning last summer, Kidical Mass bike rides have been organized and offered in Thurston County as part of Intercity Transit's youth program, Walk N Roll. Heading up the efforts is Jessica Gould, the youth program's curriculum assistant and the matriarch of a family who bikes to school and work, rain or shine.
"We all bike by choice. We have a car, but it's better for us, exercise-wise, to bike. Our fifth-grader bikes to school, but our seventh grader now chooses to walk instead," explains Gould.
It was at a conference last summer when Gould first learned of Kidical Mass's success in the Eugene area. She was inspired by the group's founder, Shane Macroades, and realized it was just what Olympia families needed. Gould returned from her conference and organized Thurston County's first Kidical Mass ride last July.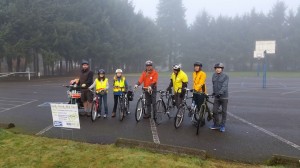 Gould is present at each of the free monthly rides, usually with at least one of her two children along. "We've learned that the rides need to have a fun destination and that we always need to have a treat at the end," smiles Gould. Their biggest turnout has been a group of about 25.
"One of the goals is to encourage those that already ride bikes to ride with their kids," she explains. "We also want to inspire those that haven't ridden but are curious and want to try a street group ride to come on out and be with a supportive group."
For May's monthly ride, Kidical Mass is switching the ride from its usual slot (the second Sunday of the month) to Saturday, May 9, in light of Mother's Day. Families are to meet at the Lincoln Elementary School playground (213 21st Ave. SE, Olympia) at 2:00 p.m. with bikes and helmets. "It's casual," assures Gould.
Making it even more exciting, this Saturday's ride coincides with the Kona bicycle giveaway sponsored each month by the Capital Bicycling Club. A bicycle will be given away to a lucky child who is present at the ride.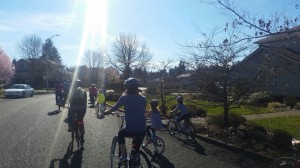 Young rider Liam Wilson won the monthly bicycle giveaway at a ride earlier this year. Says mom Camille Wilson, "I love what they're doing and want to help spread the word."
Thurston County's Kidical Mass will begin branching out to other areas of the county this summer, beginning with their July 12 ride that starts at Wonderwood Park.
To stay alerted about upcoming rides, simply follow Kidical Mass Thurston County on Facebook or sign up for the email newsletter by emailing Jessica Gould at Jgould@intercitytransit.com. To learn more about Kidical Mass in general, visit their website: http://www.kidicalmass.org/.
Don't forget that May is the Bicycle Commuter Contest month, put on by Intercity Transit. You can register online at http://www.bccblog.comhttp//thurstonbcc.blogspot.com/. There is a Kidical Mass bike commuter team. Registration comes with excellent coupons for area bike shops.