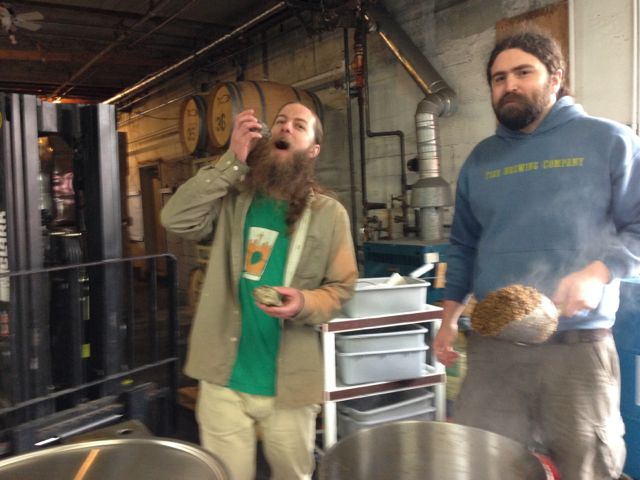 By Cara Bertozzi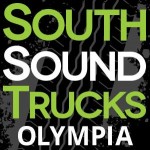 When Paul Pearson, head brewer at Olympia's Fish Brewing, left his home state of Oregon 13 years ago for Colorado State University, he hadn't planned a career in the art of beer. However, once he was old enough to patronize craft breweries, he developed an appreciation for the abundance of small operations turning out high-quality products and started paying more attention to the home brews with which his roommate was experimenting.
Paul shortly decided that brewing beer would be a great way to have some fun while also earning a living.  He accepted a job with a three-barrel brewery in Florence, Oregon. It was a great place to start developing his brewing expertise because of the all-hands-on-deck approach taken at such a small operation. Paul was able to learn all aspects of the trade, which served him well when he left for the 100-barrel operation at Rogue Brewery.  Here, John Maier served as an excellent mentor. At 31 gallons to a barrel, we are talking about a truly large-scale operation, which comes with its own challenges and perks.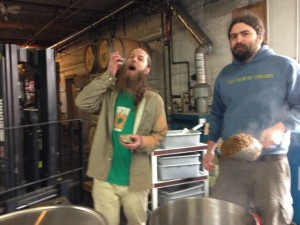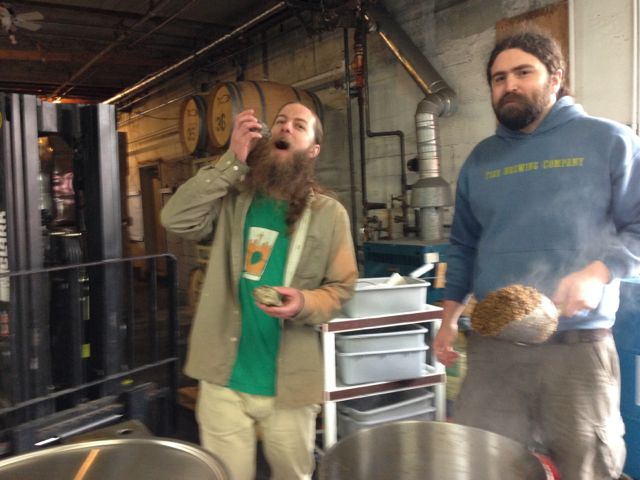 To satiate his inner science geek, Paul next moved to Wyeast, near Mt. Hood, which is one of the two largest producers of yeast for craft brewing. There, he increased his knowledge of yeast culturing and understanding of how the live cultures affect the flavor of the final product.
Two years ago, a colleague notified him that the Head Brewer role had opened up at Fish Brewing. Paul was perfectly poised to step into the role as a candidate who really knew the trade. He loves both the people he works with there, who make the job worthwhile, and the total creative control to play around and find new flavor profiles and push the craft forward.
Fish Brewing is now in the early stages of establishing a wood barrel aging program and a small sour beer program. The former will showcase how the barrel changes the flavor of the beer over time and will utilize the beer in blends. The sour beer program will incorporate the use of controlled bacteria cultures that produce lactic acid as a byproduct of their metabolism, lending a tartness that is typical of some regional Belgian beers.
Paul and his team are also working on a specialty beer for the upcoming 17th Annual SLURP 2015 event slated for May 3.  SLURP affectionately stands for the Shellfish Lovers Ultimate Rejuvenation Party. The Roister Oyster Stout will be a big beer with 7% alcohol that is characterized by being dark, rich, and creamy. To obtain this brew, whole oysters in the shell are boiled with the beer (note: they are pretty tasty afterwards). The end result is a beer that has a hint of brine and oyster flavor and pairs well with oysters and other seafood. The calcium in the oyster shells also serves to improve the flavor of this older-style beer that originated in Britain.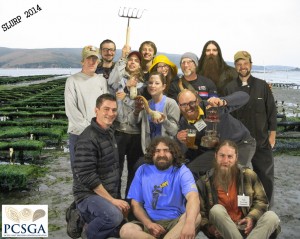 Fish Brewing actually plays a major role in this fundraiser beyond providing the specialty stout. For the ninth year in a row, they are stopping operations at their brewery for the day and making room for 500 guests. Everyone works together to spruce up the space, and volunteers with the Pacific Coast Shellfish Growers Association (PCSGA) set up and break down for the 3.5 hour event.
According to Max DeJarnatt, Fish Brewing's longtime Events and Donations Manager, SLURP is a chance to play homage to the aquaculture industry, which is a huge stakeholder in the South Sound and Hood Canal. "Oysters go great with beer," he notes. "It is invigorating to be associated with the history of shellfish in Olympia. Beer is a tradition everywhere, but oysters are regionally specific, and a synergy exists between them."
Beer is 98% water, and Olympia is blessed with really great water. The protection of that resource is thus a high priority for Fish Brewing, driving their commitment to clean water initiatives, such as the Puget Soundkeeper Alliance and the Nisqually River Education Project. SLURP presents a really fun opportunity for Fish Brewing to not only showcase their beer and their brewery but also support a cause about which they are passionate.
The entire cost of the SLURP tickets is donated to fund clean water initiatives and oyster habitat restoration projects. In addition to Fish Brewing, Connie Smith, the Assistant Director of PCSGA, has brought a number of local wineries and restaurants on board that will be serving up wine and fresh seafood prepared in a variety of ways. She is particularly excited to have five new restaurants participating this year: Ethan Stowell Restaurants, Copper Leaf, Urban Farmer, Smoke and Cedar, and Beau Legs. Eleven restaurants in total will be serving up oysters, geoduck, mussels, and clams. There will also be four to five raw oyster bars on site, as well as live music from Blues County Sheriff.
Finally, don't miss the celebrity SLURP-off. Shuckers will be paired with a local celebrity, and the pairs will compete to shuck six oysters, slurp them, and shoot the shellfish with some Roister Oyster Stout. Max is hoping to redeem himself after losing by a tenth of a second two years ago. It sounds like the competition will be pretty stiff to take home the coveted Golden Oyster.
SLURP tickets can be purchased here.
Sunday, May 3
4:30 – 8:00 p.m.
Fish Brewing in downtown Olympia