Jennifer Chevalier has always had a passion for math. So much so, that she studied the subject through college, earned her teaching credentials through The Evergreen State College and now teaches 8th grade Math at Bush Middle School in Tumwater. The mother of two has always shown a true commitment to teaching math and adding Mathnasium Owner to her list of passions is a natural fit.
"When my son was first born we were looking for a way for me to stay home," explains Chevalier. "We looked into Mathnasium and my husband and I fell in love with the idea behind the franchise. We became very invested in the ideas and methods being used, but at the time just couldn't afford to do it. When my husband passed away I was given some life insurance money. I thought about my options of what I could do with the money and decided to invest it into something we both believed in: Mathnasium."
The idea behind the Mathnasium Method is simplicity. "It's all about breaking down the problems and focusing on the vocabulary," says Chevalier. "The creator of the method, Larry Martinek, used his knowledge of math and watching students struggle with math to come up with the concepts we use. It's about changing the way a student looks at the problem. For example, instead of saying, 'What is seven times eight?' we approach the problem and ask, 'What is seven eight times?' This simple change can lead to so much more understanding for a student."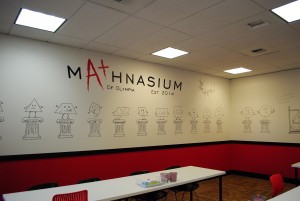 Mathnasium focuses on the gaps to build the foundation. "The first thing we do is give an assessment to discover the gaps in student understanding," explains Chevalier. "The assessments are built for different grade levels and include visual, written, and verbal problems. Based on the assessment, we are able to find those gaps of understanding. Our goal is to fill those gaps. We don't want to have to have a student rely on a tutor forever. Our goal is to build a solid foundation that they can depend upon to tackle any problem."
Changes in curriculum and state standards has made learning difficult for many students in our area. "Parents are afraid of Common Core and new curriculum. We get a lot of calls and business based on this fear. As state testing approaches, parents want to know how we can help boost their child's score. There is no quick fix. It does take some time, but the Mathnasium Method addresses those needs. While we start seeing results after the first few weeks of attendance, it does take time. Once we can help build a basis of math knowledge, the students easily adapt to any changes in curriculum."
Mathnasium is comparable to the price of a tutor, but with a different goal. "If you break it down our monthly price is similar to, or even less than, that of one-on-one tutor twice a week. With our monthly membership, students can come in as often as they want. We recommend 2-3 times per week as we do not want students to burn-out. We also have a summer program that can either help a student catch up from the previous year or build their math strength for the upcoming school year," she explains.
"The people who work here love working with kids, have a background in math, and are well trained in our method. It's a great place to encourage confidence in students and we keep math engaging," adds Chevalier.
"I've been passionate about Math for many years," says Chevalier. Mathnasium is a great fit for me to continue that passion. It's all about changing the way kids approach the problem making it more feasible to tackle. We want to celebrate what students do know and focus on teaching what they don't know. We want our students to be successful in the future, not just right now."
Mathnasium
4331-B Lacey Blvd SE, Lacey, WA 98503
(360) 688-9963
Hours of Instruction:
Sunday: Closed
Monday – Thursday: 3:30 p.m. – 7:30 p.m.
Friday: Closed
Saturday: 10:00 a.m. – 1:00 p.m.