By Gail Wood

Attached to David Cooper's achievement – he is Tumwater High School's all-time leading scorer in basketball – is an assumption.
To score more points than anyone in the history of the 55-year-old school, he must be a gunner, a ball hog armed with a shooter's mentality. But, his coach, Thomas Rowswell, will tell you nothing could be further from the truth.
"His feel for the game is one of the best I've seen for a high school kid," Rowswell said. "When he gets the ball, he makes a good decision 95 percent of the time. He doesn't force it."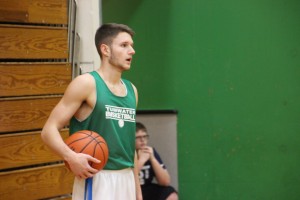 Cooper the scorer is also Cooper the passer. Along with his 21.6 scoring averaging is the nearly five assists he averages per game. This is one scoring king who is more focused on winning than popping a contested jumper and padding his stats. It's all about winning.
"He's probably one of the best team guys I've seen," Rowswell said. "He's unconditional. He cares about his teammates. He does what it takes for his team to win."
Five games into the season, Cooper, a starter on the varsity since his freshman year, scored his 1,065th point, making him his school's scoring king. He started the season 98 points behind Duane Cordiner's record total of 1,064 points that he scored from 1962-64. Brandon Semken is third at 1,024 points and Scott Gurnsey is fourth at 900.
Cooper's been crowned scoring king, averaging just under double digits his freshman year and 15-plus after that. And now Cooper, scoring 231 points after 11 games this season, has 1,213 career points and continues to pull away from the crowd, doing what no one has ever done at his school. Cooper is the one T-Bird fans will be talking about decades from now, saying, "Remember how David Cooper could shoot?"
But Cooper isn't distracted by the record or by the focus from opposing teams, trying to stop him. He's not feeling any pressure about being the Thunderbirds' go-to-guy. Off to an 11-1 start, Tumwater isn't a one-gun team. Not with 6'10" Weston Vandenhazel and 6'5″ Ty Gentry averaging in double figures.
"I don't think there's that much pressure just because I've got such good teammates," Cooper said. "I know that defenses also focus on guys like Ty Gentry and Weston Vandenhazel. We just have so many threats offensively they can't take away everything."
Because of Cooper's size – he's 6'5″ and plays guard. Because of his shooting touch – he's shooting 52 percent from the field for the season. And because of his knack for dribbling past a defender, Cooper is a scoring machine, scoring a season-high 34 and topping 30 points several times.
Cooper got an early start in the game. He began playing basketball at age five, with his dad coaching his South Sound YMCA team. And from the start, Cooper, even though he was tall, played guard. He wasn't put inside to play center, which his dad, David Cooper Sr., did, eventually playing at the University of Portland.
"I think at a young age coaches and my dad saw that I could handle the ball," Cooper said. "So I just worked on that a lot. I worked on my perimeter skills and my shooting so I could play outside."
That doesn't mean Cooper doesn't know how to go inside and post up. His dad made sure he learned what a jump hook was.
"Yeah, my dad definitely taught me a lot of post moves," Cooper said. "I got my foot work down."
So far this season, Cooper has played every position on the floor – point guard, shooting guard, forward and post.
"He's played a little of everything because he has that skill set to do a little bit of everything," Rowswell said. "And he's hit the weight room and put on five pounds of muscle. That helps him inside."
Despite his knack for putting a basket through a hoop, Cooper can't be defined just by his basketball stats. This is hardly a dumb jock. Cooper is averaging 3.99 GPA, an A-minus in Algebra II ruining a perfect 4.0. He stumbled in an Algebra test coming back from a vacation, messing up his chance at acing the class.
"I missed it by like .5 percent," Cooper said with a smile. "It was tough. But it's okay. The importance of grades and academics are definitely something my parents taught me."
And besides learning about posting up on the basketball court and the value of school work, Cooper picked up something else from his dad. Cooper, like his father, wants to be an Air Force pilot. Cooper, Sr. flew KC 135s and served 28 years in the Air Force.
Cooper Jr. wants to attend the Air Force Academy next year and play basketball. He's been talking with the coach there and he's already got his congressional nomination from Congressman Denny Heck.
"Yeah, I want to go to flight training and pilot school afterwards," Cooper said. "I'd love to be a fighter pilot. That's the top. Just being a pilot would be a great experience."
Beside basketball and studies, Cooper is also involved with student government. He's the ASB Secretary and also helps with pep assemblies, blood drives and school dances.
"David is a nice young man," said Tim Graham, Tumwater's athletic director. "He's not only polite, he's a strong leader in our school."
And he'll be remembered for being everyone's friend who scored more points than anyone in school history.